20 Cadbury Mini Egg Recipes
20 Delicious Cadbury Mini Egg Recipe Ideas that your family will love! Surprise your kids with Mini Cadbury Egg breakfast recipe, cookies, brownies, cakes, no bake cadbury mini egg recipes, and even a milkshake!
Cadbury mini eggs are so delicious! While the creme eggs typically get more attention, the mini eggs are not something to be missed out on. Also, their candy shell and smaller size make them perfect to use in Easter recipes, especially baking recipes.
Easter time hasn't been the same since I discovered these sweet treats! You can find Mini Cadbury Eggs right after Valentine's day. They make a great addition to your countertop candy bowl as a chocolaty treat, as a decoration in a vase, or even in some easter chocolate chip cookies.
Are you ready to see some absolutely delicious treats? Here is a whole list of Cadbury Mini Eggs recipes that can be made using those little chocolatey nuggets of goodness.
This post contains affiliate links. If you use these links to buy something we may earn a commission (at no cost to you). Thanks for the support! See our Disclosure page.
Mini Cadbury Eggs Breakfast Recipes Kids will Love
Surprise your kids will a simple sweet breakfast with Mini Cadbury Eggs! They will love the mini egg donuts, pancakes, and scones. Change these up throughout the year with your families favorite candies.
Whiskey Speckled Easter Donuts by Whisking Wolf
This is a truly unique approach to donuts. The robin's-egg blue donuts are flecked with a whiskey/cocoa powder mix to give them the speckled appearance of robin's eggs. Then some mini eggs are loaded on top to really back up the egg theme.
Mini Cadbury Egg Scones -We Are Not Martha
Surprise your family with these heavenly Mini Cadbury egg scones as a morning treat! These simple sweet treats can be enjoyed with coffee, hot tea, or even hot cocoa.
Mini Egg Pancakes by A Mummy Too
While a lot of recipes incorporate Cadbury mini eggs by scattering them on top of things, this recipe goes a step further. The pancakes are topped with eggs, but also have crushed egg bits mixed right into them. If this is your first time having such a special breakfast then get ready for a change because your holidays will never be the same again without these pancakes!
Mini Cadbury Eggs Brownies & Cake Recipes Kids will Love
Have an Easter Celebration to go to and not sure what to bring? Choose one of these delectable brownies and cakes to bring to your next spring fling. Any one of these treats are sure to be the hit of the party!
Easter Mini Eggs Brownies by Simply Stacie
Chocolatey brownies are already so delicious. But this recipe doubles down on the chocolate by adding in mini eggs as well. Grab the recipe card here for the yummy Cadbury Mini Egg Brownies here.
Cadbury Mini Egg Blondies -Real Life for Dinner
These festive bars are the perfect dessert for any spring party. Simple ingredients but the end result is sure to make everyone asking for more! See the recipe and all the tips she gives you here!
Mini Easter Cheesecakes With Cadbury Eggs by Sugar and Soul
Try these scrumptious Mini cheesecakes with mini chocolate eggs next time you're in need of a spring dessert idea. These are not only simple to make but you will be the hit of the party wherever you take this dessert!
Chocolate Easter Bunny Cake by Sweet Mouth Joy
This chocolate cake recipe makes a delicious cake, all on its own. But add in a chocolate bunny burrowing his way into the ground, and a scattering of mini eggs to bring in the Easter theme and the result is a cake worthy to be the dinner table centerpiece.
Mini Cadbury Eggs Cookie Recipes Kids will Love
Mini Cadbury Egg Cookies are not only easy to make but you can also make a cookie sample board that anyone would love to eat! Choose your favorite or all of them to bring to your spring celebration.
Cadbury Mini Egg Cookies -The Soccer Mom Blog
If you love those crunchy and creamy Cadbury Mini Eggs, then you'll love our Cadbury Egg Cookies! A delicious thumbprint cookie filled with rich chocolate ganache and candy treats!
Mini Eggs Cookies by Three Olives Branch
If you're looking for easter cookie recipes stop here because these cookies are delicious! Egg-shaped cookies have a good headstart on the Easter theme. But add in some mini eggs as a topping, and they are perfect for an Easter Sunday sweet treat. Grab your favorite easter candy and let's get started!
Cadbury Mini Egg Cookies Your Family Will Love – A Storybook Day
These delicious treats will be a hit with the whole family! Best of all you can make them with things you probably already have in the house. Just grab a bag of Mini Cadbury Eggs from the store and let's get started!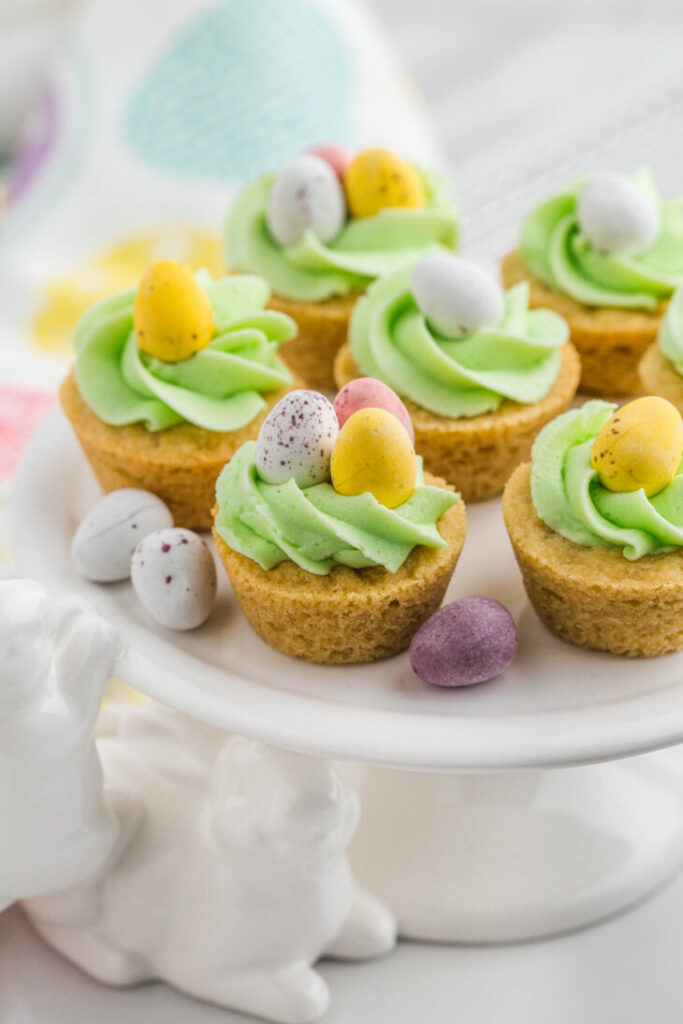 Easter Basket Cookie Cups by Little Sunny Kitchen
The Easter cookie cups are sort of like a cross between cookies and mini cupcakes. The natural texture, green icing on top, and mini eggs create the illusion of an Easter basket. This is by far one of my favorite desserts to this day!
Chocolate Nutella Meringue Nests by Ella's Better Bakes
Another egg nest recipe, this one goes in a unique direction. The nests are made from meringue and filled with Nutella and hand-whipped cream before the eggs are lovingly added in.
Mini Cadbury Eggs No-Bake Recipes Kids will Love
Do you need a quick no-bake treat to bring bring to your next celebration? Pick one of these simple no bake desserts to make for your next spring festivity!
Cadbury Egg Bark Candy Suckers -Brilliant Little Ideas
This easy Easter dessert has been a holiday favorite for years now that the whole family enjoys. Mini Cadbury Easter Egg Bark can also be made into a fun chocolate easter lollipop by changing the shape. If you are going to make a dark chocolate and white chocolate candy egg bark then be sure to use a separate bowl. Leftover chocolate can be swirled into a special bark for the person who gets the most eggs at the easter egg hunt. Store in an airtight container or ziplock bag to enjoy later if you have any left. Your kids are going to have so much fun decorating their own candy bar suckers with their favorite easter candies.
NO-BAKE MINI EGG BALLS– North South Blonde
No baking pan is needed with this simple recipe! These are easy to make with your kids, and these yummy cookie dough balls are no-bake, gluten-free, and egg-free. They are filled with chocolate Cadbury Mini Eggs and make a great snack for kids! Easter m&m 's can be used in a pinch if you used up a whole bag of Mini Cadbury Eggs.
Chocolate Egg Nest Treats -I Heart Naptime
These are no-bake treats made with chocolate, butterscotch, and mini Cadbury eggs. These adorable treats will bring joy to your kid's afternoon snack time! See the full printable recipe here.
No-Bake Mini Egg Rice Krispie Nests -Sugar Spice & Glitter
Cadbury's mini eggs are just the right size for these diy rice Krispie nests. Grab your kids and spend an afternoon with them and a big bag of rice krispies. The best part of this recipe is that you don't need perfect ingredients to make your favorite easter treats! Try using jelly beans if you run out of chocolate Cadbury eggs.
Mini Egg Rice Krispie Treats -Butter with a Side of Bread
These yummy treats are made with crispy rice cereal, marshmallows, crushed Cadbury mini eggs and topped with a white chocolate drizzle. Rice Krispie Treat recipe that is perfect for Easter and springtime!
Easter No Bake Chex Bars by Budget Delicious
These no-bake Chex bars have been a total game changer for our house, especially with only a few simple ingredients. Even better, they taste great on their own and are amazing once the mini eggs are added in.
Easter Butterscotch Peanut Butter Haystacks by xo xo Bella
The Easter bunny lays eggs in a nest, so the story goes. Well, this recipe provides the (edible) golden brown nest and then fills it with delicious Cadbury mini eggs. Surprise your kids on Easter morning with these perfect treats!
Cadbury Mini Egg Milkshakes -What Charlotte Baked
Milkshakes are super easy to make and these are loved by everyone! Simple yet delightful these one of a kind milkshakes are sure to be the most memorable dessert this Easter.
If you loved these Mini Cadbury Egg Recipes go give these creators a 5 star rating on their site! They worked hard and did a great job inventing something delicious!