Bunny Bait Popcorn Snack for Kids
Jump to Recipe
Catch a bunny or your kids with this deliciously sweet treat! This Bunny Bait Popcorn Snack is our all-time favorite Easter Treats for Kids! Make a big batch before easter to try and catch that sneaky Easter Bunny before he delivers all the eggs!
Have a last minute Easter celebration? You only need a few simple ingredients to make this no bake treat that the whole family will love!
This festive treat can also be packaged into individual treat bags for a class party or any special occasion.
This post contains affiliate links. If you use these links to buy something we may earn a commission (at no cost to you). Thanks for the support! See our Disclosure page.
What You Need to Make Bunny Bait Popcorn Snack
Air Popper
Popcorn Kernels
Microwave Popcorn
Wax Paper
Cookie Sheet
Big Bowl
Sauce Pan
Spatula
Butter
Mini Marshmallows
Butter
Easter Sprinkles or Spring Sprinkles
Easter M&M Candies
Treat Bags if giving as a party favor
Optional Ingredients
Sea Salt (I use this Celtic kind)
Reese's Pieces
Pretzel Sticks or Gluten-Free Pretzels
Jelly Beans
Cadbury Eggs
White Chocolate Drizzle
Chex Cereal
White Chocolat Chips
How to Make Bunny Bait Popcorn Snack
Gather up all your ingredients and let's get started! The first thing you need is a baking sheet covered in wax paper or parchment paper. This is where you will let the bunny bait cool. Set it aside when you have that done.
Next up is to melt 2 tbsp of butter in a saucepan over medium-low heat. Heat until melted or you can melt the butter for 5-8 minutes until golden brown. This will add more flavor to your bunny bait popcorn snack.
Once your butter is melted add in marshmallows and stir on low heat until they start to melt. Remove your marshmallows from the heat when they are nice and puffy but not completely melted through. Continue to stir until the marshmallows are completely melted.
You need 5 cups of popped popcorn so if you have your own popcorn maker use that otherwise microwave popcorn can work in a pinch. The salt in the microwave popcorn will give the bunny bait popcorn a salty flavor. Yummy! **Be sure to remove all of the unpopped kernels. You don't want to bite down on one of those when this bunny snack mix is done. Chomping down on unpopped popcorn kernels is definitely not delightful.
Next up, grab a large mixing bowl and add in your 5 cups of popped popcorn, fun sprinkles, and pastel m&m candies. It kinda looks like funfetti popcorn mixture! Add in the melted marshmallows and give that large bowl a big stir. Add in extra ingredients if desired and continue to stir until the fun snack mix and candies are well distributed throughout the popcorn.
What else Can I add to Bunny Bait Popcorn?
This is where you can get creative and use pretzel sticks, more mini marshmallows, mini cadbury eggs, rice chex, or any fun snacks that you like with popcorn. Check out the optional ingredient list above for more ideas.
If you popped your own popcorn and want a salty sweet flavor you can add in some sea salt. The salt will stick to the marshmallow mixture and give the most delightful flavor. Be sure not to add in too much because really salty popcorn isn't a great idea for a kid's snack. Unless your kids are as weird as mine, they love too much salt.
Drizzle the top of this perfect treat with melted pastel colored candy melt and top with some more pastel sprinkles or just add in some mini chocolate chips. I think the melted chocolate drizzle takes this yummy treat to the next level!
When you have your bunny bait popcorn perfect and mixed through it's time to dump it out on the prepared cookie sheet with parchment paper and let it cool. My best advice to you is to hide the pan somewhere so the kids with sneaky little hands (or your husband) won't see it. I've made this for easter celebrations before and if they know where it is, it will be gone as soon as I leave the room.
For best results be sure to store any leftovers you may have in an airtight container at room temperature. A ziplock bag will do in a pinch too, just make sure to get most of the air out of the bag when sealing.
Bunny Bait Popcorn
Ingredients
6

cups

Popped Popcorn

2

tbsp

Butter

2

cups

Marshmallows

1

cup

M&M's (plain, peanut, or peanut butter)

Pastel Sprinkles
Instructions
Cover a baking sheet with wax or parchment paper then set aside.

In a large bowl add popcorn, sprinkles, and M&M's or your choice on candy. and set a side until the marshmallow mixture is ready.

Melt butter in a small saucepan over medium heat for 5-7 minutes or until it's golden brown.

Add in all the marshmallows and then stir continuing to cook over low heat until they just start to melt.

Remove the marshmallow mixture from heat and continue to stir until the marshmallows are completly melted through.

Pour the melted marshmallows over the popcorn, m&m's, and sprinkles, and mix well. Pour the popcorn marshmallow mixture on to the prepared baking sheet to cool.

Store in an air tight container to up to a week.
Bunny Bait Recipe Easter Basket Idea
If you need fillers for easter baskets try adding the bunny bait popcorn to cellophane bags and tie the top with a string that has bright pastel colors. You can also use a tiny lunch sack or even a jar to store this easter mix in. Any kind of packaging that keeps the air out will make this delicious treat taste better for longer.
Have some Easter themed movie nights and eat this bunny bait snack mix with their favorite drinks. It also make a fun springtime treat for class parties and spring time birthday favors.
This no bake snack mix recipe is the best easter popcorn because it's such an easy recipe. Did you add something extra special in your bunny bait popcorn? I would love to know!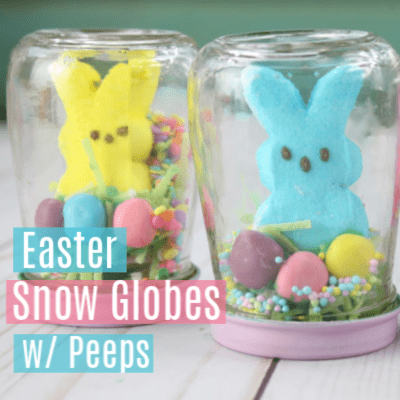 Easter Peep Snowglobes
Surprise your kids with these cute edible snowglobes.
DIY Bunny Tail for Easter
This simple craft will help your kids hop some energy out.
Mini Cadbury Candy Bark
Make Cadbury bark suckers or candy egg baskets.