3D Paper Flower Bouquet Printable Craft Template for Kids

Kids will love making this 3D Flower Bouquet Craft for their grandmothers, mothers, or any special person in their life. A few simple materials are all you need to make and fun to color this beautiful flower craft is sure to bring a smile to a neighbor or friend. You only need a few things to make this a fun afternoon project. Older children and younger kids with little hands who love to scribble love making these 3d flowers.
Download this simple craft for kids to make for Valentine's Day, Mother's Day, Grandparent's Day, or just as a fun activity on a rainy day. This gorgeous paper flower project is sure to make special events even better with a 3d paper keepsake. 
What You Need to Make Peep House for Kids
3D Paper Flower Bouquet Printable (You can find it at the bottom of this page)
White Paper (printer paper) or
Cardstock (print on cardstock for durability)
Scissors
Tape or
Elmers Glue or
Mini Hot Glue Gun
Colored Pencils
Fine tip Markers
Crayons
Ribbon (optional)
Hole punch (optional)
Zig Zag Scissors (optional)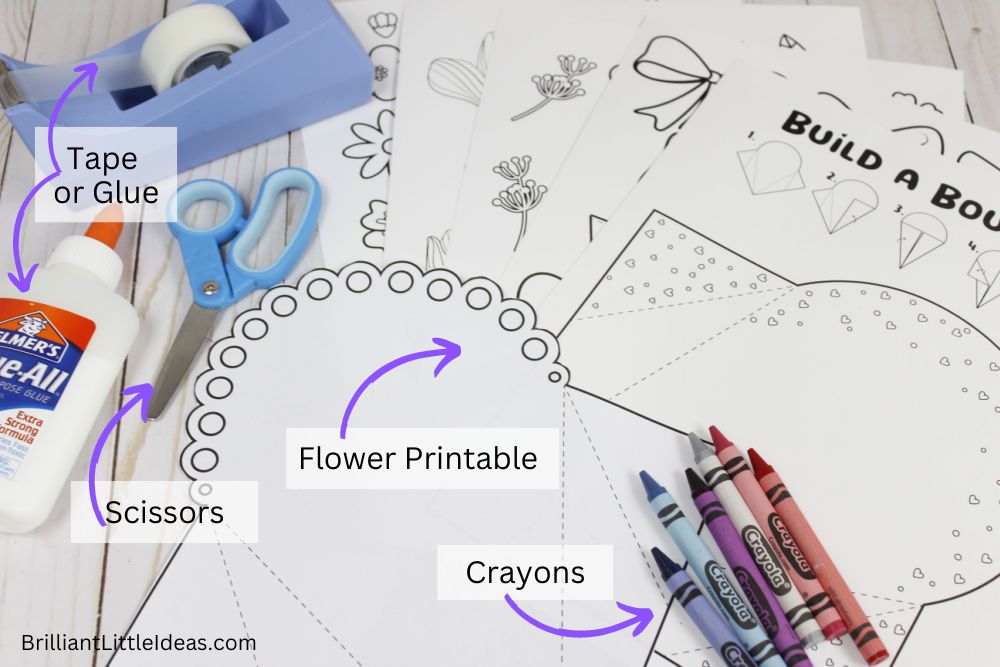 How to Make a 3D Paper Flower Bouquet
Grab all of your supplies and print the free printable template that you can find at the bottom of this page. Paper crafts are the best because you only need a few things to turn a simple idea into something beautiful. Feel free to print these papers in different sizes. You can have tiny flowers or giant paper flowers just by adjusting the print size in your printer settings. The pdf file can also be taken to a print shop to be made into any size you want for a small fee.
Your printable flower template needs to be printed on card stock for durability. It not only holds up the kids coloring, cutting, and gluing but also will hold its shape for years to come if you choose to keep it that long. Older kids love to make flower bouquets for their friends, and family, or just as a decoration for their room that shows a personal touch. No matter what type of paper you choose to print these paper flowers on they are sure to be the perfect craft to give as a gift.
Once you have your flowers printed, you will need to choose what color pipe cleaner to use. My kids choose green so we went with the darker shade of green to hold the flowers and paper leaf template.
Kids of all ages (except maybe an infant) can help make this craft. My twin daughters love to scribble and made quite a mess but I had my older boys color the rest, and the flower bouquet came out really pretty. Plus, all the kids had fun making something for their grandmothers as a Grandparent's Day craft.
All that to say it's fine if your kid makes a mess, or the flowers are crooked, it's all about learning here. Kids need the space to mess up or to be really really proud of a really really ugly flower they made. Lol! I've been the recipient of many ugly flowers that I treasured.
If you're really worried about ugly flowers you can print the pdf template onto colored cardstock or construction paper. You will have beautiful paper flowers of the color you or your child chooses and then they just cut them out. Which is great for hand-eye coordination practice! Unless you have a fancy cutting machine to do it for you. I don't have one of those.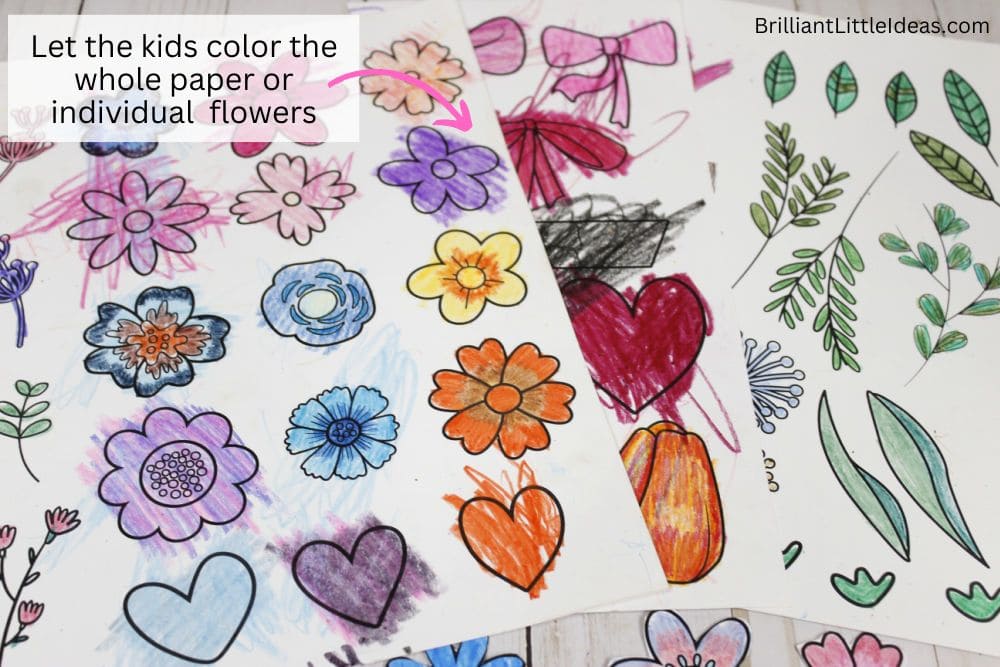 Choose either just your favorite flowers to cut out or all of the flowers and assemble them in a circle to see what your bouquet will look like. Try adding in different leaves, stems, shapes, and sizes to make this fun project really pop! You want the person you give it to to really love the 3D bouquet so keep them in mind while working out where the flowers will go and what colorful flowers to choose. Keep the colors of spring in mind when making this as spring crafts for kids.
This free template can be used as printable mothers day crafts for your kids, class (yes this is for classroom use), or just for you. These 3D flowers are also a great graduation gift for someone especially if you color the flower heads in the school's colors. Great flower crafts like this can be used in a pinch on those rainy summer days when you can't go outside or it's a fun way to spend a cold winter day when you're just itching to see spring. No matter when you use these amazing flower crafts the best thing is that they will bring joy to your life!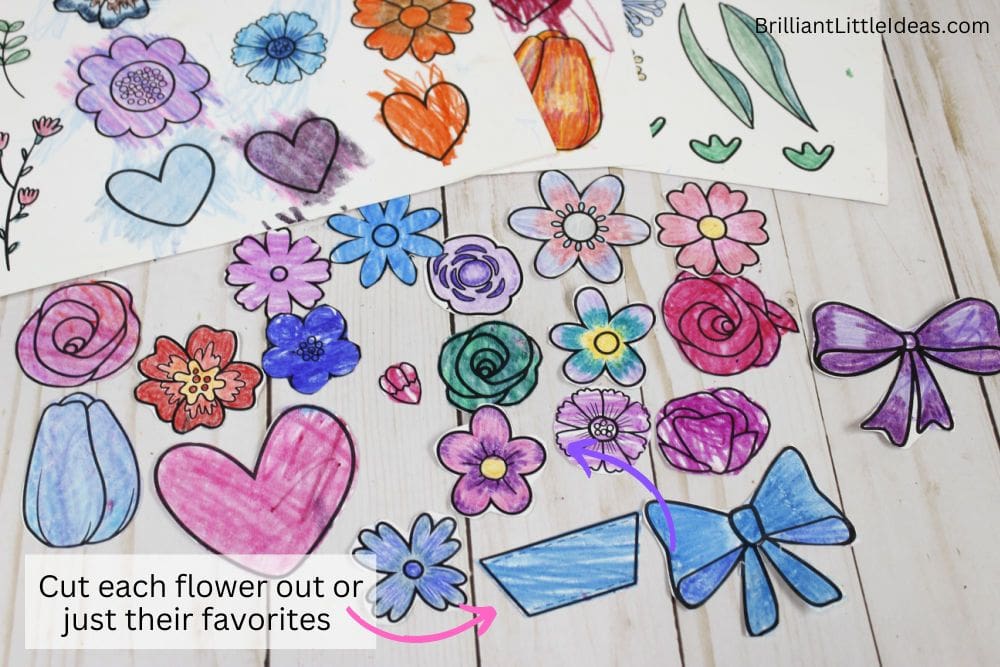 How to make a 3D Flower Bouquet Holder
Print and color your bouquet holder onto cardstock so it can hold all of your gorgeous paper flowers. Color it one color giving it a pop of color or several making the flower holder as unique as you are. Use a hole punch to pop out circles or fun zig zag scissors to cut the bouquet holder out with. Choose from several different bouquet holders for your paper flowers, tissue paper flowers, origami flowers, or even real flowers!
Once you have the printable bouquet holder colored go ahead and cut it out on the solid lines on the outside. The dotted lines on the inside are where we are going to fold in just a second. Or you can check out the top of your paper. It shows you in detail how to correctly fold the flower bouquet. However, Im visual so here's my version below. So if you're visual too… you're in the right place!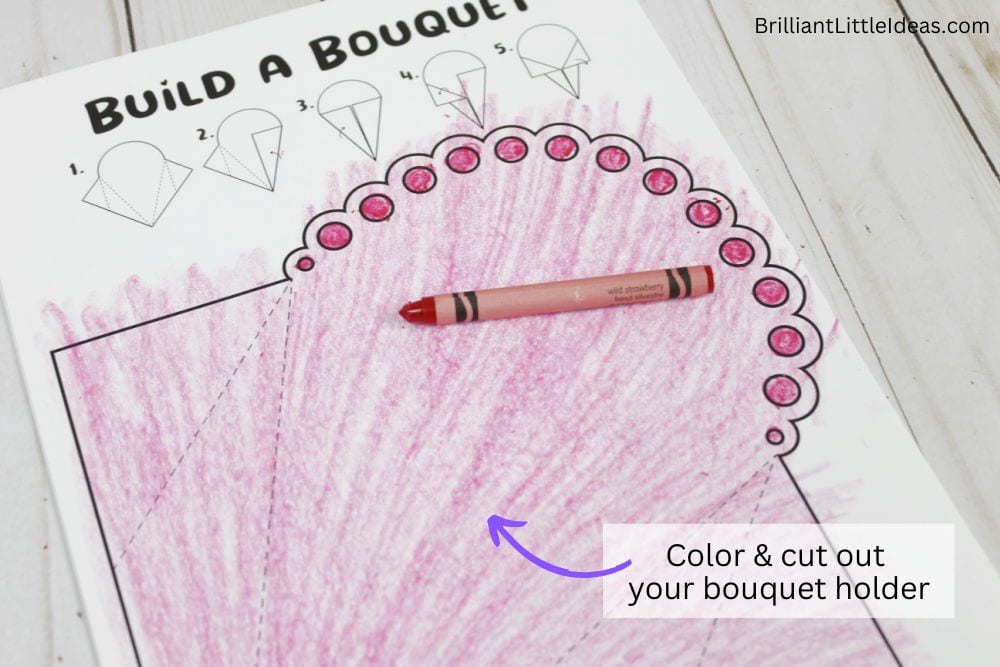 The dotted line that is furthest out needs to be folded inward so the collar of the paper bouquet holder will show. The inside dotted line will also be folded inward to make a standing shape. Do the same thing on the other side. When finished you should have both of sides standing up waiting to hold the paper flowers.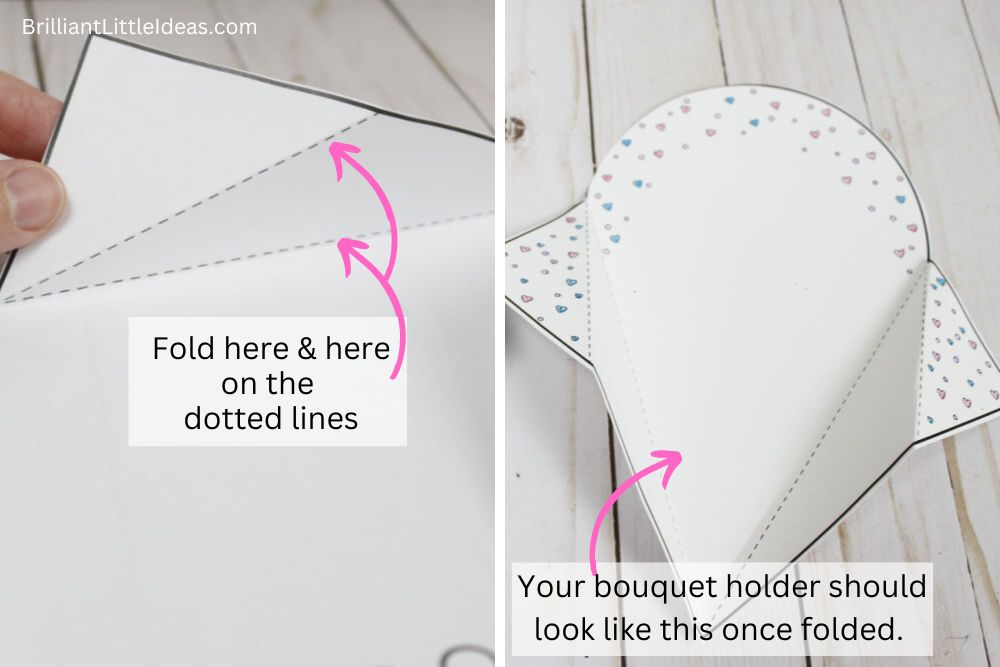 How to Make 3D Flowers
Let's assemble our easy paper flowers. Once you have your fun flower craft all colored and cut out we can start. You can use rolled up green paper as stems so they will stand or just thin-cut green construction paper as the stems. 
​Today, however, we will be using chenille stems otherwise known as pipe cleaners! Choose any color for this easy craft or leftovers from your last great project. Different colors can really bring your paper flower bouquet to life. Small petals can be a little harder for them to show up but you can attach them to the top of another flower or just to a pipe cleaner all by themselves in the very front.
You can also use a hole punch in the center of the flower and run a pipe cleaner through the top. Layer the flowers or just let a small piece of pipe cleaner stick out. This is such a great craft for your kids imagination because you just can't get it wrong. The 3D flowers just turn out beautiful even if your kids choose not to color them.
Here are several easy methods to get those little paper flowers to stick to the pipe cleaner.
One is (if you're an adult) a mini hot glue gun. You only need a dot of glue on the back of the flower, press the pipe cleaner into the hot glue and let set for a few seconds.
Elmer's glue is also an easy way to get the flower stuck on that fuzzy pipe cleaner. Draw a line of glue onto the back of the flower and let it set until dry. This is a really easy way but it takes a little longer to complete.
My favorite go-to sticky thing is my good 'ol tape dispenser. Add just a small piece of tape and those flowers stay put! Done.
No matter which way you choose to stick those flowers on the pipe cleaners they always seem to move. Keep in mind that often flower stems are leaning one way or another. So if your flower stem has been pinched for has a kink in the center it's still beautiful. Do the same for the leaves and stems. If you want them to be below the flowers tape or glue them on there. This is your craft with your own flowers. Add as few flowers or as many as you want to this paper flower bouquet craft. You can also use it as home decor in your room.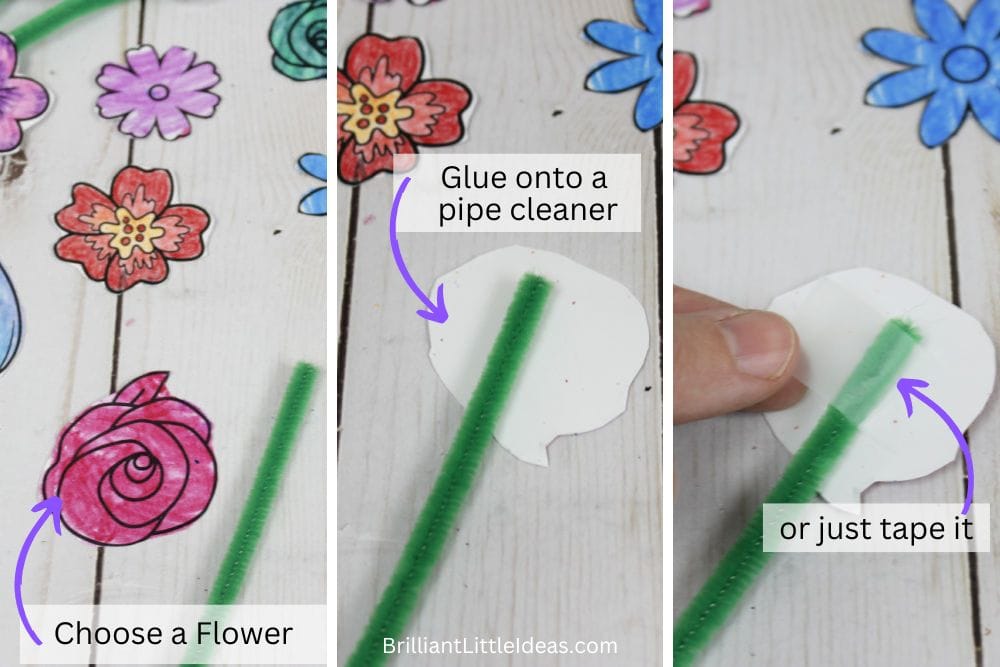 Gather your flowers and start laying them into your bouquet holder starting with the tallest first and then laying the shorter ones on the top. Move or bend the pipe cleaners so you can see each flower you colored.
If you made some crepe paper flowers to go along with this easy paper flower craft then add some smaller ones to this bouquet. Make this fun craft your own!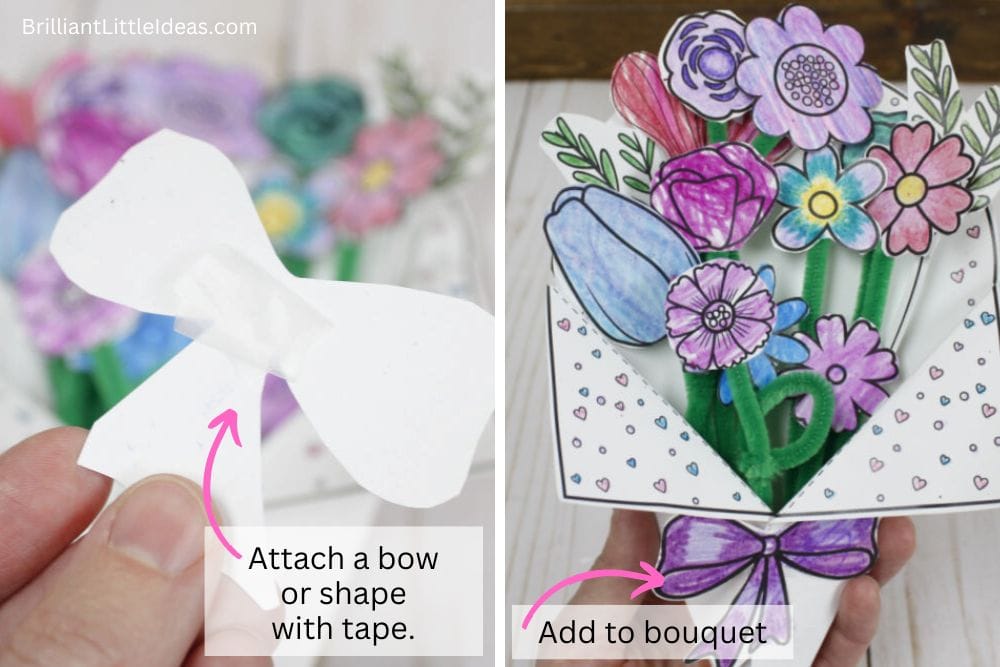 Did you notice a piece of tape shape or a bow or heart shape in the printable? Did you color and cut it out?
Great!
Use the shape either in the bouquet itself or you can attach the fun shape to the front of the bouquet holder to help hold the flowers and to give the cardstock paper flowers just a pop of fun in the front. I placed mine at the flower center just below the bouquet collar.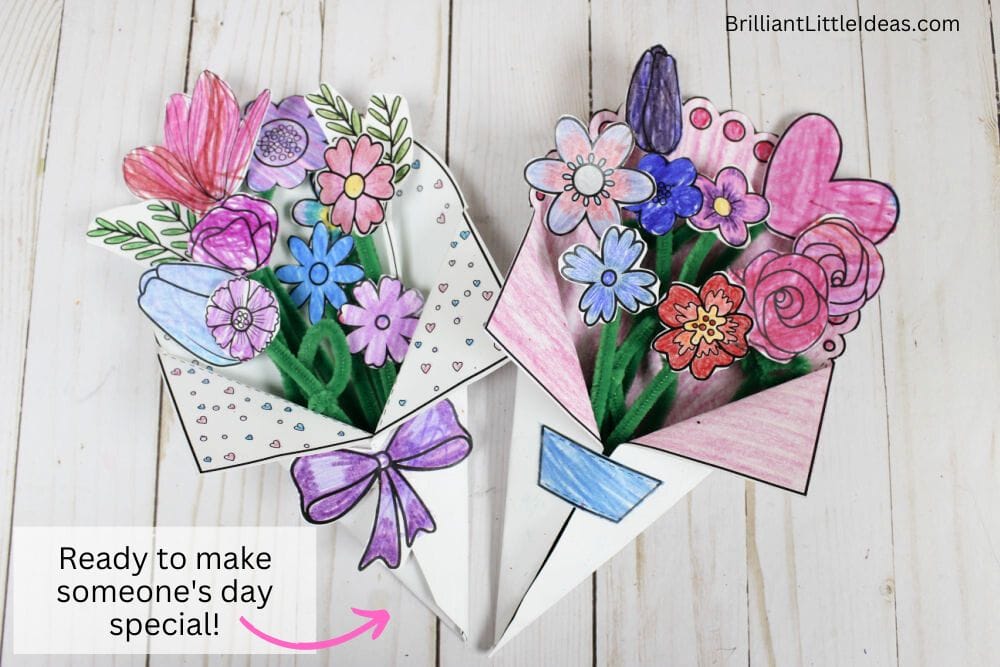 Don't forget a flower bouquet card if you're giving these beautifully simple paper flowers as a give for mother's day crafts or any holiday. The bouquets turned out beautiful! I especially love the paper lavender flowers!
Have extra flowers? You can make a paper flower wreath out of the leftover pieces or even a flower matching game.
Don't forget to grab this free printable below. Your kids will love these paper flowers and I'm sure you can come up with loads of fun ideas for how to use them!