DIY Rainbow Spaghetti Taste Safe Recipe for Play
Rainbow Spaghetti noodles are easy to make and fun to play with for kids of all ages. Rainbow Colored Spaghetti is a great way to keep your kids busy while learning fine motor skills. Let your kids do some cutting practice cutting the strands of spaghetti with safety scissors (and adult supervision). Let the kids make different shapes, letters, numbers, or even pictures with the strands of spaghetti. Keep the colors separate or mix them all together. Either way, Rainbow Spaghetti is a simple sensory play idea that is sure to become one of our child's favorite activities!
Not into a giant mess? The good news is that the rainbow spaghetti recipe isn't very messy. Set up a Rainbow noodles sensory bin or discovery bin with lots of sensory play activities for your kids to play with on a rainy day. Sensory Activities help your child's brain development, language development, and discover new textures through play.
What You Need to Make Rainbow Spaghetti
How to Make Rainbow Spaghetti Noodles for Play
Grab all your supplies and let's make some taste-safe rainbow spaghetti! Im going to break this down into easy steps for you or your older children to follow. This recipe is a fun way to get your kids to help you cook. My kids are always asking to help or wanting to stir and I try to let them help as much as I can but I always seem to be in a hurry. Making time for things like this dying Rainbow Spaghetti with your kids is not only a lot of fun for them but it also makes some great memories. Older kids can help boil the spaghetti and once it's cooled the younger children can mix in the color.
​Any uncooked pasta shape will work for this taste safe rainbow noodle recipe. I choose to use spaghetti so the kids could lay out the colors and make their own rainbow. Go over the colors one by one with you
If you're worried about the effects of dyes and want a more natural dye use Watkins Assorted Food Coloring. It seems to work the best and doesn't have artificial dyes in it. 
This recipe is a fun way to get your kids to help you cook. My kids are always asking to help or wanting to stir and I try to let them help as much as I can but I always seem to be in a hurry. Making time for things like this dying Rainbow Spaghetti with your kids is not only a lot of fun for them but it also makes some great memories. Older kids can help boil the spaghetti and once it's cooled the younger children can mix in the color.
Cook the pasta noodles according to the package directions then drain and rinse the spaghetti. Rinsing the spaghetti with cold water helps to remove the excess starch that's on the noodles. Be sure not to undercook the spaghetti and at least get it to al dente and not to overcook it because the spaghetti can be sticky. Sticky spaghetti will make messy playtime. 
Next, stir in a few drops of olive oil at a time adding as needed to prevent the spaghetti from sticking to each other. That the small amount of olive oil is the easiest way to make this a great activity for your kids. You don't want a clumpy mess in a sensory play activity that you worked so hard to plan. You will only use 1-2 tbsp cooking oil for the whole batch.
Don't use too much oil because then the spaghetti will be too oily. If you accidentally added too much oil, just toss the spaghetti in a large ziplock bag with paper towels to absorb the excess oil. If it's still too oily change out the paper towels and toss again. That should get the bulk of the oil off the spaghetti.
When you have a little oil tossed in the spaghetti it's time to cool. Spread the cooked spaghetti out on a jelly roll pan or cookie sheet until cool. This shouldn't take long. If you want to speed up the process just pop the pan of noodles into the fridge.  If your kids are like mine and love to eat freshly cooked spaghetti the fridge might be a safer place to keep so half of it isn't missing when you go to dye the noodles. 
Next up, divide pasta into 6 or 7 equal amounts. Sandwich or quart size ziplock bags will work the best for this part of the process. One ziplock bag per color of pasta. If you do all the colors of Roy G Biv then you will need 7 baggies. Roy G. Biv Stands for red, orange, yellow, blue, indigo, and violet. I haven't gone over Indigo with the girls yet so I skipped that one till they can tell the difference. 
If your kids are still learning their colors and you want to focus just a few for your sensory playtime then choose the colors that will work for you. If you don't have a sensory box you can lay a shower curtain on the floor while the kids with your finished rainbow colored spaghetti.
Your kids are going to have so much fun with this part of the process. Don't let the kids squirt food into the sandwich bags. If that does happen try and absorb the excess dye with some paper towel. Next time just hide the food dye where the kids can't grab it. Unless your kids are like mine and can find anything I hide…
You will need to use 20 drops of food coloring per bag adding extra dye as needed. Counting each drop of food dye with your kids is another way you can add learning to this recipe while working on their language skills. I have used liquid watercolors in the past and it just made a mess so stick with food dye instead and save your clothes. If you want your taste safe rainbow spaghetti to be a little safer use Watkins Natural Food Dye instead of artificial food dye.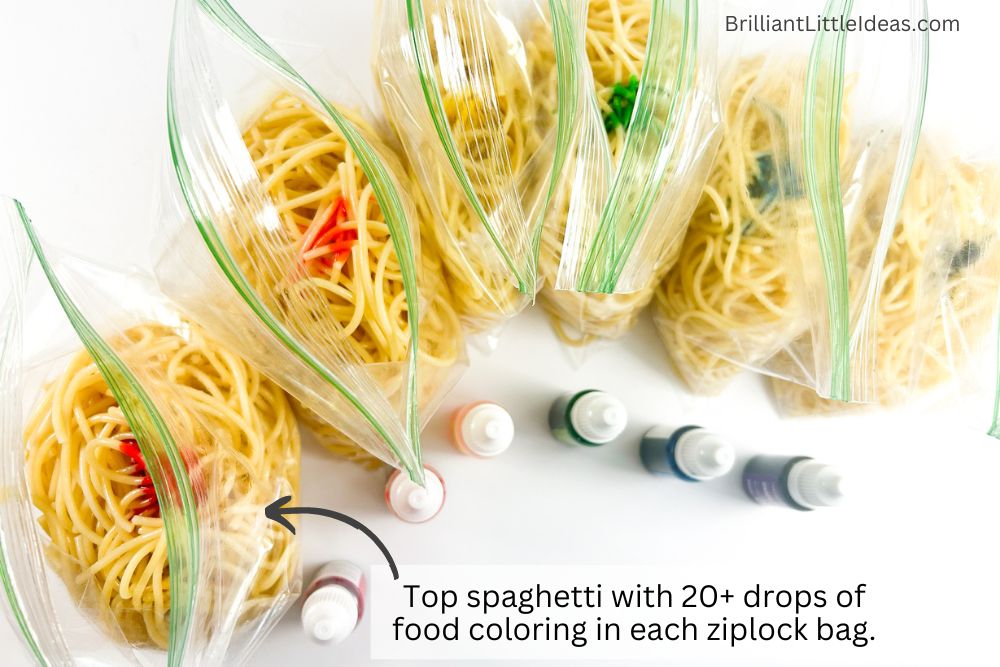 When you have the food dye in each plastic ziplock bag close them up. Be sure to completely seal the entire plastic bag so no dye will leak out. If you want an extra assurance that it's sealed you can tape the top closed with some duct tape.
Now gently move the spaghetti in the bag around to color all of the noodles. Mix the noodles around by shaking the bag and if you notice some spaghetti that isn't dyed then now is the time to add some more food dye just a few drops at a time.
When the spaghetti is completely colored remove it from the bag and lay it back on the cookie sheet to dry out a little.
***Note: Since the rainbow spaghetti has a little olive oil, the noodles will have a slightly oily texture when playing with them. Use an apron or have a set of paper towels ready for your child to wipe their hands on after handling. Have your kids wash their hands before and after use.
Have your kids say or spell the rainbow colors as they play with the vibrant color that they made. The first time your kids put their hands in the spaghetti is hilarious. They are either confused and hate it or just love it and dive right in. 
Vanblue Large 8 Pcs Pop Tubes Fidget Toys Autism Sensory Toys Fidget Tubes Party Favors for Kids Toddlers Goodie Bag Stuffers ADHD Anxiety Stress Relief Toys for Kids
Learning Resources Froggy Feeding Fun Activity Set, Fine Motor Toy, 65 Pieces, Ages 3+
Koosh 3
IMPRESA 5 Pack Monkey Noodles Stretchy String – 8 Pack Mesh – and – Marble Fidget – 10 Pack Spiky Sensory Finger Rings – Sensory Toys for Kids and Adults – Helps Relieve Stress – Fidget Toys
Learning Resources Rainbow Sorting Set,37 Pieces, Ages 3+, Fine Motor Skills, Color and Sorting Recognition, Addition Skills, Sensory Tray Toys
PicassoTiles 80 Piece Magnetic Building Block Construction Toy Set Diamond Magnet Tile Blocks with Car Truck STEM Learning Kit Early Education Builder Playset Toys for Children Toddler Boy Girl Age 3+
Fidget Slug Toy, Autism Sensory Toys for Autistic Children Austimo Kids Toddlers Adults, Stress Relief Pop Caterpillar amsr Stim Cute Articulated Worm Novelty Party Favors Fun ADHD Gift for School
Learning Resources Smart Snacks Rainbow Color Cones – 12 Pieces, Ages 18+ months Toddler Pretend Play Toys, Fine Motor Skills Toys, Preschool Learning Toys
What To Do With Rainbow Spaghetti
There are so many different ways to use this rainbow pasta recipe. Young children especially love playing with sensory materials in their early years. In my experience running a daycare and having 4 kids it's best to have a taste safe sensory play because kids can't help but taste everything. If you want rainbow spaghetti preschool activities ideas here are just a few.
group mixed spaghetti in colors
use the noodles to spell the letters of the alphabet
line the spaghetti up like waves in the ocean
work on their scissor skills by cutting the spaghetti strands
Let the kids just messy play with these vibrant colors of the rainbow kids have the best imagination. 
How to Store Rainbow Spaghetti
Store your rainbow colored spaghetti in a resealable plastic bag, or airtight container. If you're going to keep the colors separate then you will need separate resealable bags or small containers for each color. My kids just made a rainbow mess with different colors of pasta so we left it like that and stored it until the next day in one large ziploc bag. If you keep the spaghetti in separate resealable bags you can use it for different ideas such as an ocean theme with sharks swimming through the deep blue noodles. 
I don't keep the spaghetti over 3 days. Once they have played with it and depending on how long it's set out that's how I gauge how long I keep it. If the kids played for hours and hours I toss the spaghetti on the first day and make more. The longer spaghetti is left out the more unsafe to eat it becomes. So it's best to only play one day and then make a new batch or a solid color batch for the next day such as a farm theme with all green spaghetti as grass.