Christmas Scene Craft & Nativity Scene Ornament for Kids
[disclosure]
Make this fun Tiny Picture Ornaments for your Christmas Tree. Its an easy diy craft to keep your kids busy. Fast Holiday Decoration.
Tiny Picture Ornaments
The other day I was looking through some old magazines and I came across this cute idea. I discovered it in a Martha Stewart magazine that was in the middle of a pile of newspapers and other random junk. I love Martha Stewart! I don't know if she still has a magazine or well… I really need to look into that. Humm..
Anyway, she had this cute idea and I thought "hey, I could make these with the kids using items I already have at home." It worked out great, the kids and parents both loved what was created out of basicly nothing. In fact they are my new favorite Christmas ornaments, next to these cute Snow Globe Ornaments!
What you will need
Glitter trees
Cute buttons
Snowflake buttons
Hot glue gun
White, yellow & whatever other color paint & brush
Fake snow
Flat snowflakes
Star wood shape
Scrapbook paper
Glitter
String or yarn to hang them
Tiny Picture Ornaments -Video
Tiny Picture Ornaments -Pictures
First, gather all of the things from around the house you think you may use. It can be buttons, string, scrapbook paper, rhinestones,  pretty much anything can be turned into something cute.
I began by deciding what was going to go into each jewelry box and painted the wooden objects first so they could fully dry before I needed to hot glue them.
Set your box on top of the scrapbook paper and draw a little further out. Clip a little into each corner so the paper can be inserted into the box easily. Go ahead and crease the edges so it fits correctly into the box like this.
Hot glue the back and the edges into your jewelry box. Don't burn! If you need to press the paper in, try using a pencil or a spoon to do so.
You may want some buttons to stick out a little further that others and that's fine, this little button need to lay flat so its going to be clipped.
It's time to glue in the wood pieces. Once you have the items glued into your box and are ready to work on the next go ahead and glue your star or wood piece where you want it. Give it a light coat of paint and glitter before the paint dries.
This one is almost done! On to the next..
For my Nativity Tiny Picture Ornament I decided to go with a snow theme.

I cut a brown paper sack to make the stable where Jesus was born and hot glued it in. The nativity buttons were glued on after then came the snow.
I love snow! Correction, I love the idea of snow. Being a true Texan I don't fair well in cold climates, and to have snow it kinds needs to be cold, so I'm out!
Paint around the stable and trees. I even painted a little snow on the roof to make it just a little more fun.
Again, before the paint dried add in your fake snow flakes. I also glued on the star above and added snowflakes and the saying to the back.
Hot glue the string to the back. Make sure its long enough to hang on your tree or wall.
Next one! This one is for my reindeer, they are so stinking cute!
The trees I found at Joann's. Super cute right!?!
To give them a more finished look I hot glued a little around the edges and painted over it once it was dry. 
Add some fake snow before the paint is dry, I love fake snow!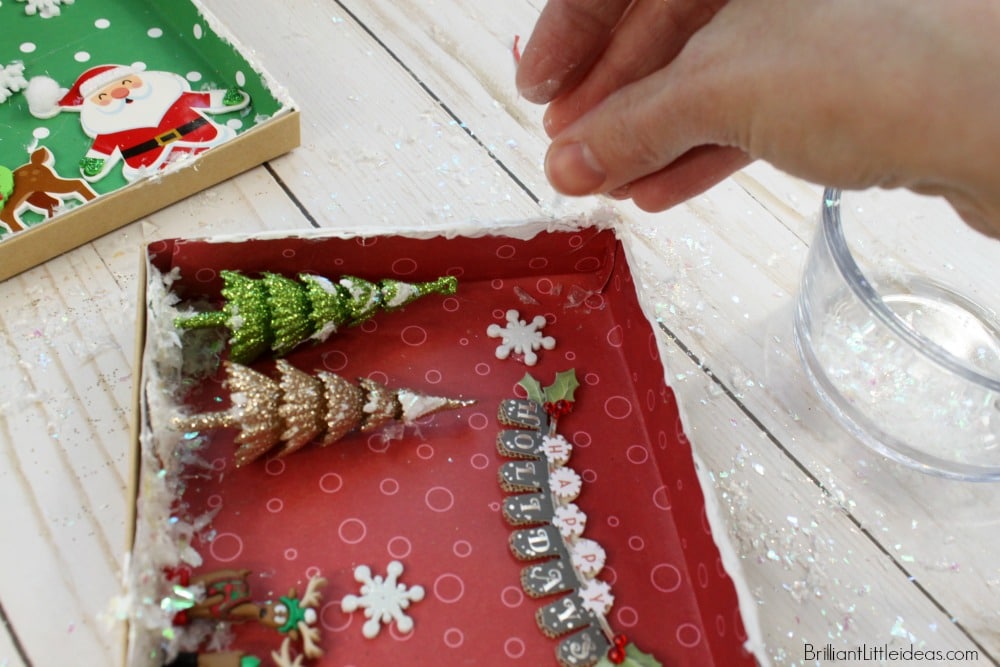 All done! Super easy right? Now let your kids go crazy and make one for everyone they know. Ahhh, I can picture the 4.5 minutes of quiet now!
How many Tiny Picture Ornaments did your kids make?