The Perfect Rice Crispie Treats
Many have claimed that their recipe is the best, softest, creamiest, fluffiest rice crispy treats, but I'm here to tell you that in my house this one tops them all! The Perfect Rice Crispie Treats are easy to make with your child and have been a hit with church gatherings, school parties and in my daycare, but really.. Can you go wrong with a rice crispy treat?
This post may contain affiliate links. For more information, see my disclosures here.
The Perfect Rice Crispie Treat
How this recipe came to fruition..
Once upon a time, there was a desperate wild eyed mom who just wanted to make herself some rice crispy treats! She needed to have just two minutes with out having to refferee a fight, kids pulling on her, fingers under the bathroom door, the banging..Oh, the banging!

She needed to hide in silence to regain what little bit of lucidity she had left and enjoy a the warm sweetness of a freshly made rice crispy treat. As she ran to the cereal shelf she saw a glimmer or hope, but she quickly realized that there were only 4 cups of crispies left! Gasp! Thats not enough! Running to the open cupboard where the marshmallows were stored she thought they were gone digging in the back and  yes, YES, there was one bag of pillowy marshmallowy heaven! Why the kids hadn't engulfed them she will never know..

She quickly made her rice crispy treats with oh so many marshmellows, hidding the yummy goodness under a stack of clean clothes she ran serpentine toward her bedroom while the kids chased her she yelled back to them "its ipad time".

They all darted the opposite direction as she entered her room closed the door and leaned against it.

Phew!

Taking in a deep breath she locked it and tiptoed to her closet flipping the light on and closing the door behind her.

Silence! There was Silence!

She sat on her closet floor eating her warm gooey rice crispy treats enjoying every minute of it, relaxing, reagaining, eyes closed, and the screaming. The kids had found her again, but she was safe if only for a minute!
It was The Perfect Rice Crispie Treats!
Ok, so not all of this has actually happened.. I been known to be hiding in my closet eating a chocolate bar on occasion and honestly, I would LOVE to eat some rice crispies in there. So it's more of a dream..
On with the crispies!
How to make Rice Crispie Treats -ingredients
6 cups of rice crispies
2 bags 10 oz of regular marshmallows
4 tbsp butter
The Perfect Rice Crispie Treat Video
You can watch this short video or look at the pictures below to learn how to make The Perfect Rice Crispie Treats!
How to make Rice Crispy Treats -instructions
First, using a large pot over medium heat melt your butter.
Now add in all of your marshmallows stirring often to not burn them. They will melt all the way down to a smooth creamy marshmallowy mess. 
As soon as your marshmallows are melted go ahead and add in the rice crispies. You can add in as much or as little as you want. I use 6 cups. It's a perfect amount for me.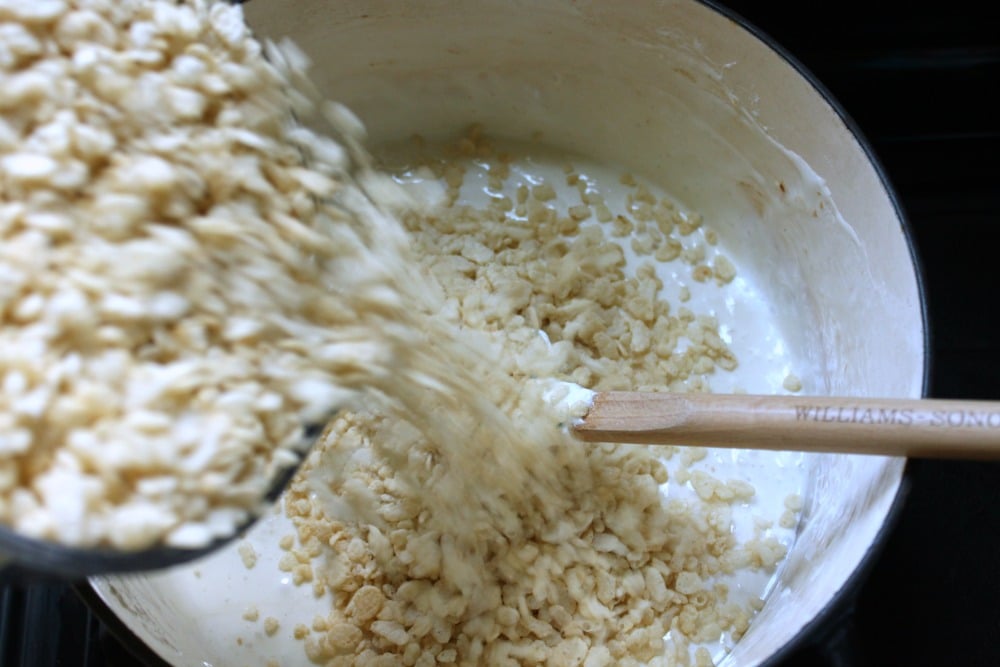 The Perfect Rice Crispie Treat will be sticky and sorta spider web-ish until it sets. This is when it tastes the best!

You will need a pan to spread the rice crispies on, but first, slather it with butter! I just rub the butter directly on the cookie sheet or glass pan.
Hurry and pour in your rice crispies before they set. Usually, by this time, my kids are scrambling to get a spoon to eat whatever I have left in the pan. Oh, these things are so good!
If I can bribe someone to go to the store for me.. Oh, I want some so bad!



He just couldn't wait for the rice crispies to set, oh so much like his Dad!
Do you ever make Rice crispies just for yourself?