Super Easy Tween Party Favors
Have a birthday coming up and no ideas? What do tweens or teens think great party favors are? I'm sure gift cards are at the top of the list but those can add up quickly. We want a cheaper option that is not only a fun idea but also memorable.
Have you tried my Birthday Pary Bags for your students or kids' friends? These are really fun and make their day so special. I've got you covered with a great goodie bag that your party guests of all ages will love!
The perfect party favor can be hard if you are looking for fun things down to the party aisle. The party isle is full of little gifts and small toys but we need something better. playdoh, temporary tattoos, silly putty, bubble wands, and those aren't going to cut it out goodie bags will be better.
How about something kids of all ages would love? Well, this special treat probably isn't great for the younger children but older kids for it's a great idea sure! Need a fun theme for younger kids? How about an easy Fireman Theme to keep them busy playing for hours or take the fun outside with a Going on a Bear Hunt Theme!
This post contains affiliate links. If you use these links to buy something we may earn a commission (at no cost to you). Thanks for the support! See our Disclosure page.
Before we begin I want you to write down a few things that your kid really loves. We are going the food drink route here and I have some really great ideas for you but first, you need to know what to choose. Water bottles are great in a pinch and are cheaper than buying 20 glass bottles of Root Beer.
Also, remember some kids have allergies and you will need to keep that in mind when you are purchasing the perfect favor. If you buy dairy ice cream in it and you have a child allergic to dairy, then ask about alternatives. Most stores now carry a variety of ice creams from plant based to nut milk. Just something to think about and a great way to show a family that you really care about their child.
Let's get started!
Super Easy Tween Party Favors -Video
The perfect birthday party favors are easier to make than you think. Check your local store for the items on the supply list before you order online. I actually found the Cracker Jacks at my local dollar stores. Dollar Tree had a great deal on the Cracker Jacks and PopRocks last I checked.
Birthday party goody bags are defiantly something I looked forward to as a kid and this one will save you so much time. These more old fashioned party favors are really versatile, you can use them for wedding favors or for a Halloween party, pool party or a birthday party for a fun treat!
Let's get this sweet treat started! Gather your supplies and look at the real thing when purchasing the items. A real not off brand will be more recognizable plus probably taste better too.
First, open your clear small cellophane bag and grab some fun crinkle cut paper. Just a little will work. You only want enough to look pretty under the yummy snacks. You can find different colors of crinkle cut paper online or check your local craft supply stores along with the clear party bags.
Once your blue paper is in the bottom grab your Cracker Jacks, PopRocks, and bubble gum. You could also add in some cotton candy if you want to swap out for the bubble gum. All of those things remind me of my childhood. They are not as popular with the younger kids as it once was. Now things like Takis seem to be the new thing but this is an old fashioned party favor bag. Feel free to choose Big Chew, fun dips, or something fun from the list you made of your child's favorite things.
This favor would be great for a themed party or even a baseball party favor add a pack of old fashioned baseball cards and you have a whole new idea for your child's big day! If you need tween girl favor ideas and they don't like baseball try adding in a pretty nail polish that goes with the crinkle paper or get a variety and let them choose.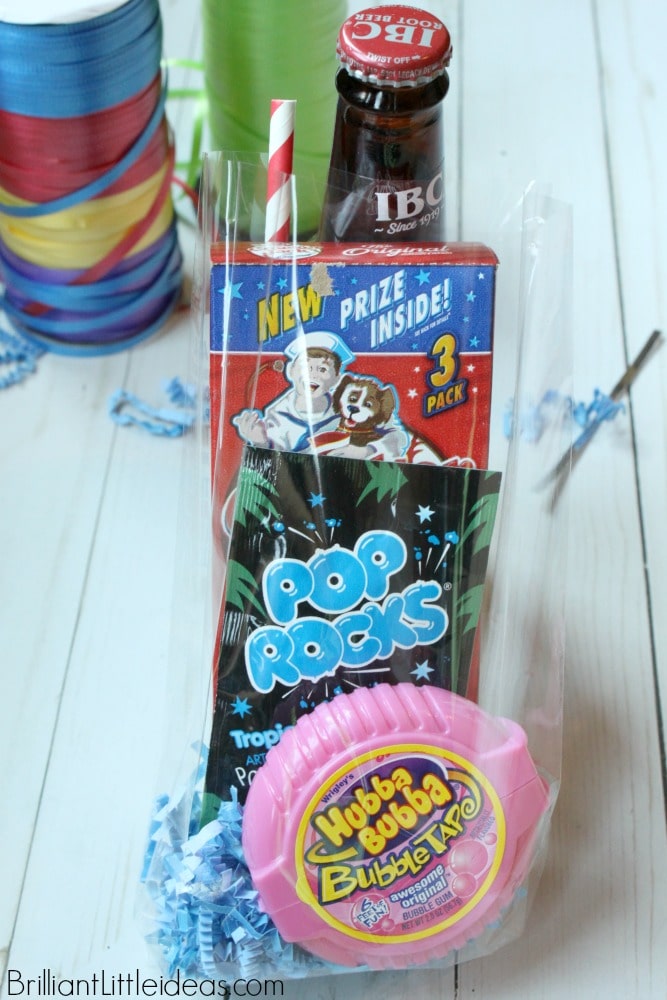 For another cute idea place a paper straw behind each Cracker Jacks. Choose a color that goes well with the birthday party theme, wedding party, or even pool party. They now make loads of fun straw colors and patterns to choose from for your special day. The straw will not only add a pretty color but also it's a fun way to keep the favor bag attached to the glass bottle.
You can find the pretty paper straws at most stores now. Amazon, Etsy, Walmart, and craft stores all keep paper straws in their party section.
Add a piece of tape to the bottom and maybe top to hold your root beer bottle to the treat bag. Favor boxes would also be a good idea to keep all the yummy snacks in one spot. You could also drop a name card so the kids won't lose it or place cards in the sack itself as a table setting.
If you need a little more tape use some double sided tape between the party favor and the glass bottle. Don't make it too difficult to remove we are just trying to keep it together and a little tape is the best way I've found.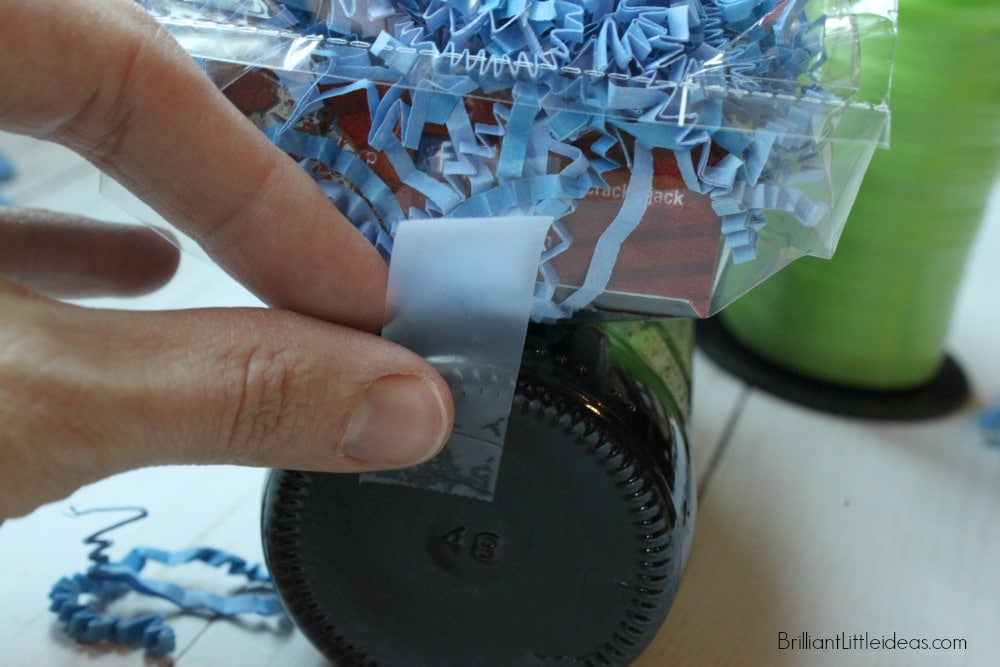 Attach a fun party ribbon to the top. You can find this at your local craft or dollar store pretty cheaply.
Have some fun ribbons? Let's take this favor to the next level. Tie one or several different types or colors of ribbon around the straw and bottle neck itself. This will keep the favor together but best of all it won't get separated during all the hoopla or fun party activity you have them doing.
The root beer bottles should be a twist off but double check because you don't want to have to send bottle openers home with each kid. One of the best things about these favor bags is that most kids haven't drank a soda from a glass bottle. It's not something we see every day like we did in the past.
Parties are so much fun! If you want some other ideas of what to buy that isn't too much sugar, try teen coloring books, fun shaped sidewalk chalk, and Flower pots are also an interesting idea if the kids want to plant their own succulents. Back to candy that makes a great favor mini bouquets of candy in a mason jar or snacks, or even, a candy color scheme in small jars are cute. Ask the birthday girl or boy what they want to give and make sure each favor has a personalized message to their friends. Be careful with chocolate bars or sending ice cream home if it's hot out we don't want their treats to melt.
That's it! Cheap and Super Easy Tween Party Favors everyone will love, because really who doesn't love junk food?
Did your kids love these party favors? I would love to hear some of your best party favor ideas!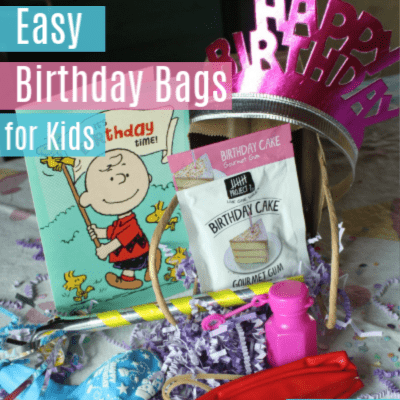 Birthday Bags for Kids
Suprise a kid with a special birthday bag one their birthday.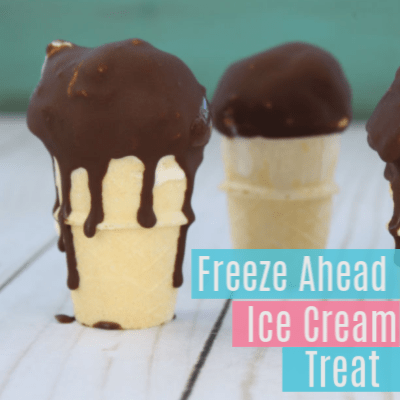 Freeze Ahead Treat
Easy ice cream that is already dipped for your next party.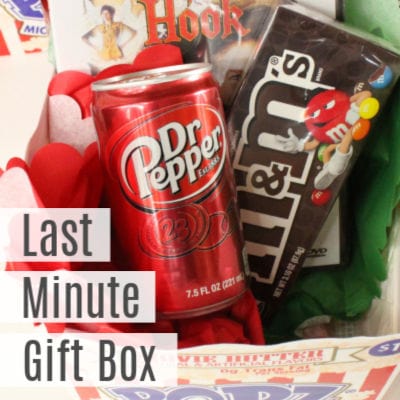 Last Minute Gift Box for Kids
Grab these things for the perfect quick gift in just a few minutes.