The Best Freezer Friendly Calzones
[disclosure]
The Best Freezer Friendly Calzones are a quick and easy dinner for those days that you just don't want to cook and great for kids lunch boxes during the week. This is a great make ahead recipe that the whole family will love!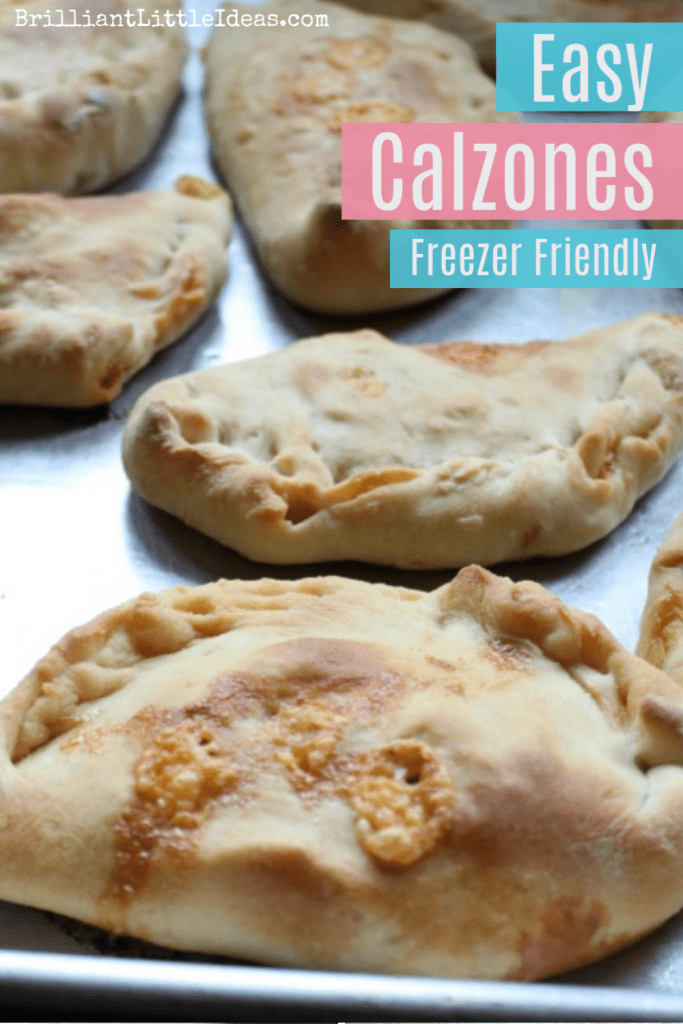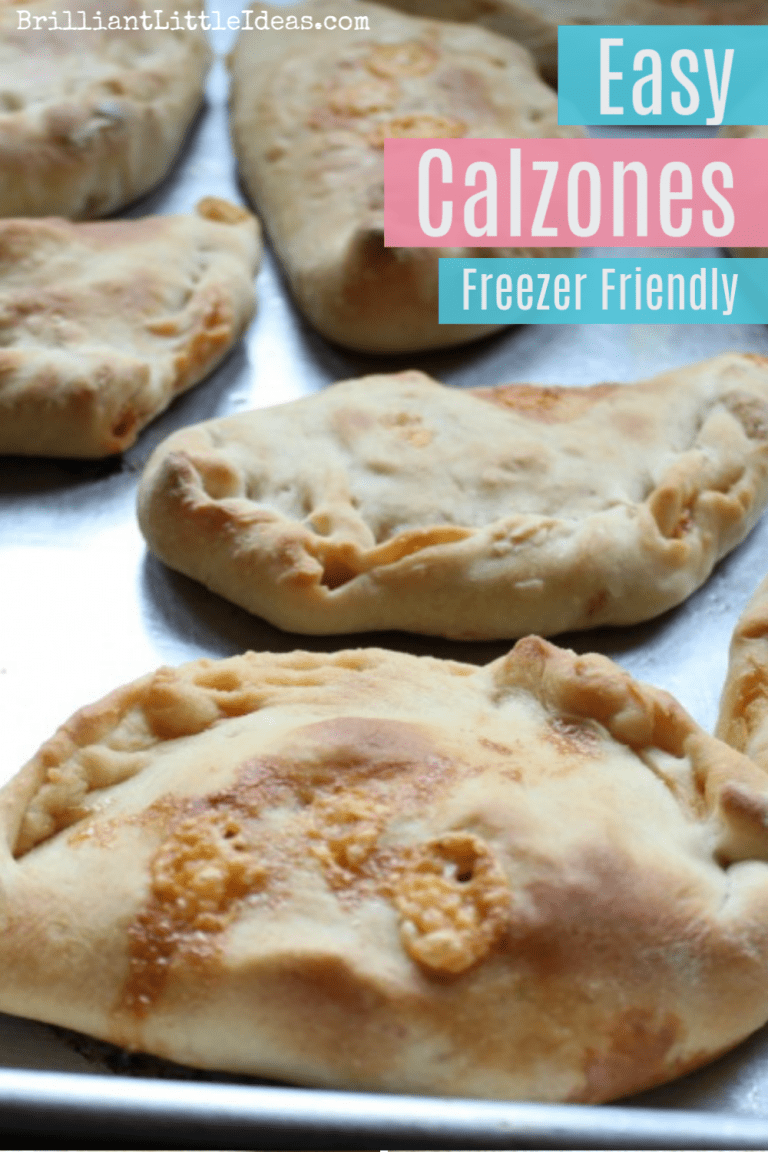 The Best Freezer Friendly Calzones
My son Luke loves to take his lunch to school, sandwiches, pasta, quesadillas, you name it he has taken it. But The Best Freezer Friendly Calzones are by far his favorite. Once a month I binge watch some Netflix in the kitchen and make these just for him.. (and for a quick and easy dinner to just pull out and heat up).  I use this recipe for my pizza dough. 
What you will need
Pizza/pasta, or marinara sauce
Cheddar mozzarella Cheese
Pepperonis, chicken or beef (cooked)
Pizza dough (this is my recipe)
Extra flour for dusting
Knife
Large cookie sheet or pizza pan
Rolling pin
How to make The Best Freezer Friendly Calzones
I use this dough for my calzones. It's a great recipe to double for a pizza or 2 and the rest of the dough can be used for calzones.
First, roll out your dough to about 1/4 inch thick.
First, roll out your dough to about 1/4 inch thick. I give the dough a turn of about 45 degrees on each roll with the rolling pin. Make sure to flip the dough now too.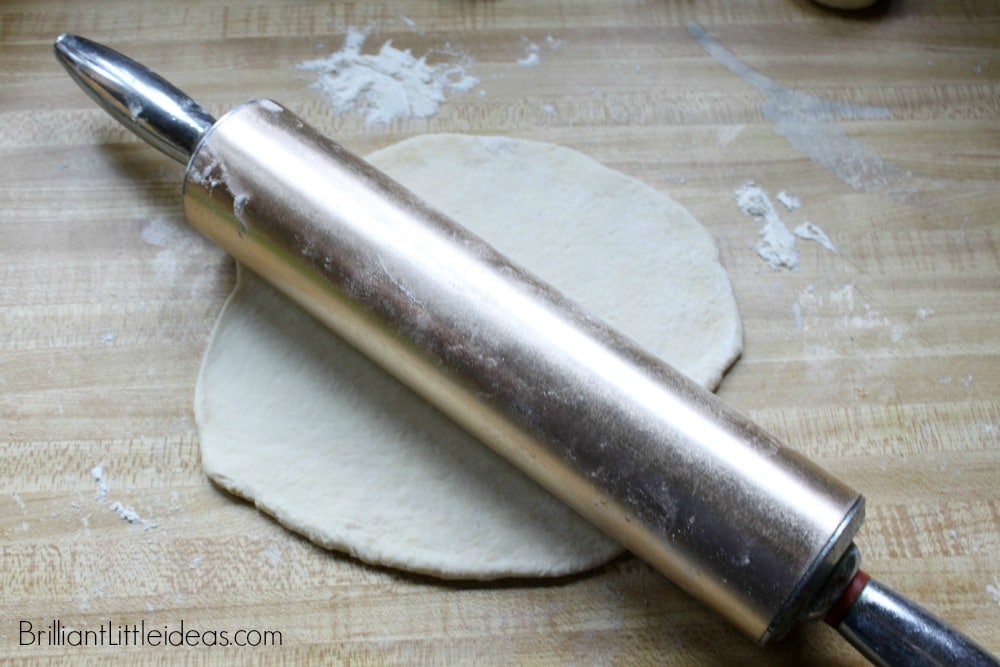 Make sure to add flour when the dough gets too sticky. You don't want it to get stuck to the rolling pin.
I usually start with pasta sauce because most kids don't like ricotta cheese but that is an option. Layer with as much cheese and pepperoni as you can stuff into your calzone.
Stack as many layers as you can fit and still be able to successfully close.
Fold over like a turnover or a fried pie.. oh, I miss fried pies! Next, you will fold over the bottom edge onto the top making a seal with your fingers. If it doesn't stick well try a little bit of water between the top and bottom piece.
Just fold the bottom over the top and gently press in.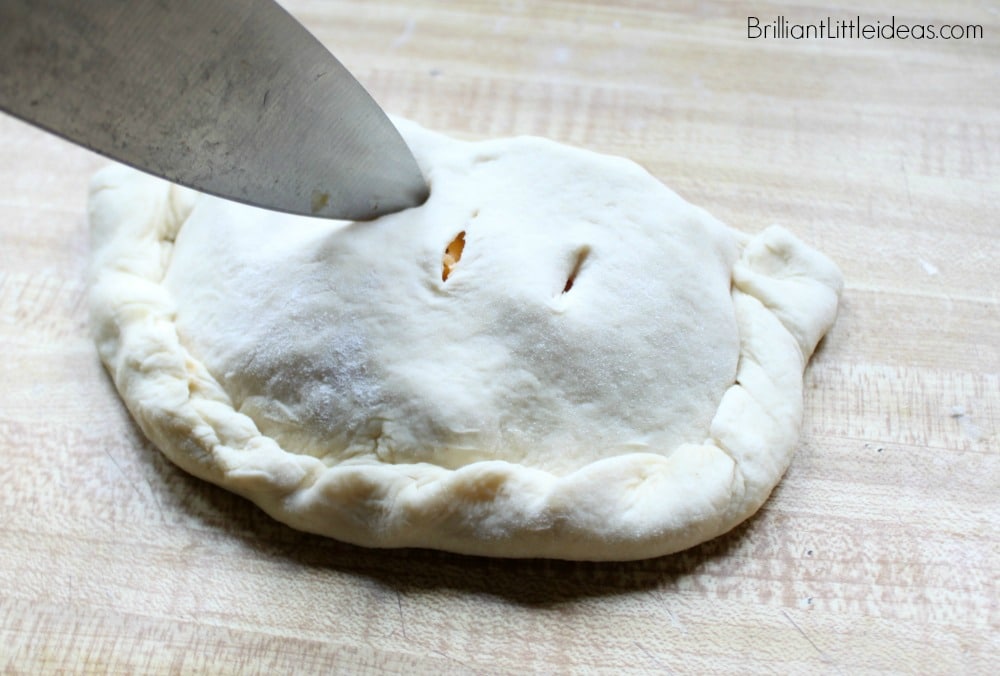 You will need to cut at least 2 vents into the top of the calzone to let the steam out. If you choose not to or forget it will be just fine, some of the cheese may run out of the side. It's still edible though!!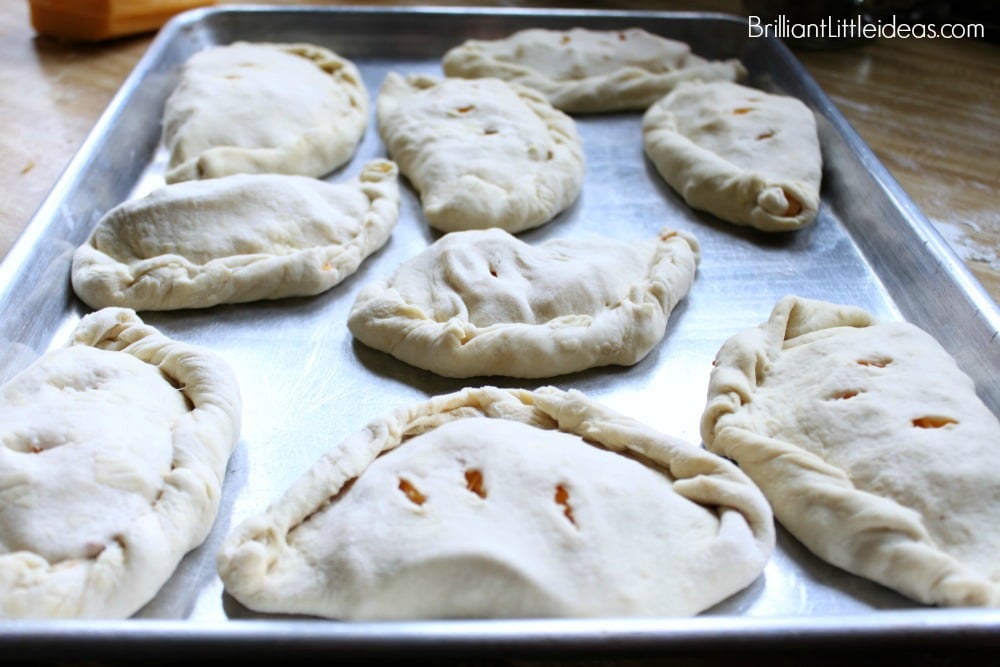 Put your calzones in a 425-degree oven for 10-12 minutes.  Remove when golden and let cool.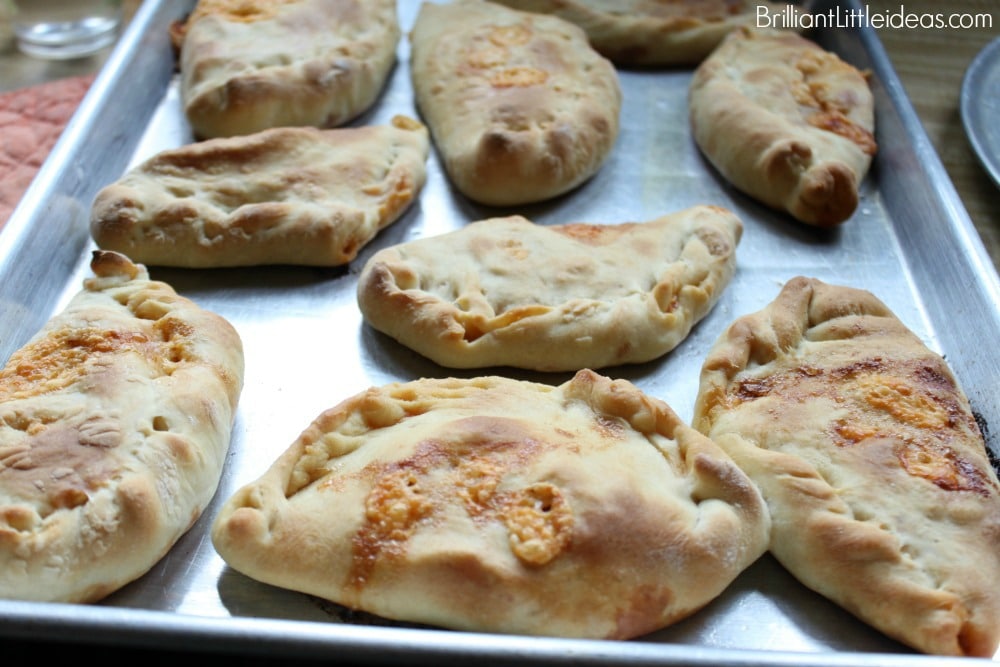 If you are worried about your folded pizza sticking just throw on some corn meal before you set your calzone on the pan.
DONE! Wait until they cool otherwise you will burn your mouth! Seriously!
To Freeze Your Calzones
Wrap each calzone with cling wrap and store in a large ziplock back in the freezer. This is a super easy go to lunch box idea or quick dinner fix, just pop it into the microwave or oven to heat up and done!
The Best Freezer Friendly Calzones are great ideas for lunch boxes or for those oh so long days and on top of everything you forgot to make dinner… Which is me most of the time! I love freezer meals!
Have you sent calzones for your kid's lunches before?