Looking for the Best Pizza Dough ever? You have found it! This is an awesome dough that is very versatile for any topping. It's fast and easy for any make your own pizza night. With toppings such as BBQ pizza, veggie pizza, or regular pizza. Call it what you want New York pizza, Chicago style pizza, but I call it the Best Pizza Dough EVER!
This post may contain affiliate links. For more information, see my disclosures here.
We LOVE this pizza dough!
I crave pizza, and so do the men in my life! In fact, I am pretty sure this pizza is what sealed the deal on our marriage. Lol! We love pizza so much that we have it at least once a week. So over the last 10 plus years, we have eaten pizza well over 550 times. WOW!
What you will need
2 1/4

tsp

active dry yeast

or one package

1

tsp

raw honey

1/3

c

warm water

1

c

warm water

2

Tbsp

olive oil

2

tsp

salt

4

c

flour (about 4 cups)

white & wheat mixture
How to make the best pizza dough
Let's get to the Best Pizza Dough Recipe ever… shall we!
In a large bowl or your mixer bowl, add your yeast, hot water, and honey. Give it a little whisk just to combine. Let that sit until the yeast wakes up and is nice and bubbly. Good morning yeast! If only I too could wake up as nice and bubbly as you.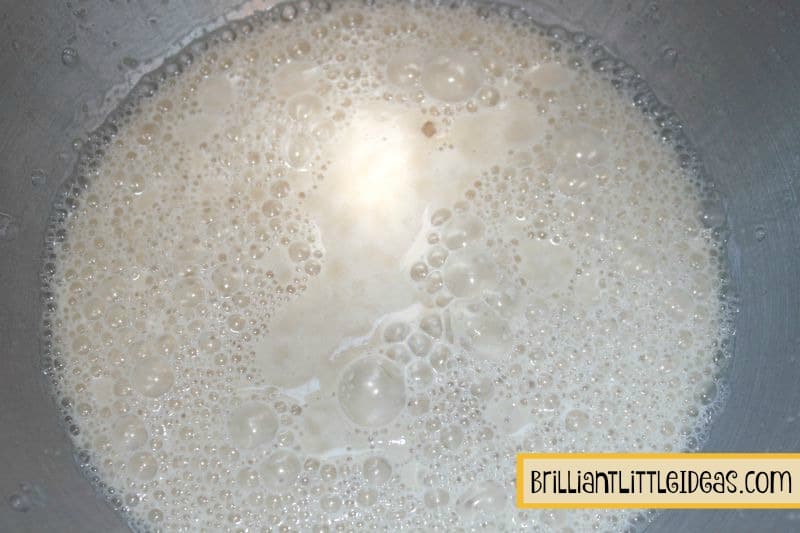 Since I am usually in a hurry, the rest of the ingredients are dumped in together.  I promise it will still come out perfect! Using my Kitchen Aid mixer or by hand (like I use to), add your 2c flour, salt, olive oil and 1c hot water and… GO!! Mix, mix, mix! Sorry, I am around children all day.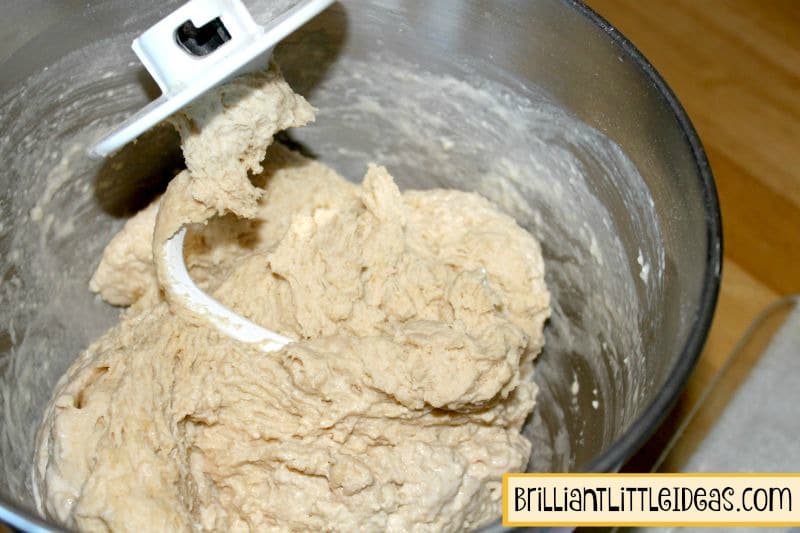 So in this picture, you can see that it isn't too sticky but still needs just a little more flour to be perfect. At this point, I like to hand knead the dough, so I can actually feel the consistency.
See so much better! It just needed another 1/3 of a cup to be the dough I like.
I have a bowl with tall sides that my dough rises best in, but before it goes in I add a little olive oil (1-2 Tbsp) so it won't stick as it expands. Put the dough in upside down to coat the top then flip it over and cover with a towel. To raise the dough set in a warm draft-free spot or turn your oven to the warm setting only long enough to warm your oven then turn off. Then set your bowl covered with the towel in the oven. It should double quickly in about 30 min.
See it doubled quite nicely didn't it! Oh, I can't wait to eat pizza again.. I think we are going to have it tonight!! Yay!!
Remove the towel and literately give your dough one good punch to release the gas built up from the yeast. This is an excellent recipe for kids to help make. Fun stuff, Huh!
Let your dough rest about 5 minutes, then dump it out on a clean surface that has been freshly sprinkled with flour.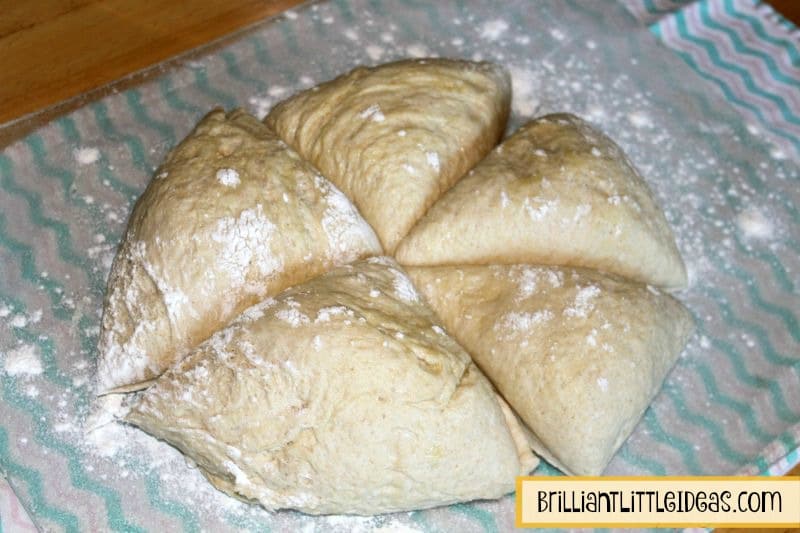 The dough pictured is a double batch. I cut the dough into sections then roll them into balls and let them rest until I am ready to roll them out.
See..they are just itching to be rolled into the base for a brilliant pizza!  Roll out the dough to the desired size then top with sauce, pesto, or olive oil. I like pesto best! Then go crazy with your toppings pepperoni, onions, artichokes, spinach, tomatoes, ground beef, grilled chicken.. then the list is actually endless. Seriously you can put anything on this dough and it would turn out superb!
This is my pizza it has pesto, tomatoes, onions, mushrooms, spinach,  topped off with Parmesan and feta cheeses. Ok, my mouth is actually watering! Yummy! Have fun making your own pizza, It's great for "make your own night" at my house instead of tacos.
Best Pizza Dough
Total Time
1
hour
20
minutes
Ingredients
2 1/4

tsp

active dry yeast or one package

1

tsp

raw honey

1/3

c

warm water

1

c

warm water

2

tbsp

olive oil

2

tsp

salt

4-5

c

flour, can be white & wheat mix
Instructions
Using a large mixing bowl add your yeast, honey, and water. Give it a quick mix, then let it sit for 5 min or until bubbly.

Now that your yeast is awake, add the 1 c warm water, salt, olive oil, and 2 c of flour. Mix with a mixer (or spoon) until soft dough forms adding more flour 1/2 a cup at a time until the dough is no longer sticky to the touch. If kneading the dough by hand mix in the bowl until it comes together, then knead on a floured surface mixing in four as needed.

Remove the dough and add 1 tbsp of olive oil to the bottom of your bowl, add the dough back in and roll in the oil to coat. Cover with a towel and let it sit in a warm place until doubled (takes about an hour).

Once doubled, punch dough down and let it rest on a floured surface covered with a towel for 5 min. Then cut your dough in half with a knife then roll into 2 balls for your 2 pizzas.

On a floured surface, roll out one-half (or one pizza ball) of your dough to the size of your pizza pan or cookie sheet that you will be using. To help the dough not to stick to the pan, I like to sprinkle a little cornmeal on the cookie sheet before laying the dough down.

Once you have your pizza dough on your pan you can top with any sauce and toppings that you have in mind. Make it your own creation! Have fun & enjoy!
What are your favorite toppings for the Best Pizza Dough Ever?

If you liked this recipe, you will LOVE these!