DIY Dry Snow Globes -Homemade Christmas Gift Ideas
Need a great teacher or grandparent gift that's easy and super cute? Then this DIY Dry Snowglobe is for you!
This post may contain affiliate links. For more information, see my disclosures here.

DIY Dry Snowglobes
DIY Dry Snowglobes are super easy to make and of course, lots of fun if you like crafts! Luke my oldest made theses for his teachers and grandparents this year and was so proud of his one of a kind gift. You will need to gather a few supplies and you are on your way to Christmas joy!
What you will need
Small glass jars found in the canning aisle or at your local craft store (these are similar to what I purchased at Hobby Lobby, but  you may need a smaller dowel rod)
Ribbon for the lid of the jar
Small ornaments
Small trees
Small snowflakes, lollipops or whatever looks cute
Snowflakes confetti, or some small snowballs that will work for snow in your jar
Glitter to mix with your snow
White paint
Paint brush
1/2 in dowel rod (or a size that will fit well in the lid and the jar can screw on)
Glue gun and glue sticks
Scissors
Saw to cut your dowel rods
Pliers to remove the ornament hooks
DIY Dry Snowglobes
Ready to get started? Let's go!!
First, the dowel rods and it's going to be a little tricky. You will need to cut them to an adequate size for your jars. To do this measure how tall your ornaments are and how high you want them to be in your jar. Make sure you can see your pretty scene and it isn't too low or high.
Once your dowels are cut they will need to be painted white to blend in with the snowflakes.
Now that your dowels are painted and you're happy with the height, you need to secure them to the lid with hot glue. See picture above.
Picking your decorations
 Buttons and ornaments work great for cute scenes in your DIY Dry Snowglobes.  Luke and I went to the craft store and picked out a few cute things that worked really well in his jars. Again make sure they will fit.
Attaching your scene
Lukes was responsible for everything but cutting the dowel rods. I guided his decisions in height of jars and ornaments but he did all the rest. I'm so proud of him!1
Choose which ornament you want in each scene. Before you glue everything down make sure you like it and most of all that the jar will fit back onto the lid.
After you attach your scene with hot glue and the glue is fully dried you will need to add 1/8 to 1/4 cup of glittery snow. See above.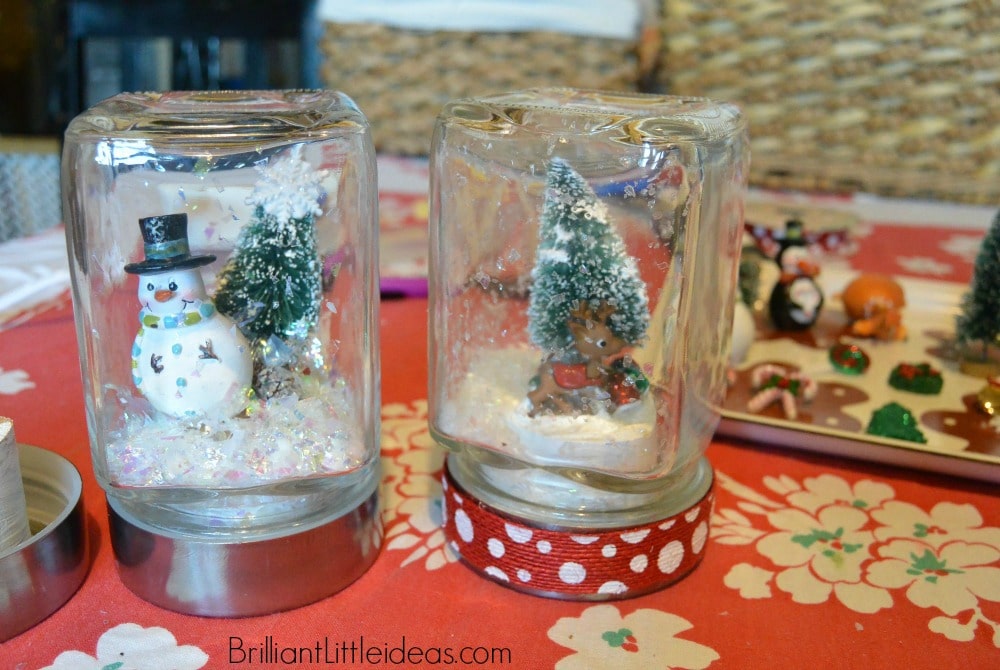 Lastly, don't forget your ribbon! Luke chose red dots for his ribbon. I helped him with this so he wouldn't get burnt because the hot glue heats up the ribbon up a lot.
And DONE! Aren't they cute and so fun to shake!
Have you ever made dry snowglobes?