DIY Optimus Prime Transformer Costume
Easy DIY Kid Costume! Transformers Costumes are awesome, but being Optimus Prime is a great Halloween boy costume. DIY Optimus Prime Transformer Costume
This post may contain affiliate links. For more information, see my disclosures here.
DIY Optimus Prime Transformer Costume
Does anyone have a boy that is still obsessed with Transformers? Well, mine is! So a while back I made him a Transformer costume to play in during our Robot Themed Fun Friday. He wore that costume out, it was literally in shreds when I finally threw it away.
This costume was pretty easy to make however, I didn't take pics because it was a mom &son project for us. It took quite a bit of hot glue with a couple of rolls of duct tape and a few pieces of construction paper. Below I have detailed instructions. Also, if your child really loves robots check out Robot Theme Fun Friday here!
What you will need to make your Transformer Costume.
sturdy boxes (several)
Red, Blue & Silver duct tape
Construction paper
Black Sharpie
White paint (acrylic) with small brush
2 paper towel rolls (empty)
red and blue spray paint or acrylic paint
Scissors
Hot glue gun & plenty of refill hot glue sticks

Let's start with the helmet.. here we go!
For the helmet, I found a blue Texas Rangers hat. Using cardboard I cut out 2 circles and4 wing things that look similar to the ones on Optimus. I spray painted them but you could use acrylic paint instead. For the front piece it was covered with blue duct tape and then a little silver over that, and for the logo on the hat, I covered it with blue duct tape. Outta sight, outta mind!
His mouthpiece was cut out of cardboard as well, then wrapped in blue duct tape. That piece was a little harder to keep glued on so make sure it is glued WELL!
Boots are next..
Cardboard can be made into about anything! I just cut and folded until it resembled a boot (with LOADS of hot glue). Then wrapped it in blue duct tape and added a little detail with construction paper and a sharpie! I made the top a little snug so his foot could fit in then we put the shoes on after. The boots do not have a bottom and did turn some while he walked. I thought they would stay on with his shoes and stay in place but I was wrong. So I just added a tad of tape to the bottom securing his shoes.
 
The BIG Piece …. Optimus Prime's Semi
Finally, we are to the chest portion of this costume.. Yay! If you notice the right shoulder is a pine sol box turned inside out.. lol! As you can see the entire costume has duct tape, with construction paper accents.
First, you will need to find or make a box large enough for your child to fit comfortably. Make a hole large enough for his head to slide through. You will want to go ahead and cover the entire box with duct tape, we chose red with silver accents. For the shoulders, I made the separately added duct tape and then glued on. The paper towel rolls were painted silver then Luke wanted to add a little extra to the top with aluminum foil. Next, we added the accents, I drew the Autobot emblem on the shoulders and Luke painted it. For the windows and front grill we used construction paper with a sharpie. I love my Sharpies!!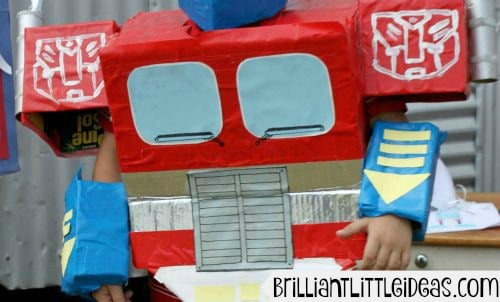 Lastly for the cuffs, again we used boxes wrapped with duct tape and construction paper for accents. Luke thought this DIY Optimus Prime Transformer Costume is great!
This project took us a whole afternoon and it was so much fun to make together. I hope you have fun as well!
Do your kids love Transformers?

This post contains affiliate links. For more information, see my disclosures here.
Save