DIY Snowflake Matching Game for Kids
[disclosure]
Looking for an easy and inexpensive Christmas gift for kids? Try this DIY Snowflake Matching Game. It also makes a great stocking stuffer or classroom gift.
DIY Snowflake Matching Game for Kids
This quiet game is great for long trips with the kids to Grandma's or to play while waiting on the doctor to declare your child to have a cold. It seems this season of Christmas we have a lot to times that the kids need to stay busy, happy, and quiet. How unfair of us to feed them chocolate, candy canes, hot cocoa and cookies and to expect them to keep in their wiggles all the while the sugar is surging inside of them.
AHHHHHHH!
Seriously, I have enough trouble saying still so having something to do or play with makes life all the better.
What you will need
Wood, plastic or foam snowflake shapes
Wooden circles to attach the snowflakes to
White paint and brush
Wood stain of your choice
E-6000 glue or hot glue gun
Toothpicks
Sack to keep your game in
How to make the Snowflake Matching Game -Video
How to make the Snowflake Matching Game -Pictures
First you will need to get your wood circles. Choose a size that's a little bigger than your largest snowflake.
Stain one side of the circle, then once dry do the flip side, don't forget the edges.
I like to put a light coat on and wipe it off pretty quick, this is so they don't get too dark.
Now, paint one side of your snowflake, the other side will be glues to the circles so don't worry about those.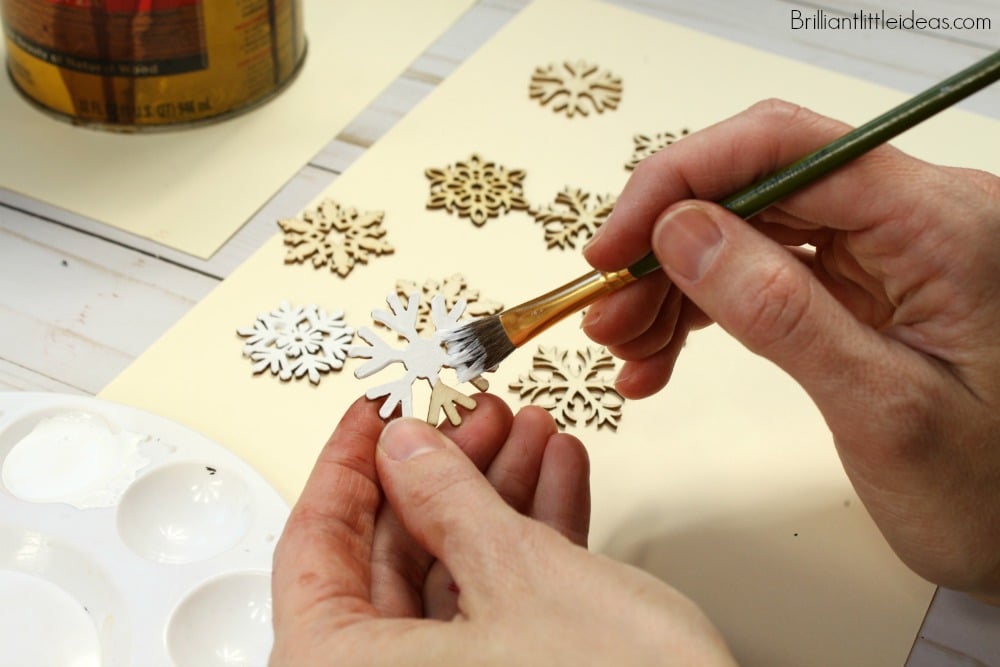 See. Looks good!
Let them dry and get out your E-6000 and toothpicks.
Taking a small amount of the glue on your toothpick gently add some to the back of your snowflake. 
This glue is the real stuff so only a little will work well.
Set aside and let dry overnight.
Now, they are ready for your to play a quick, quiet matching game with your kids. Enjoy!
Did your kids love the Snowflake Matching Game?