Easy Dried Pineapple -Healthy Kid Snack
[disclosure]
Healthy, yummy, and simple to make. This Easy Dried Pineapple is a huge hit with my kids and I'm sure your kids will love it too!
DIY Easy Dried Pineapple
My kids actually love fresh pineapple, of course, I credit it to their love of Sponge Bob (whom I despise).  I can't tell you how many pineapples I have bought in the past and forgot/never got around to cutting it up.
OOPS…
I really hate to throw food away so dehydrator to the rescue and it was a brilliant win for me! The boys went crazy over them.
What you  will need
DIY Easy Dried Pineapple -Video
DIY Easy Dried Pineapple -Pictures
If you aren't using a dehydrator (like mine) then an oven with a cookie sheet and silicone mat will work well.
Start by cutting the top and end off of your pineapple then slice the edges off (see picture below)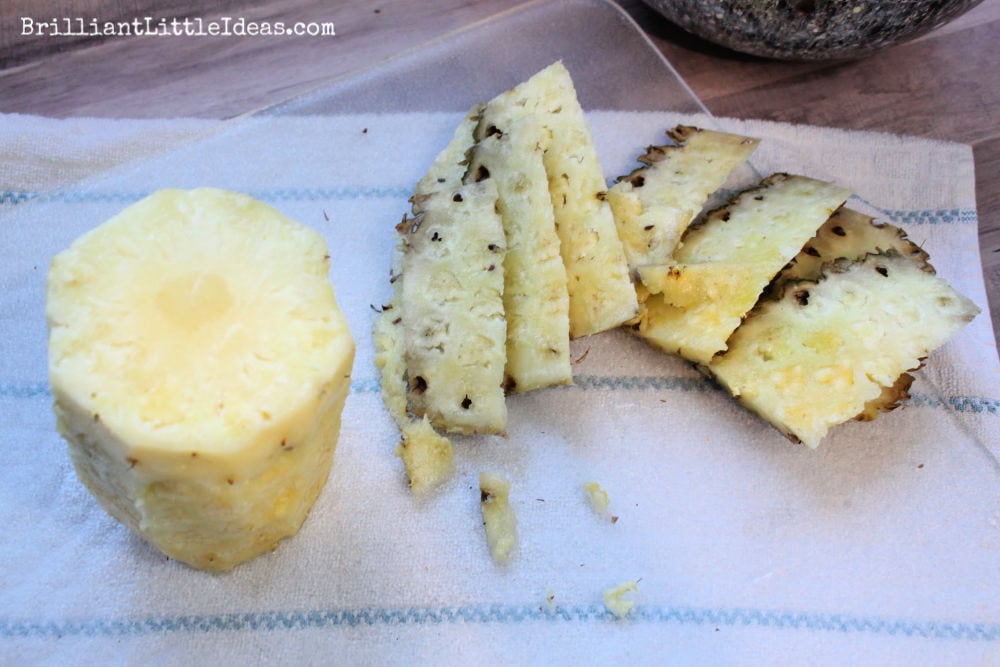 Cut the pineapple in 4ths lengthwise then cut off the inside edges (the core).
Done! Now its time to slice the pineapple for dehydrating.
You can use a mandoline or a sharp knife but whatever you choose the cuts needs to be 1/4 in thick.
Now add all your cut pineapple to either your oven on the cookie sheet with silicone baking mat or to your dehydrator (I have this one) trays. Make sure to give the pineapple a little space between them.
Dehydrate at the fruit setting or 135 degrees for 12-18 hours or until they are crisp (unless you love them chewy). If you're using an oven dry at 175 degrees (or your ovens lowest setting) for 7-10 hours or until crisp. Enjoy!
Have your kids tried dehydrated food before?