Candy Corn Surprise a Fun Fall Treat
[disclosure]
Oh… your kids are going to LOVE this super cute Candy Corn Surprise Snack. Let your kids shake it and guess what's inside. If you want them to have just candy or maybe a small toy or spider ring to really make their day.
Candy Corn Surprise
I usually pick up the boys from school and as soon as Ryker (my 6 year old) gets in the car he wants to know what I have for him. I think I've surprised him too many times with something fun or yummy waiting for him in his seat. Last year the boys loved these Halloween Popcorn Balls, Whoopie Pies, and I actually make this Simple Fall Candy Apple all the time (so easy)!
However, these cute treats will not be given to the boys until they get home. I don't want to imagine the giant chocolate candy mess that would be in the backseat.
What you will need
Oil (canola, vegetable, olive, almond, coconut) *note if you use coconut oil fractionated is better.
Spoons, bowls & a butter knife
Small ziplock bag & a pair of scissors
How to make Candy Corn Suprise -Video
How to make Candy Corn Surprise -Pictures
Gather all your supplies because this will go quick.
Start by melting your chocolate in 15-30 second increments in your microwave stirring at each stop.
You will need either wax paper or a silicone baking mat. These will help you so much in removing the chocolate lids and cones.
*Tip* If the chocolate is too thick and almost gunky but totally melted you can add oil 1/2 tsp at a time and mix well. That should get your chocolate back to a silky texture. This also works if you burn your chocolate. 
Scoop some melted orange chocolate on your spoon and spread it in the middle of your cone. You can use a knife to smooth the chocolate once your cone is fully covered. Place the cones upright on the tray and freeze for a few minutes. 

When the orange is set you will need to add the yell0w or whatever your bottom color is. Coat the yell0w on your cone the same way you did the orange.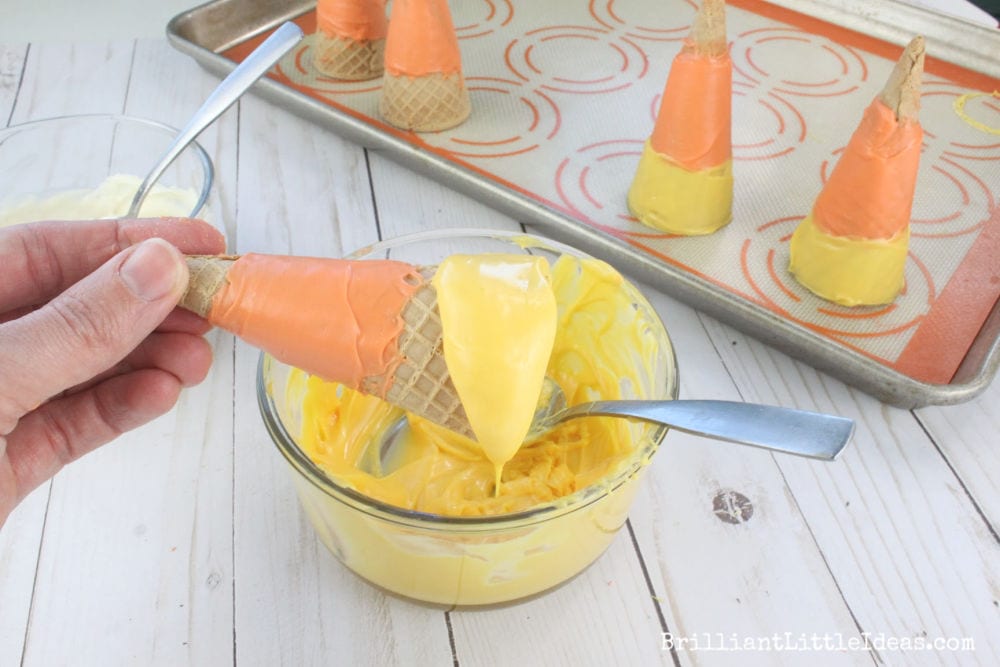 Before you put the cones back into the freezer to set, you need to make a few rings for the lids. We don't want the lids to be larger than the end of your cone. So pick up a few of the cones that have extra chocolate on the bottom and place them in a different spot.
Grab a small ziplock bag and spoon in the remaining yellow chocolate.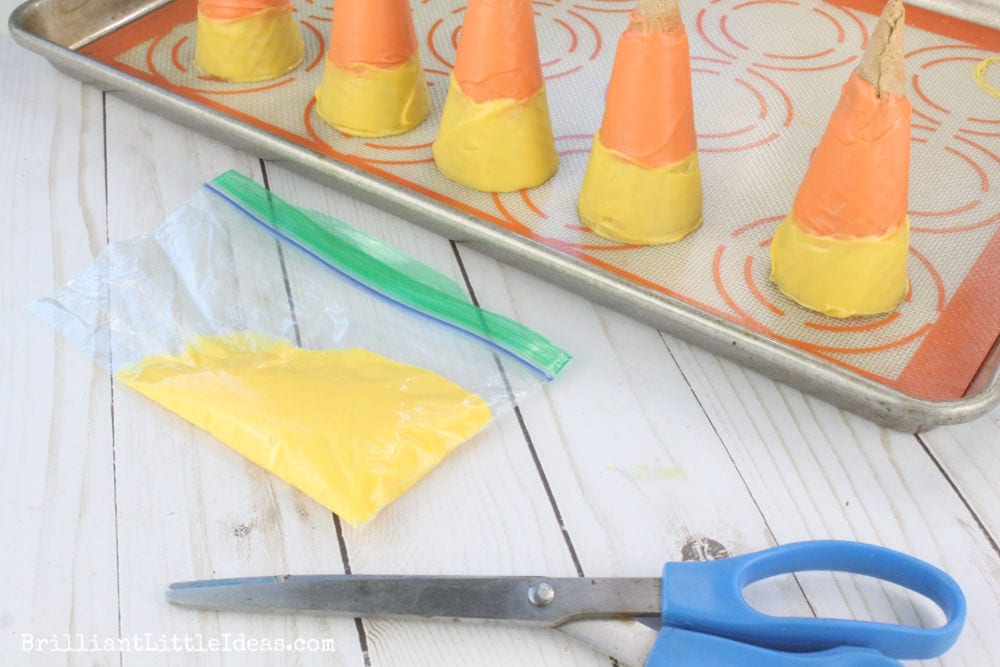 Cut a small triangle off the edge and start filling in the circles you made smoothing with a spoon.
Your cones and lids will need to set so place them in the freezer again for a few minutes.
Now for the top of your candy corn cones, it's easier if you dip the lids into the melted white chocolate but you can also spoon it on like the other colors.
Once again freeze for a few minutes until set. You can now peel off the discs. Make sure to lift your wax paper or silicone baking mat so not to break your lids.
Fill each cone 3/4 the way full with small candies, sprinkles, and if you want a cute spider ring. 
Now to attach the lid you will need some melted yellow chocolate or you can use the leftover chocolate you used for the lids. Trace each cone with your chocolate then place the lid on. Set the cone upright on the pan and freeze again.
Set them out for a party or afternoon treat and let your kids shake them to wonder what's inside.
What's your favorite fall treat?