Candy Corn Surprise Fall No-Bake Snack for Kids
Be the envy of the party with this fun treat for kids. Candy Corn Surprise No-Bake Snacks are perfect for any Halloween party or Fall Gathering. Just a few simple ingredients and you have a set of sweet treats. Have a kid's Thanksgiving table? Set up a table for a no bake bar to create a perfect snack filled with a delicious snack mix that can be for the whole family. Premake the candy corn cones and all the kids will need to do is fill the cone shape and put on the lid.
This candy corn looking snack is sure to be your little goblins favorite ice cream cone snack this holiday season. If you're looking for more fun fall ideas we had a blast creating some new ones. Try these Halloween Popcorn Balls, Whoopie Pies, and I actually make this Simple Fall Candy Apple all the time (so easy)!
What You Will Need to Make Candy Corn Surprise Fall No-Bake Snack
Oil (canola, vegetable, olive, almond, coconut) *note if you use coconut oil, fractionated is better.
Spoons, bowls & a butter knife
Small ziplock bag
Scissors
What to Put Inside the Candy Corn Ice Cream Cone
Halloween Sprinkles
Candy Eyes
Peanut Butter M&M's or
Reese's Pieces
White Chocolate Chips
Salty Peanuts or a cute
Salty Treat
Candy Corn
Caramel Corn
Anything fun you want to add that would go well with the then or has a candy corn flavor.
How to make Candy Corn Suprise -Video
How to make Candy Corn Surprise -Pictures
Gather all your supplies and some extra because this easy dessert is going to be snatched up quick! Let's start off with the fun stuff, chocolate! You will need three colors for this candy corn ice cream cone surprise. Yellow, orange, and white can be all made from white chocolate or white almond bark or use candy melts for all three colors.
If you have food dyes and want to make your own you will need yellow and orange food dye. If you don't have orange you can make it with a little yellow and red food coloring. I just got the candy melts to make things a little simpler.
If you have a candy corn theme the perfect treat to make are these Candy Corn Sugar Cookies. They are adorable, delicious, and the perfect cookie to add to a candy corn themed dessert plate.
You will need either wax paper or a silicone baking mat. These will help you so much in removing the chocolate lids and cones.
If your kids love easy recipes they will love these Painted Sandwiches. They are so easy to make and can be a fun snack or a great lunch idea that was a huge hit in the lunch room last year.
Start by melting your chocolate in 15-30 second increments in your microwave stirring at each stop. The chocolate will give the cones that extra sweet taste. When the chocolate is completely melted its time to cover the cone.
It was easier for me to cover the orange first and then use the white and yellow to cover up any imperfections. Choose to melt all three colors at once or melt just one color at a time if you're making a lot of the candy corn no bake treats.
*Tip* If the chocolate is too thick and almost gunky but totally melted you can add oil 1/2 tsp at a time and mix well. That should get your chocolate back to a silky texture. This also works if you burn your chocolate.
Scoop some melted orange chocolate on your spoon and spread it in the middle of your cone. You can use a knife to smooth the chocolate once your cone is fully covered. Place the cones upright on the tray and freeze for a few minutes.

When the orange is set you will need to add the yellow or whatever your bottom color is. Coat the yellow on your cone the same way you did the orange.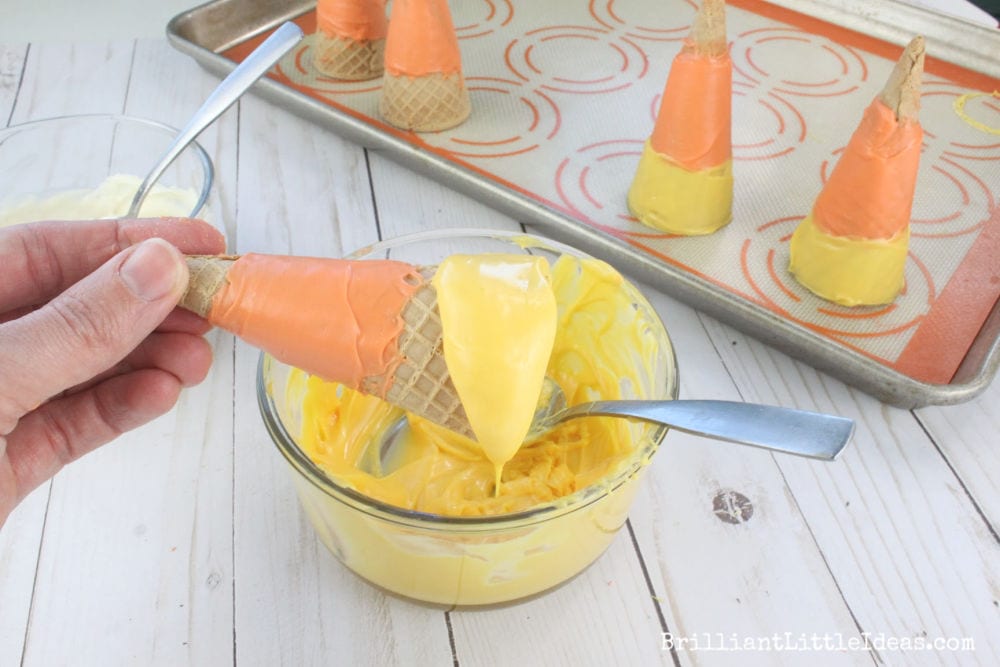 Before you put the cones back into the freezer to set, you need to make a few rings for the lids. We don't want the lids to be larger than the end of your cone. So pick up a few of the cones that have extra chocolate on the bottom and place them in a different spot. Moving them will leave a small yellow ring on the slipmat just fill in the circle plus just a little around it for the lid of the candy corn cone.
Grab a small ziplock bag and spoon in the remaining yellow chocolate in the bag. Seal the top and clip a small hole in the pointed edge. The small hole will allow the melted candy wafers to run through the hole but not too quickly. You should be able to control the about and where it's going. So don't squeeze too hard. You can also make the hole larger if needed to let more melted chocolate through.
Keep your kids involved because this easy snack is not only fun to make but also fun to eat. The kids will really enjoy making their own candy corn surprise cones. The best part of involving your kids is all the memories that you will make.
Make these fun cones on Thanksgiving day or let everyone make one after Thanksgiving dinner. When it comes to dessert recipes this one is always a huge hit with the whole family.
Your cones and lids will need to set so place them in the freezer again for a few minutes.
Now for the top of your candy corn cones, it's easier if you dip the lids into the melted white chocolate but you can also spoon it on like the other colors.
Once again freeze for a few minutes until set. You can now peel off the discs. Make sure to lift your wax paper or silicone baking mat so not to break your lids.
Once again freeze for a few minutes until set. You can now peel off the discs. Make sure to lift your parchment paper or silicone baking mat so as not to break your lids. If you need to remelt the yellow broken pieces to make new ones do that.
*Don't forget if it starts to seize up just add in a tiny bit of oil and stir until the chocolate is smooth again. You can also use broken pieces to seal the finished cone lid on when you have it filled with a fun fall snack mix.
Next up is the filling you can find the ingredients for the snack mix recipe above or just make up your own. Ive made a set with a salty fall snack mix and turned out really good with the sweet chocolate sides of the cone. The whole thing was just too good to set down.
You can play a game and add a piece of candy corn in one of the cones and who ever finds it wins a prize. So many fun things can be made from this no bake dessert.
Fill each cone 3/4 the way full with small candies, sprinkles, and if you want a cute spider ring.
Now to attach the lid you will need some melted yellow chocolate or you can use the leftover chocolate you used for the lids. Trace each cone with your chocolate then place the lid on. Set the cone upright on the pan and freeze again.
Set them out for a party or afternoon treat and let your kids shake them to wonder what's inside. Make sure they shake their fun fall snack before they open it and see what's inside. Hide a not for each kid inside with a cute saying or fall joke.
What's your favorite fall treat?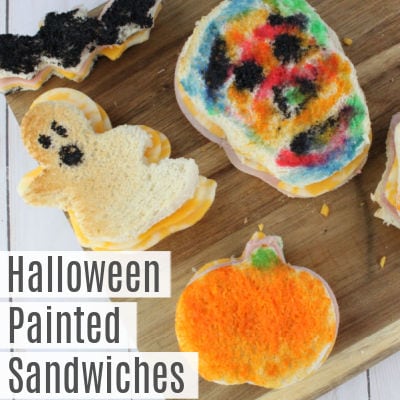 Painted Sandwiches
Painted sandwiches are as much fun to make as they are to eat.
Halloween Cookies
Graveyard cookies are a huge hit with the whole family.
Halloween Gift Basket
Easy Halloween gift basket ideas for your kids!