How to Make Fire Flames with Printable Template
Want a way to make your kid's Fireman pretend play come alive? These Fake Fire Flames for Kids are exactly what you need to create the most epic day of play! Today I'm going to show you how to make some foam fire pieces that can be stuck to anything with just 2-sided tape or a glue dot.
Adding fake flames or Tissue Paper Fire Flames can be some easy ways to make a playhouse look like a real fire was coming from the windows and the roof.
This post contains affiliate links. If you use these links to buy something we may earn a commission (at no cost to you). Thanks for the support! See our Disclosure page.
Let's make some Fireman Fire Flames!
The kids really loved the Fire Station, but what the real hit was the house on fire. All of my kids ran around with their DIY Fire Extinguishers and put out those Fire Flames. They laughed and rescued each other. Out of the extra foam sheets, we made these cute Fire Flame Necklaces and the kids couldn't wait to show their parents at the end of the day.
This post contains affiliate links. If you use these links to buy something we may earn a commission (at no cost to you). Thanks for the support! See our Disclosure page.
What can you do with Fake Fire Flames
Your kids would really love to drive their fire truck up to a play Fire Station (complete with a printable fire hydrant), but what the real hit was the house with the fake fire flame. Let your kids run around with their own DIY Fire Extinguisher and put out those Fire Flames. They can laugh and rescue each other. Don't throw away the pieces or extra foam sheets, instead make these cute Fire Flame Necklaces for extra fun crafts.
If your kids are more into a real campfire but you want the safety of a fake campfire in your house I've got you covered with an easy DIY 3D Fire Flame. You can even make some pretend marshmallows to roast over your fire pit. Don't have enough time to make some good marshmallows? No problem, just a cotton ball onto the end of sticks, for some instant marshmallows! Your little campers will be full of loads of fun ideas but you could make their day better with some microwaved graham crackers smores! So don't forget to keep those around for those rainy boring days or make an extra campfire craft for the next time your kids want their own pretend campfire indoors.
Have a fire drill. Take this chance to explain real fire safety to your kids even your young children can learn not to touch fire and what to do. Practice getting out of the house in the case of a house or what carbon monoxide is and how to get away safely. What do you do if an open flame gets out of control how to stay out of the path? The good news it's never too early to teach your kids what to do in an emergency.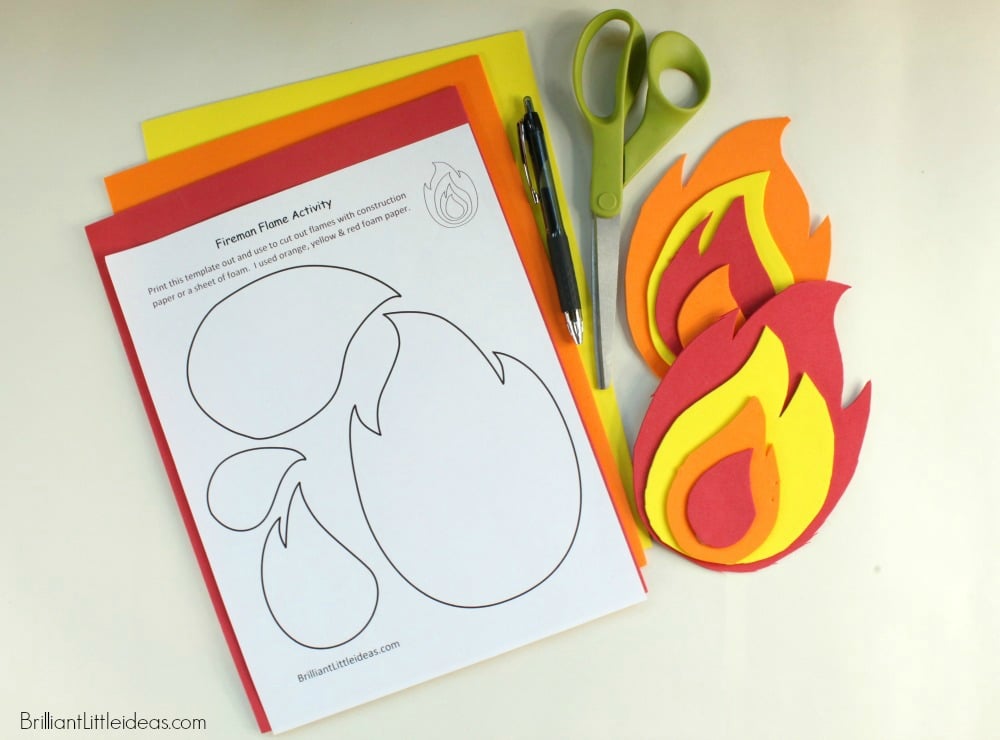 What you need to make Fake Fire Flames
2 sided tape or
Fire Flames Template (click the picture below)
How to make Fire Flames -Video
How to make Fake Fire Flames -Pictures
The first thing you need to do is print the Fireman Flames Template then cut each piece out and trace it onto a foam sheet. You can choose the same yellow, red, and orange that I used or you can pick different colors or different shades of the same color. No matter what you choose I'm sure you will make a beautiful campfire or flames that your kids will love!
We are going to start with the orange flames. Choose the size flame you want as orange and trace around your fire flame template onto your foam sheets, astrobrights paper, coffee filters, orange tissue paper, or grab some red construction paper to cut a few flames out quickly.
You could even use a paper plate in a pinch by just drawing the flames on, color, and cutting out each flame individually or all together as one large flame. Once you have chosen what you want to make your flames out of the next steps are really easy. I choose foam sheets because with all this hard work I wanted to be able to use them all week if not on and off for months. Foam is pretty durable especially as craft supplies for kids go.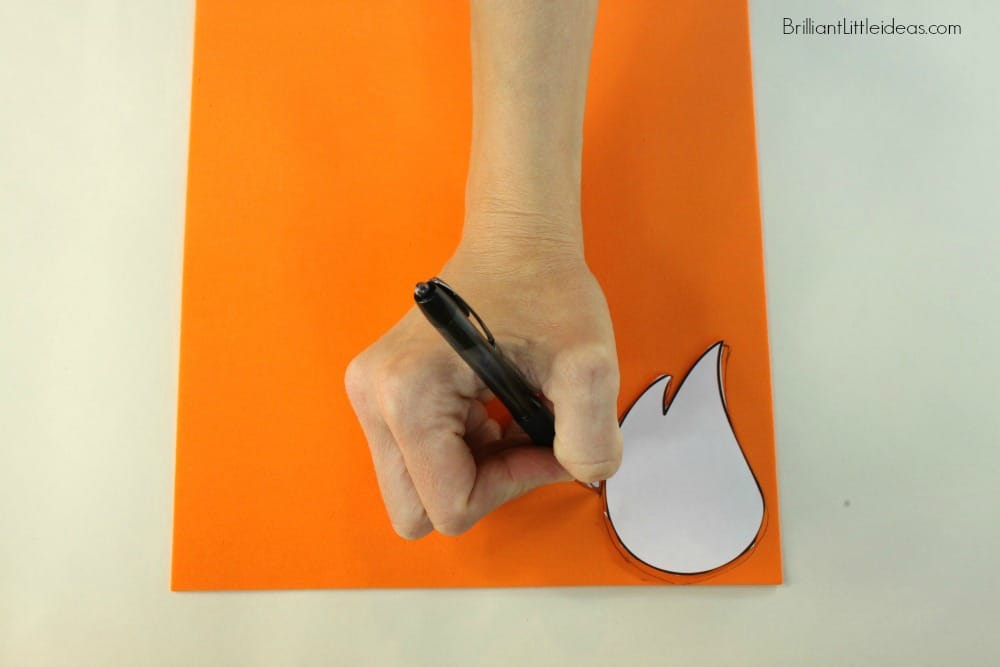 Use a fine tip sharpie because it's easier to cut the ink off so it doesn't show on your finished fire flame. Don't worry though, you can always flip them the inked side over. Starting with the small flame trace out as many as you need to finish the project.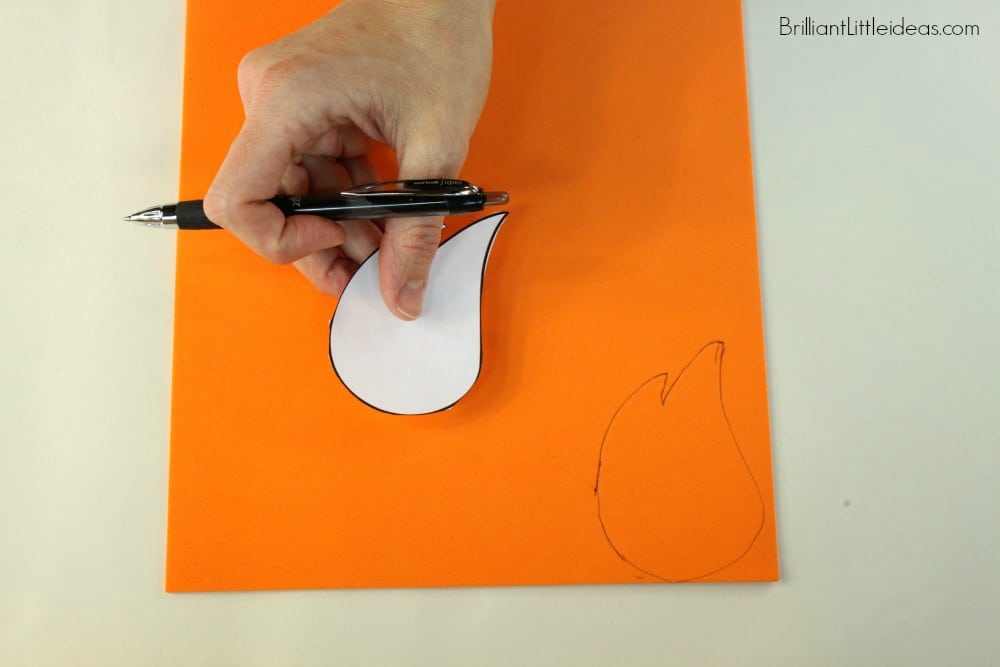 Continue the same steps with the red and yellow flames until you have a set of each flames in the number you needed. I made about ten flame sets the first time around and then added them as needed.
How to make Fake Flames have a more realistic look try these tips.
Actual flames have a light source so if you want the look of real flames then add a battery tea light, orange lights, a small fog machine, or a little fan to blow the flames just enough to make the little flame shapes sway.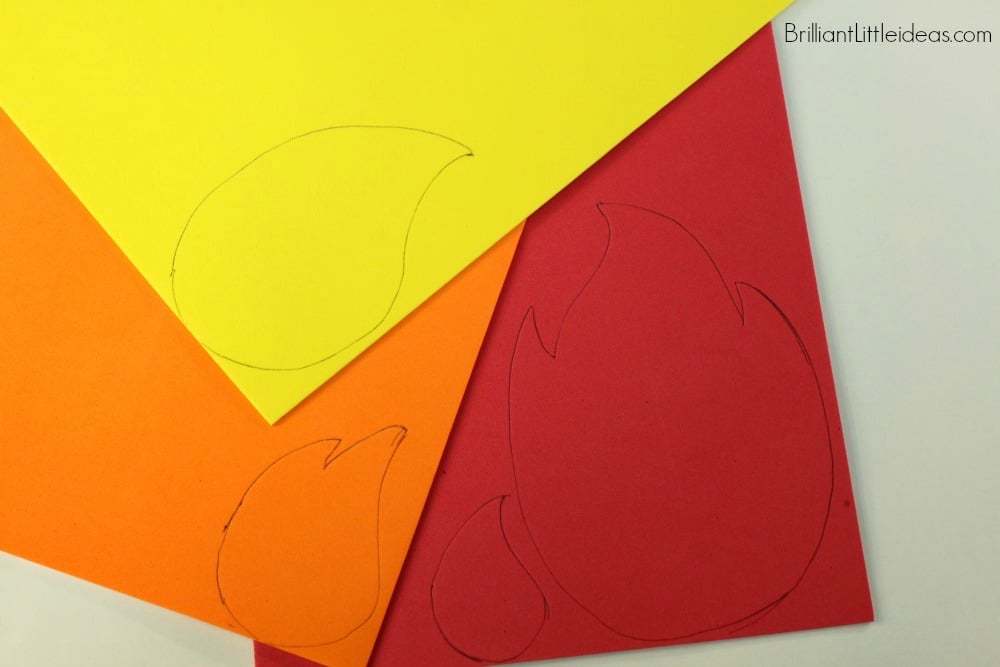 Attach your flames set together using a permanent glue dot, foam glue, low heat glue gun, or double-sided tape. It only needs a little glue to stick each piece together so don't go crazy.
Temporary glue dots or double-sided tape would work the best when attaching the finished flames to a play house or box. The temp glue dots come off easily and don't leave a sticky residue.
How to make fake logs for a pretend campfire.
For a better effect add some fake logs to your fire. Gather up a brown marker, black paint or some brown felt, and several cardboard tubes. The tubes can be either paper towel rolls or toilet paper rolls. You have several options here you can cover each tube with brown felt to make some cute felt logs. Paint some black lines on each tube to look like bark but be sure to let one side dry before rolling it to paint the other.
By far the best results I've seen is to draw on some lines like bark onto the sides of the cardboard tube. This is not only easier but also so much fun for small children to help with. You can even use washable markers for an easier clean up. The last idea is to just take a pool noodle and spray paint it brown, not my favorite idea but it will definitely work especially for large logs when you need them!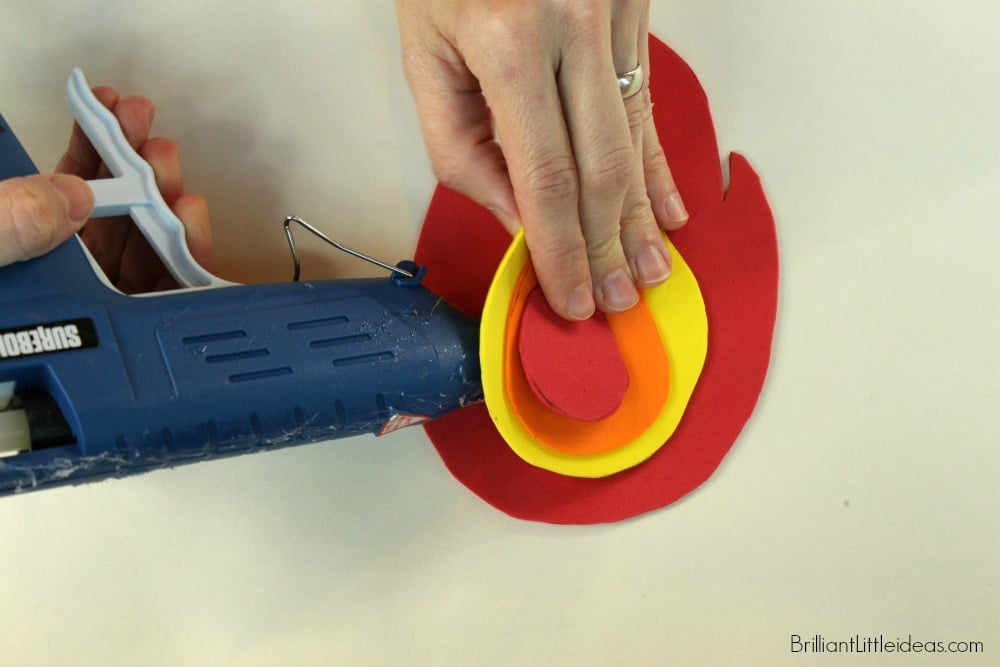 As a homeschool mom, I'm always looking for easy ways to teach my children and spark creativity. These fake fire flames are a fun way to keep your kids busy with creativity and imagination all day. When they are all finished playing fireman for the day have them write or tell ghost stories around the campfire. This is yet another way for the kids to learn, listen, and imagine a spooky story.
Teaching children whether in play or in a school setting is all about creativity. So help your kids learn how to think with their imagination now. Don't limit them, turn off the tv's and devices. It will do wonders for their brain development.
Don't forget to grab your free fire flame printable below.
What did you do with your Fire Flames?