How to Make a Fire Flame Necklace for Kids
A fire flames necklace craft is a great Fireman Birthday idea to keep the kids busy. If you are having a campfire pretend play day and want to let the kids make their own fake flames necklace? This necklace looks like an open flame but is safe to make with little kids.
A fun way to bring a fireman or camping birthday party to life is to have a fog machine. You can also lower the lights and have a string of orange lights or tea lights around the room. Fun crafts like this fire flame necklace will give your kids fun memories to look back on when they're big.
This post contains affiliate links. If you use these links to buy something we may earn a commission (at no cost to you). Thanks for the support! See our Disclosure page.
Fireman Fire Flames Necklace
This was an idea I had when I looked at all the extra foam sheets I had laying around. I  downsized the Fire Flames Template and voila, a whole new idea Fire Flame Necklaces for the kids!
They loved it and it went really well with our Fireman Fun Friday, Fire Station, Fire Flames, and Fire Extinguishers. Use the Flames Necklace as a badge the kids get for driving a pretend fire truck to save the day! 
If you are planning a day with a real campfire please be sure to keep the necklace away from the fire because foam will melt. If you have a Pretend Play Camping Day planned with a fake campfire then this craft is definitely what you need.
Fake Fire Flame Necklace can be made out of construction paper, tissue paper, or even a paper plate. Just let the kids color the flames their own way, punch a hole in the top and run a string through for the necklace.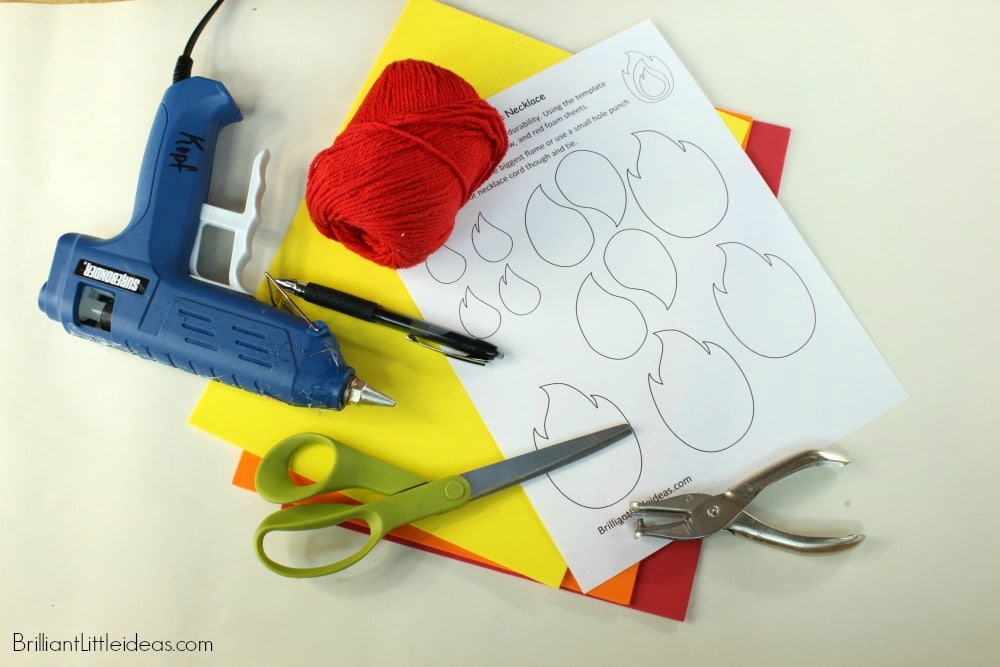 What you will need
Small hole punch, not regular size
Ink Pen
Fire Flames Necklace Template (at the bottom of this page)
How to make the Fire Flames Necklace -Video
How to make the Fire Flames Necklace -Pictures
Start by printing the Fire Flames Necklace Template that you can find at the bottom of this page. Cut out one of each flame. If you have several kids cutting at the same time each template has 4 flame sets.
Using an ink pen trace each flame onto the desired color foam sheet, astrobrights paper, coffee filters, or cardstock.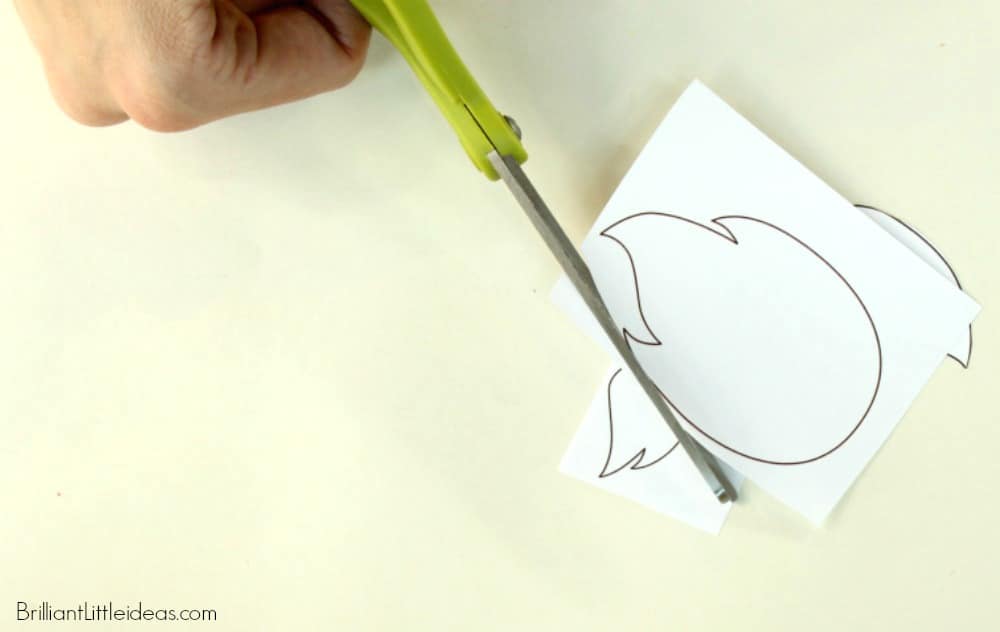 Choose the colors that you want the flames to be. For this craft, we choose red, orange, and yellow foam, but you can choose any colors you want. Be sure to get different colors because kids are creative and come up with a lot of fun ideas for their own flame colors.
Now cut each flame piece being careful because they are small. Your kids may need help with this part. If you have a lot of little campers or little firemen making this craft you may need to work in shifts with a few kids while the other kids play at a pretend campfire and roast pretend marshmallows. Young children will love to wear this necklace for days and days!
Using your low temp hot glue gun, glue each piece of the Fire Flame Necklace together as shown below. If your kids are doing this by themselves be sure to use tacky glue or Elmer's glue instead of the hot glue gun.
If you need to put out the flames make this DIY Fire Extinguisher. It's fun to make and easy to use with some imagination.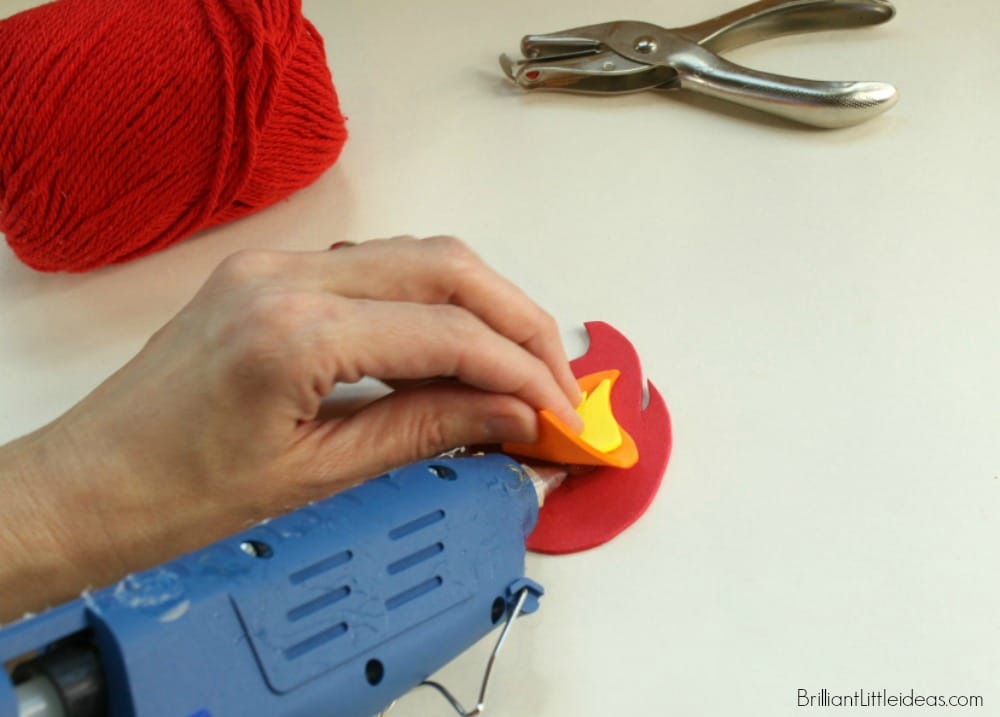 Great! Now that you're done it's time to make it into a necklace.
Need more flake flame ideas? I have an easy way to make Tissue Paper Fire Flames, if you want some to stick to the walls try this red Construction Paper Fire Flames. These are both easy to make and fun to play with. 
Punch a hole using a small hole punch. You can see the size I used in the link above. If you have leftover foam go ahead and cut out more of the medium and small flames. Glue them to the back side the same as the front and it will give your necklace a realistic look because in a real fire, you can see flames on both sides.
Also, with actual flames, they aren't perfect. So be sure to let the kids cut their little flame the way they want.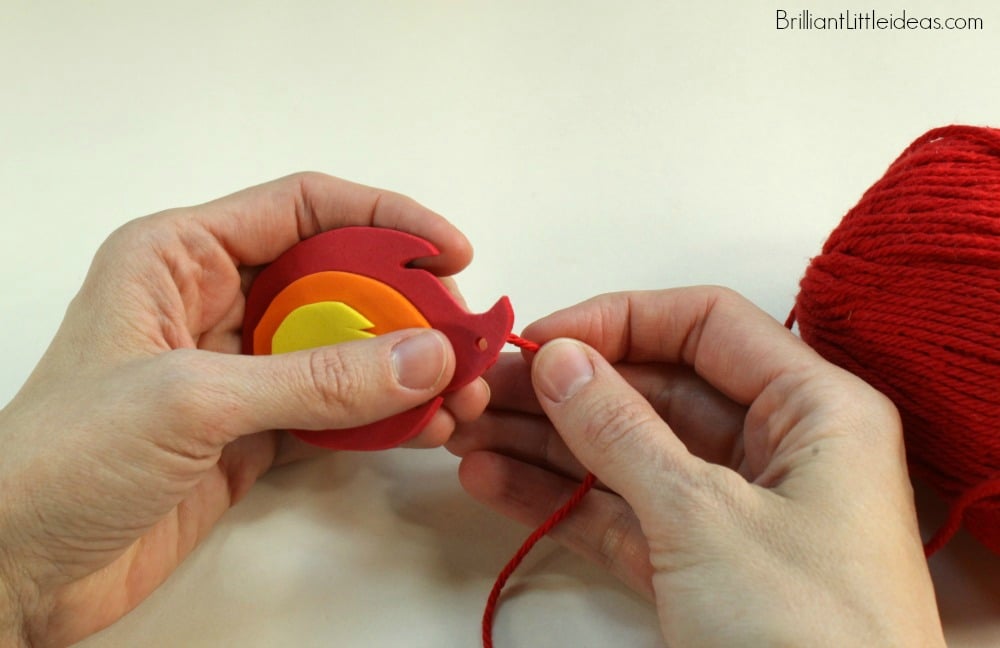 Thread the yarn through the hole, cut the yarn to the desired size, then tie it at the end. When your kids are all finished take them on a fake fire drill and work on fire safety. Even if this is used as a campfire craft the kids still need to learn what to do if a fire breaks out in the forest or if the real campfire gets out of control, even a small flame that has started in the leaves.
Kids are young but now is the time to teach them to be safe and what to do in an emergency.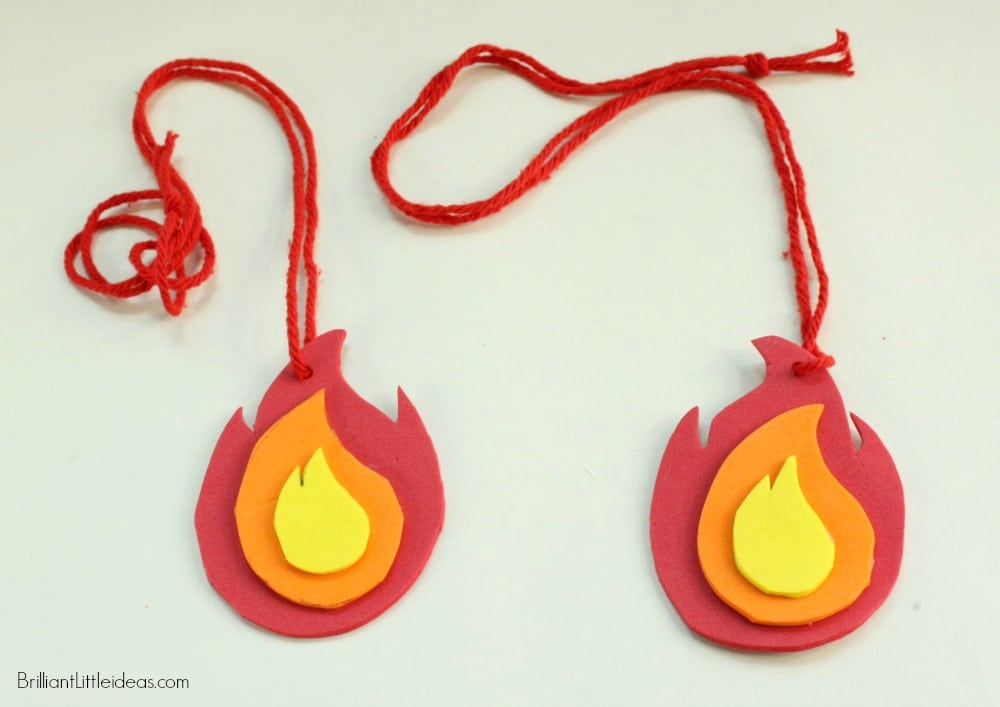 Perfect! You're all done!  
This 3D Fire Flame not only stands up but you can also make felt logs or printed log paper wrapped around toilet paper rolls or paper towel rolls. For large logs go with the larger tubes. Draw wood lines with a brown marker down the cardboard tubes.
Mini House: Firehouse Co. No. 1
Richard Scarry's A Day at the Fire Station (Pictureback(R))
Fireman Sam 1001 Stickers
Big Frank's Fire Truck (Pictureback(R))
You can even make fake rocks by wading up grey paper or a paper bag as fake rocks. No matter what you use you can make a beautiful campfire to tell ghost stories around or make smores with some fake graham crackers, roast marshmallows, and eat some real chocolate. Make this your own pretend campfire so if you want something special make it the way you want with the craft supplies that you have.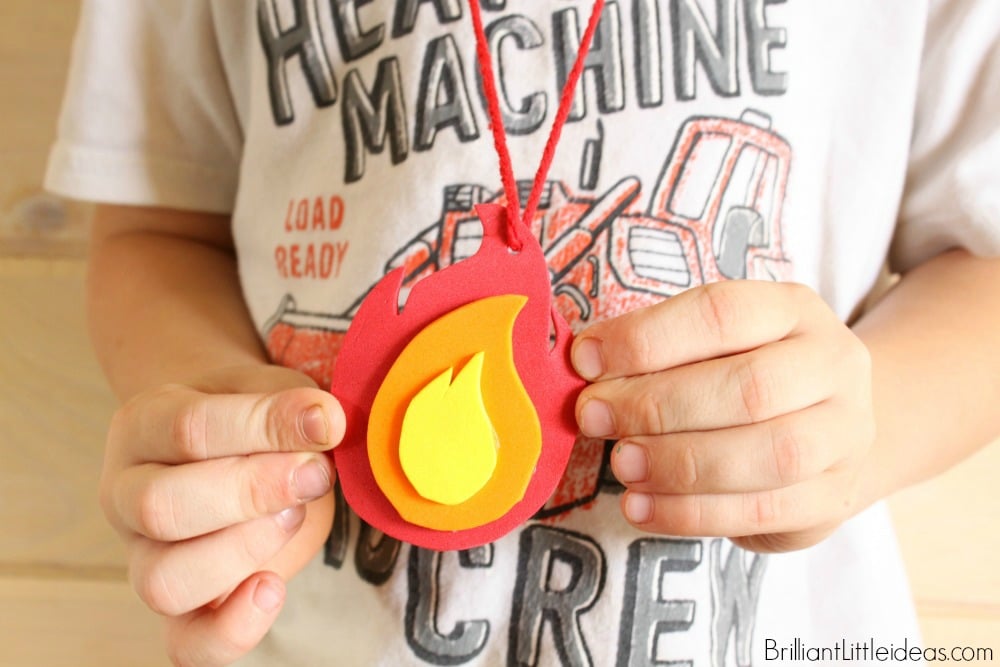 Need a campfire but don't want to make it? Get this durable yet Cute Plush Campfire Set already made and ready to ship. I got this set for cousins and it was so much fun and didn't involve all the hard work to make it. 
Did your kids enjoy making these easy Fire Flame Necklaces?

Fire Flames Shrinky Dinks
Easy to make shrinky dink template for kids.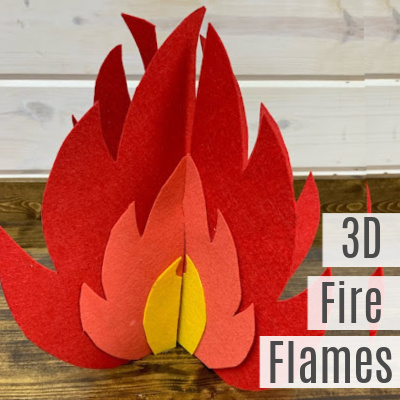 How to Make 3D Fire Flames
Guides off the Map to secret Destinations
Tissue Paper Flames
Tips on what to look for that make or break a trip