Freeze Ahead Mini Ice Cream Treats for Kids
[disclosure]
So… I've been known to bribe my children and because of that these tiny ice creams are a staple in our freezer. These yummy treats are also great for an after dinner treat and taste even better than the ones you can get from the store.

Freeze Ahead Mini Ice Cream Treats for Kids

What you will need
Hard Shell Chocolate Recipe
Mini Ice Cream Cones
Favorite Ice Cream
Small Spoon or Scoop
Muffin Tin
Freeze Ahead Mini Ice Cream Treats for Kids -Video
Freeze Ahead Mini Ice Cream Treats for Kids -Pictures
Spoon your favorite ice cream into each mini cone. Be sure to add a little to the tops of each cone so you will have more ice cream to cover in the yummy Hard Shell Chocolate.
I set my mini cones in a muffin tin so if they did fall over in the freezer it wouldn't break the cone.
Freeze the cones for 4 hours or overnight until set.
Once the ice cream is set you need to dip the top of each cone into the hard shell chocolate (recipe here). Let the chocolate drip off then turn right side up again. Set back into the muffin tin and dip the rest of your cones.
It's just fine if it drips a little like this one below. The chocolate will harden quickly but if it drips a little that's just fine.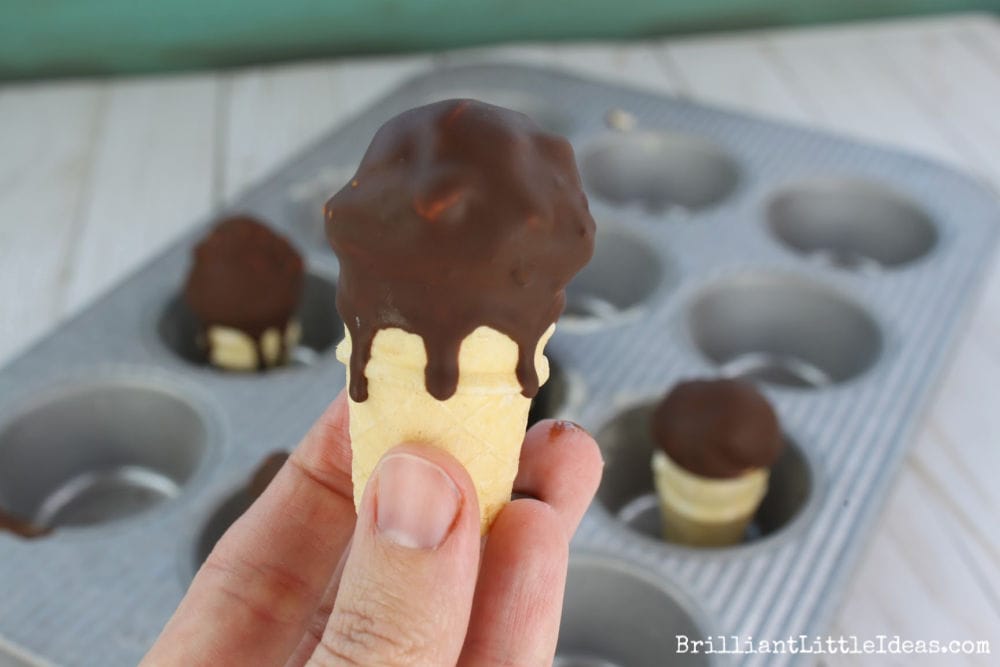 Freeze the Mini Ice Cream Treats until your ready to hand one to your child. Or.. send the kids outside and have one for yourself. LOL!
Enjoy these treats with your kids while playing outside, or watching a fun new movie.
Do you love mini cones? I think they're a perfect size!

data-pin-description="Super Easy Summer Ice Cream Treat for those hot days. Freeze Ahead Mini Ice Cream Treats for Kids #summertreats #icecream #makeaheadsnacks #forkids #magicshell"