Halloween Bat Donut Hole Recipe Kids Can Make
Halloween Bat Donut Holes are simple to make and delicious to eat. If you're looking for a silly treat for your next Halloween Party that's done in a flash this is it! Spend some quality time with your kids this spooky season and make this cute donut hole idea.
You will only need a few things to bring these bats to life. Oreo cookies, chocolate donut holes, icing, and candy eyes. Make cake pops by adding a stick to the bottom of the bat donut hole for a fun portable halloween recipe.
Bring these chocolate doughnut shaped bats to your kids' halloween party, fall party, or even to a cozy fall outdoor gathering. Learning about bats? Bat donut holes can be created and eaten year around.
Be sure to make extra because these bat doughnuts will fly off the plate! If your kids love bats try these cute Bat Oreo Cookies to go with these mini doughnuts.
What You Need to Make Easy Bat Doughnut Holes
Oreo Cookies (regular Oreos) or
Chocolate Sandwich Cookies of any brand
Airtight container for storage
How to Make Easy Oreo Bat Donut Hole Treats
If you're making a lot of these you will need a large baking sheet or two to hold the finished bats while you work on the rest. Line the pans with parchment paper for easier clean up, and so they don't stick if the chocolate drips a little.
Gather all your ingredients and let's get started making these chocolate bats. I found these premade chocolate donut holes in the snack aisle at my store so check your local grocery stores or online. You can also check your local donut shop. Homemade is the best but this is an easy recipe for kids so we will be using store bought to show you how easy they are to assemble.
First, we are going to add the eyes. To attach the eyes you will need two small dots of icing to hold the candy eyes in place. I usually like to use melted chocolate candy wavers instead of gel icing for a tighter hold which is a great option if you are using what you have on hand.
This Royal Icing Recipe is the best when building gingerbread houses and would work excellent for these bat donuts. Just add a few drops of food coloring, the color of your choice of course, and mix in.
Bo the Bat (Learn and Love Series)
Fiona the Fruit Bat
Bats: An Illustrated Guide to All Species
National Geographic Readers: Bats
Fly Guy Presents: Bats (Scholastic Reader, Level 2) (Fly Guy Presents…)
Bluey: Good Night, Fruit Bat
Place the candy eyeball onto the chocolate and then the other one. If the eyes start to slide just move them back into place and wait a few seconds before removing your fingers.
Decide if you would like to have your eyes close together, crooked, and the size candy eyeballs you would like to use. Keep in mind that if you have a mess up the set chocolate can just be gently removed from the donut hole and you can start over.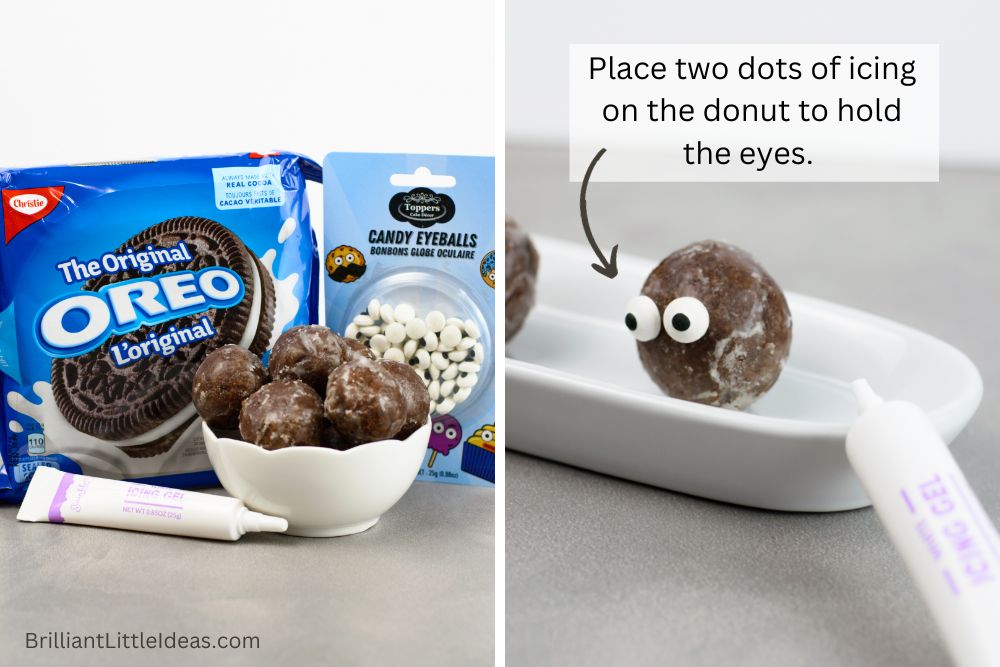 Next, separate your Oreo top and bottoms and scrape off the cream filling. You should be able to get 2 sets of wings per cookie. To cut the Oreo cookie in half you will need to gently cut the cookie using a sawing motion and lightly pressing. Any harder and your cookie might break.
Once you have the wings it's time to complete our bat. Cut a small slit in the side toward the top of the doughnuts where the wing will go but don't push all the way through.
Squishmallows Original 8-Inch Emily Bat with Sparkly Ears and Belly – Medium-Sized Ultrasoft Official Jazwares Plush
ArtCreativity Plush Wearable Bat Wings, 1 Pair, Bat Wings for Boys and Girls in Black, Kids' Bat Halloween Costume Made of Soft Material, Dress Up Accessories for Children
REFAHB Lucky Bat Plush Toy, Removable Stuffed Animal Plush Dolls, Soft Cute Plush Pillow Home Decoration Gift for Kids Girls' Birthday Christmas Halloween (5pcs a Bag, Purple)
FAZHBARY Small Black 3D Bats Halloween Decoration Bat Plastic Toy Party Favor Artificial Bats for Crafts Creepy Scary Prank Toys
Wild Republic Huggers Blue Bat Plush, Slap Bracelet, Stuffed Animal, Kids Toys, 8 inches
Dissect-It Simulated Synthetic Lab Dissection Toy, STEM Projects for Kids Ages 6+, Animal Science, Biology, Anatomy Home Learning Kit, Great for Young Scientists! – Bat
If you have leftover melted chocolate then place a chocolate dot inside of the slit to hold the ing in place. Slide the wing halfway through the donut hole but not all the way through. Do the same thing for the opposite side of your donut hole.
When you have bat wings in and the chocolate is set its time to serve. Arrange the bat donuts on a pretty plate with some chocolate wafer cookies, mini marshmallows, and candy corn. Keep in mind that kids love desserts even more the second time around so be sure to make plenty for them to share with their friends.
Store these cute bat donuts in an airtight container at room temperature for 1-3 days.
Did you kids love making these cute Bat Donut Holes?