Super Easy Royal Icing -Perfect Gingerbread House Icing
This recipe is so easy your kids can make it! Looking for a great icing recipe for cookies, or a gingerbread house maybe? Try this Super Easy Royal Icing recipe without meringue powder. Just powdered sugar, cream of tartar, egg whites, and vanilla.
If you're looking for a Sugar Cookie Recipe that's soft and chewy this is a true winner. I love to make these and then use the royal icing to decorate them for a fun afternoon with your kids.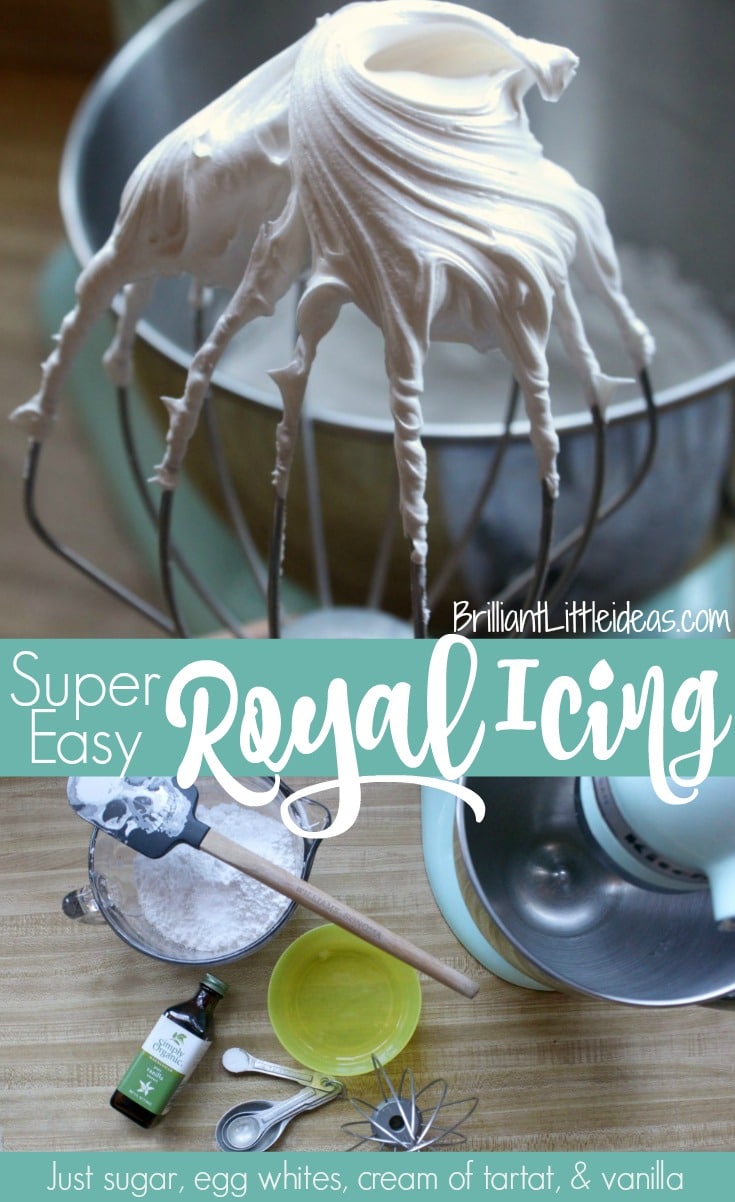 This post may contain affiliate links. For more information, see my disclosures here.

Super Easy Royal Icing
In creating my Haunted Halloween Gingerbread House I needed a Super Easy Royal Icing. I also needed a recipe that didn't have meringue powder in it since I had none on hand. So I went looking in my cookbooks but still couldn't find one I liked until I found a note I had written while spending an afternoon asking my great aunt Arleen what her favorite recipes were. She was the BEST cook!
The kids and I even made a fun Thanksgiving Cabin with this icing and it turned out so cute.
Super excited I used this recipe and you know what? It worked! Praise the Lord!! Lol! So here it is!
What you will need
2 cups Powdered Sugar
2 egg whites
1/2 tsp vanilla
1/4 – 1/2 tsp of cream of tartar
Mixing bowl
Whisk or
Big Stand Mixer (this is the best)or
Spatula
Ziplock bags or a piping bag to pipe your icing (We went ziplock all the way)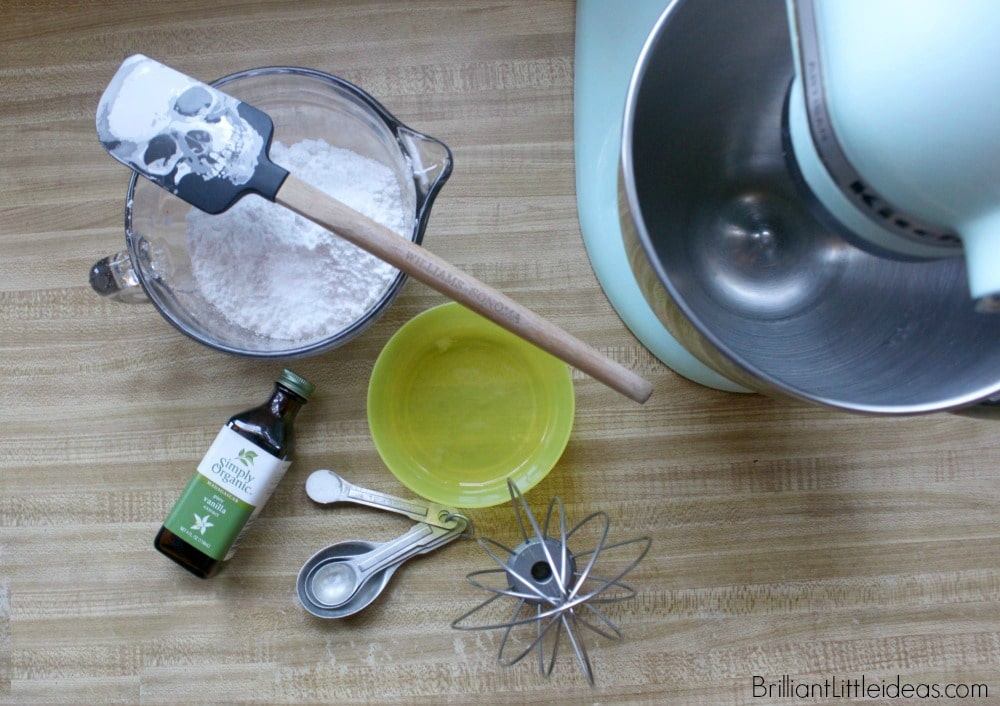 How to make Super Easy Royal Icing -Video
How to make this Super Easy Royal Icing -Pictures
I've found that you can make this easily with my mixer (linked) or this hand mixer (linked). However, if you would like to get a great arm workout than this wisk is excellent for you. Just let me know in the comments how long it took you to reach stiff peaks and if you do it, just know I envy you!
Having no time to mess around I dumped all the ingredients in the Kitchen Aid mixer bowl and flipped the switch to on. Mix..Mix.. Mix FASTER! Seriously did I say I was short on time? I was, and this recipe turned out marvelous!
This is what your icing will look like after 2 or 3 minutes. Make sure to scrape down the sides of the bowl to incorporate everything. You will also need to speed your mixer up a notch or two.
If you are hand mixing.. bless you because this is going to take you a bit longer than it did me. It would be a good idea to bring in your kids to whisk your icing. However, you will need to keep your eyes on them or you may not have much icing left. Their excuse was "I accidentally drank it Mom" and yes this has happened at my house!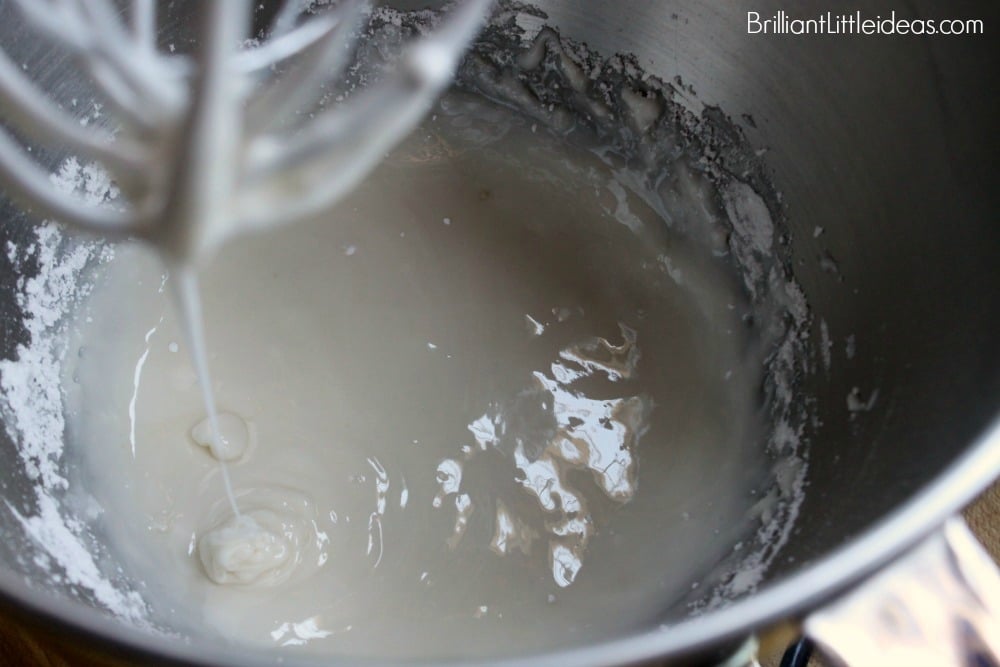 Don't leave your stand mixer because it shouldn't take long to go from the runny icing above to this thick luscious icing in the below picture. Yummy!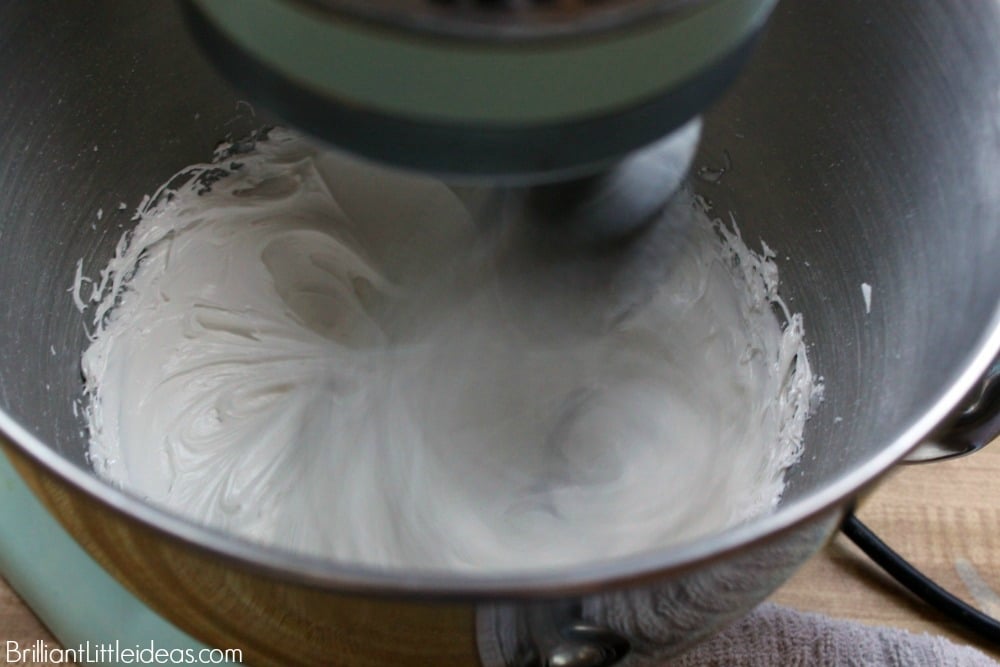 Now to test your icing. We are looking for stiff peaks here! Although this icing looks like heaven, it actually needs a minute more. See the difference between this picture and the one below. Did you notice how the tip of the icing fell over? It shouldn't!
Edible Crafts Kids' Cookbook Ages 4-8: 25 Fun Projects to Make and Eat!

KitchenAid KSM150PSAQ Artisan Series 5-Qt. Stand Mixer with Pouring Shield – Aqua Sky

Kid Chef Junior Bakes: My First Kids Baking Cookbook (Kid Chef Junior)

The Plan for the Gingerbread House: A STEM Engineering Story

KitchenAid 5 Speed Ultra Power Hand Mixer – KHM512

Grandma's Sugar Cookie: A Sweet Board Book about Christmas Baking with Grandma – Includes Cookie Recipe!

If you want to know what color my pretty mixer is I have it linked here or see the picture below. I love it!
Your icing needs to be stiff but be careful not to over mix the icing. That would be disastrous! This icing is perfect and doesn't flop over! Yay! Celebrate! See I told you the name says it all! Super Easy Royal Icing!
Keep it covered!
Make sure to keep your icing covered with a damp cloth in between use otherwise, you will have super crusty stuff that may taste ok but not pipe well at all.
What if I don't have a piping bag for icing?
No problem! I don't either..
If you don't have a piping bag just grab a zip lock bag. They work well in a pinch and there's no cleanup! Double win! To use this just fill about half full and snip off a small amount on the end to pipe your icing through. Done!
Happy icing!
Did you ice cookies, a cake, or make a gingerbread house like us?
Disclaimer: This blog post contains affiliate links. We may earn a small commission if you use these links to make a purchase. You will not be charged extra, and it helps to pay for more craft supplies. Click here for more information


Gingerbread House
Have you ever made a Spooky Halloween Gingerbread house? This will be your new tradition!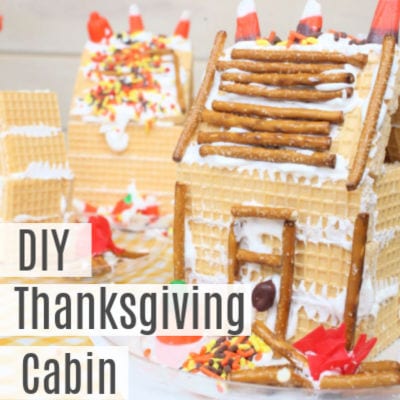 Thanksgiving Cabin
The kid's table just got a whole lot better! Let the kids build their own dessert this fall!
Dehydrated Peeps
Buy too many marshmallows? I have a solution that will turn them into something crunchy.