How to make Construction Paper Fire Flames with Printable Template
Do your kids love firetrucks? Do they want to be a fireman or are they really into camping? A pretend play day with Fake Fire Flames for Kids to keep your kids busy with creativity and imagination. Let them play fireman by building a tiny city out of blocks or even a giant city out of cardboard boxes. Attach a few construction paper flames and they can run to the rescue with their own DIY Fire Extinguisher!
Jump Links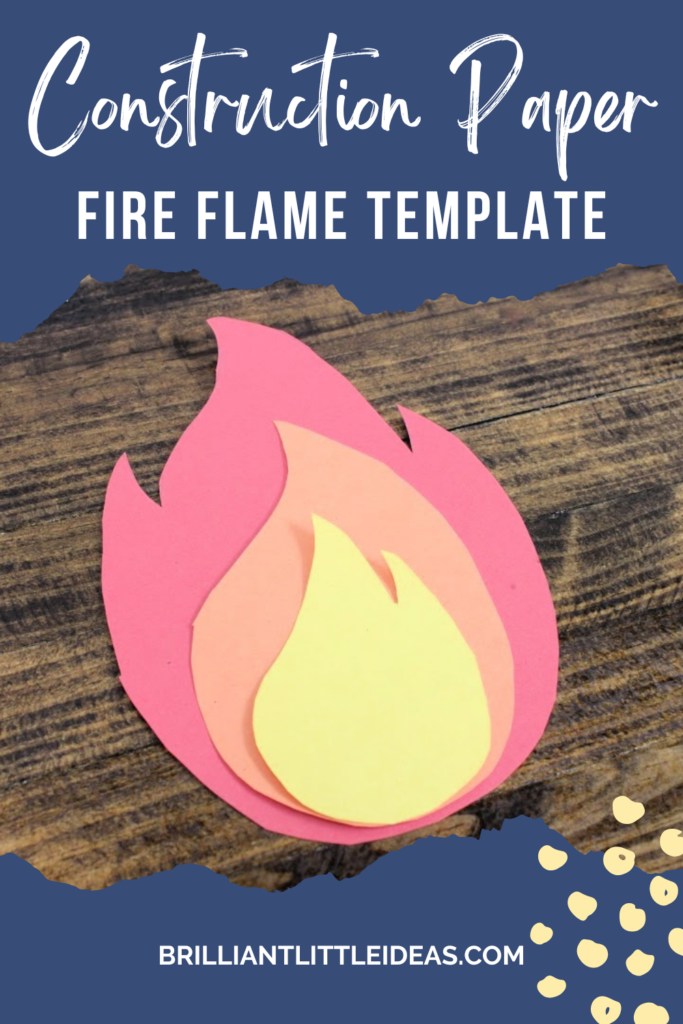 Kids' days shouldn't be filled with tv and electronics, they need the time to think, play, and figure out how to solve problems, kids always come up with really fun ideas. Keeping them busy with a fake campfire and pretend marshmallows can be a fun way to spend a rainy afternoon making memories. You can even let them snack on real graham crackers while y'all play. If you want a 3D Fire Flame this one is good or if you have loads of tissue paper you can make Tissue Paper Fire Flames easily with a template.
Cardboard tubes can be used as logs on your fire. So start collecting old paper towel rolls or toilet paper rolls for your logs either for this time or next time because, I assure you, your kids are going to have so much fun! All you need to do is draw on some tree marks with either a brown marker or you could paint tree lines on with some black paint. If you want large logs grab some pool noodle and cover them with brown paper. The paper will give the logs a rough rustic look.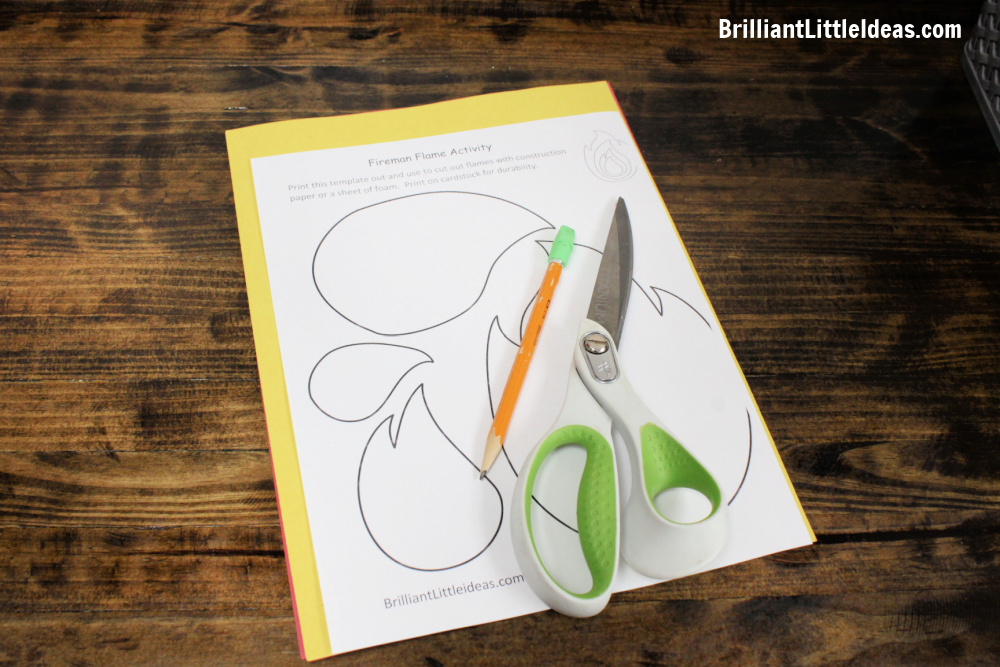 This post contains affiliate links. If you use these links to buy something we may earn a commission (at no cost to you). Thanks for the support! See our Disclosure page.
Pencil
Construction Paper Fire Flame Template (at the bottom of the page)
Optional Supplies
Start out by letting the kids choose their own flame colors or even different shades of the same color. Decided if you are using regular construction paper found in most stores or a better effect and brighter paper to use is Astrobrights Paper. It's as thick as construction paper and is a little more expensive but it definitely has that wow factor from afar compared to some dull construction paper. That being said, I made these flames out of regular old construction paper and they looked great!
If you are making these construction paper fire flames for a party, event, or pretend play day make sure you have given yourself enough time to finish. Count or ballpark how many flames you will need and gather your supplies. You will need scissors, construction paper or Astrobrite paper, Elmer's glue, a pencil, the flame template, and glue dots to hang your flames once they are finished.
his can also be used as a campfire craft for extra summer fun. Some kids will like to use the template while others will like making their own fake fire flame shapes. It will depend on whether you have young children or older kids. Your older kids might just make flames as a target for the Nerf guns. The good news is that you found a way to spark some creativity and they made their own pretend campfire!
Gather your craft supplies. All of the next steps are pretty much the same. You are going to print your fire flames template (print on cardstock for durability) cut the flames out, lay each flame on top of the construction paper color that you chose, or grab your red construction paper and trace around the flame with a pencil.
If the flame is small enough you can trace each large flame more than once on each piece of paper. I cut 2 fire flames on the red paper.
After you have your flames traced you will need to cut out each flame. Small children will need help with this part so stay close. It may be hard work for them but they will be so proud once they have the flames cut out. The leftover construction paper can be used for another project later on or maybe as a fire starter for a real campfire. I usually put mine in a plastic bag and place it in the top of my construction paper box.
Next up we will be making out the medium orange flame and small yellow flames. Trace around the medium flame and cut those out then do the same for your small flame. Make sure you have enough red, orange, and yellow flames cut out before we assemble.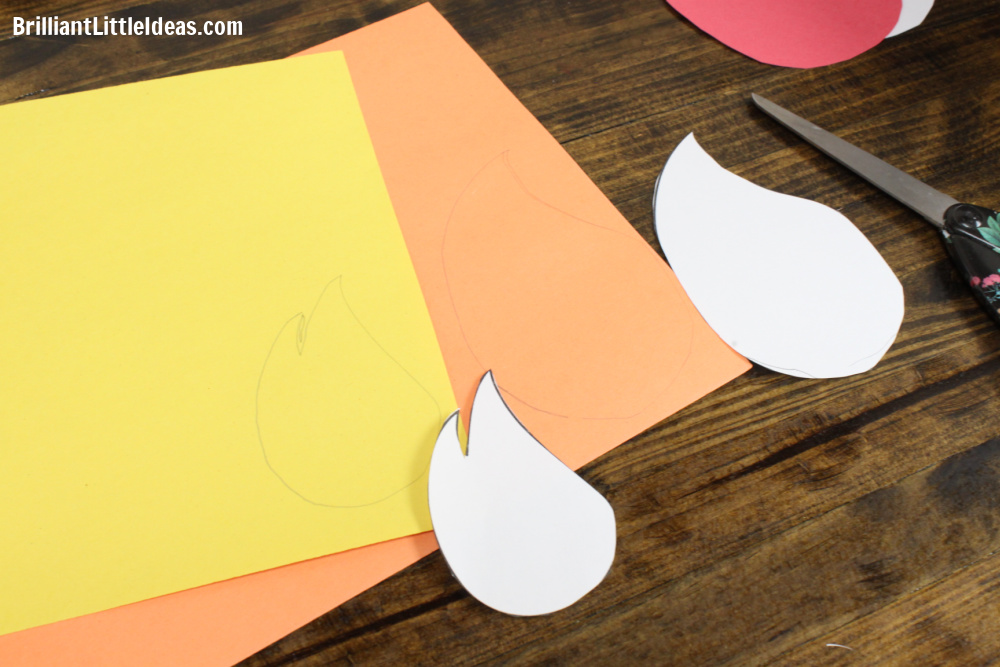 Elmer's glue is what I used to put the flames together. A hot glue gun can be used in a pinch but for this little fake campfire, we are only going to use school glue or stick glue. A little dab between each flame will do to hold them up. Set them aside once glued so they can dry before we hang them with glue dots.
Glue dots are the easiest thing to use because its easy to get off surfaces and the little flame will stick well until it's removed. Your little campers will love these you can also tell some not so scary ghost stories around a little fire pit.
For best results grab your glue dots and test the surface beforehand. I haven't ever had a problem with them but that doesn't mean that you won't.
Depending on the size of your glue dot you may need to use one or several dots to hold the flame up. If you want to take these construction paper flames to the next level by making it look more like a real fire try adding a small fan or some battery powered orange lights, battery operated tea light will also work. If you want an even more realistic look dim the lights and add a fog machine. I may or may not have done that in the past. I tent to take pretend play to a whole new level!
The three different colors really make these fake flames pop but you can choose any colors you like. Coffee filters fire flames would be a great alternative to construction paper and Tissue Paper Fire Flames are really easy to make especially with a template. I always seem to have orange tissue paper on hand so orange flames are a weekly event at my house and are safer than actual flames. Fake flames keep me from having a real fire drill in the house. HA HA! But it is good to have a fire plan in place so keep that in mind.
How to Make Construction Paper Campfire
Vibrant construction paper like astrobrite can bring a paper campfire to life! Use bright but not neon orange, yellow, and red construction paper as the flames. Print out the flames template and trace around each piece. Cut out the 3 flames and glue them together. You will need to cut out the medium and small flames again to glue on the backside. Make several of these flames to make a campfire that you can set up in the middle of the room. Small battery operated string lights will help to bring a new dimension to the campfire.
Grab a few medium sized rocks from outside and tape or glue the flames to the rocks. Standing each flame up against the other one so they look like real flames. Add as many as you would like to complete the look then run the orange lights around the base of your campfire. Turn the lights down or off and you have the perfect construction paper campfire for pretend play.
I hope your kids love their beautiful campfire and if you want more easy ways to keep your kids busy check out this DIY Fire Station that even has a fire hydrant as well as these Fireman Color Sheets with a fire truck color page too.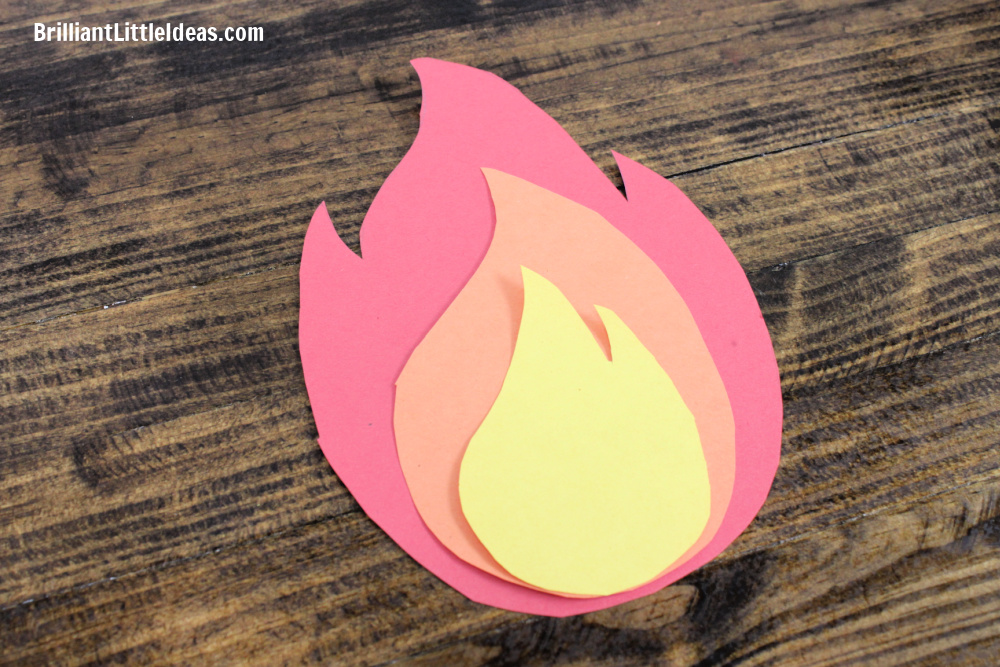 Tissue Paper Fire Flames
Grab some tissue paper and this template to make some easy fire flames for your kids.
Fireman Fun Week
Pretend play ideas to keep your kids busy with all things fireman! Even a DIY Fire Station
DIY Fire Extinguishers
And of course, little fake fire needs a little fake fire extinguisher!