How to Make Tissue Paper Fire Flames with Printable Template
Tissue paper fire flames are inexpensive, versatile, and really easy to make. Pretend play campfire or fireman theme with Fake Fire Flames for Kids are sure to bring a whole new level of fun to your child's day.
Make a 3D Fire Flame as a fake campfire to tell ghost stories around for a fun slumber party. Add in some pretend marshmallows for your little campers to play along with the older kids. If you have some red construction paper and make some Construction Paper Fake Fire Flames
If you want an easy way and you don't have enough time to make the tissue paper flame have the kids make their own pretend campfire and use some markers and coffee filters. Cut little flame shapes around the top and it's a mini fire!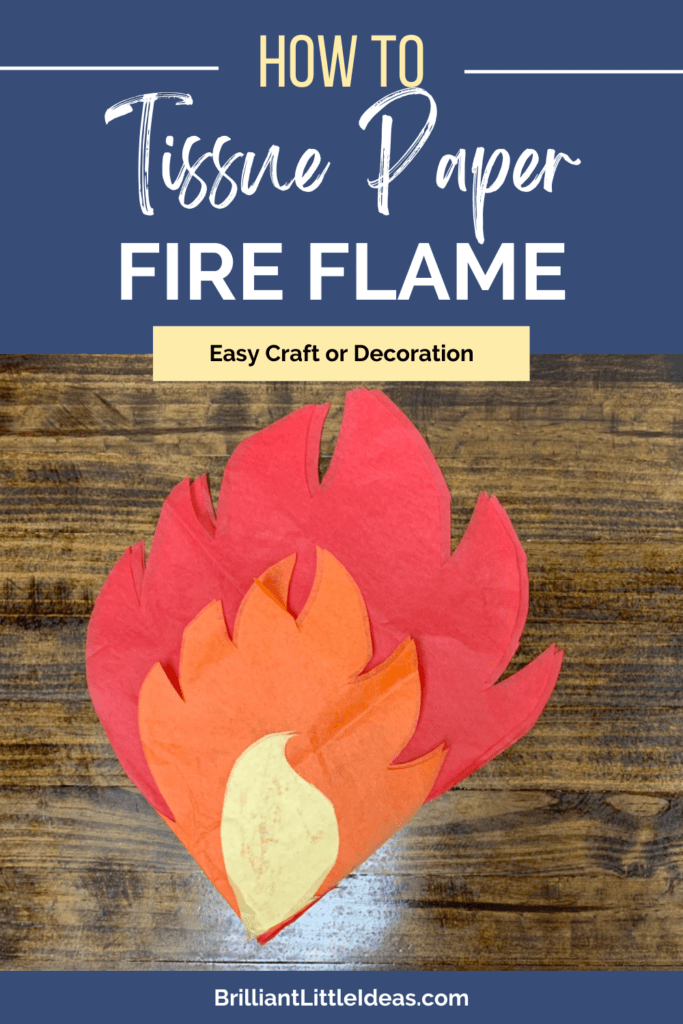 Need some fun ideas for your Fireman Theme Birthday party? Let them drive their fire truck up to this Diy Fire Station for a fun way to spend the afternoon it even has a printable fire hydrant. The possibilities are endless with fake fire flames for big and small children! You can even let them make their own fake fire extinguisher.
You can also teach about an open flame and what to do in a house fire and have a fire drill at home. Kids need to learn what to touch and where the smoke is and how to get out of the house quickly. Make sure to set up a plan so you will know where to meet in case of a house fire.
This also makes a great campfire craft that the kids can take home and play with. Send a Smores kit party favor home with them to make their own later. You will just need chocolate bars, marshmallows, and graham crackers. It's an easy and inexpensive gift. Any way you choose these fake flames can be so much fun!
This post contains affiliate links. If you use these links to buy something we may earn a commission (at no cost to you). Thanks for the support! See our Disclosure page.
Gather your craft supplies and print your 3D Fake Fire Flame template. You will need tissue paper, Elmer's glue, scissors, a fine tip Sharpie, and the template. If you want to give your fake fire flames a little more realistic look try adding a small fan or battery tea light or string light.
For the tissue paper, we choose the normal red, orange, and yellow, but use your creativity and choose your own flame colors. Try making a multi-color fire flame or a flame with different shades of one color like pink or green.
Liberty Imports 10 PCs Fireman Gear Firefighter Costume Role Play Dress Up Starter Toy Play Set with Helmet and Accessories for Kids
KidKraft Wooden Fire Station Set for 360 Degree Play – Wooden Construction, Working Garage Doors, Bendable Figures, Young Children Toy, Comes with Instructions, Scree Free Toy, Gift for Ages 3+ 20 inch
Matchbox Cars Playset, Action Drivers Fire Station Rescue & Toy Firetruck in 1:64 Scale, Lights & Sounds, Moving Parts
Fire Truck Tent with Sound Button for Kids Toddlers Boys & Girls – Red Fire Engine Pop Up Pretend Playhouse Indoors & Outdoors – Quick Set Up Weather Proof Fabric Foldable & Spacious – Great Gift Idea
Cut out the largest flame from your fire flame template. Don't cut the medium or small just yet. Leave them attached to the large flame until later.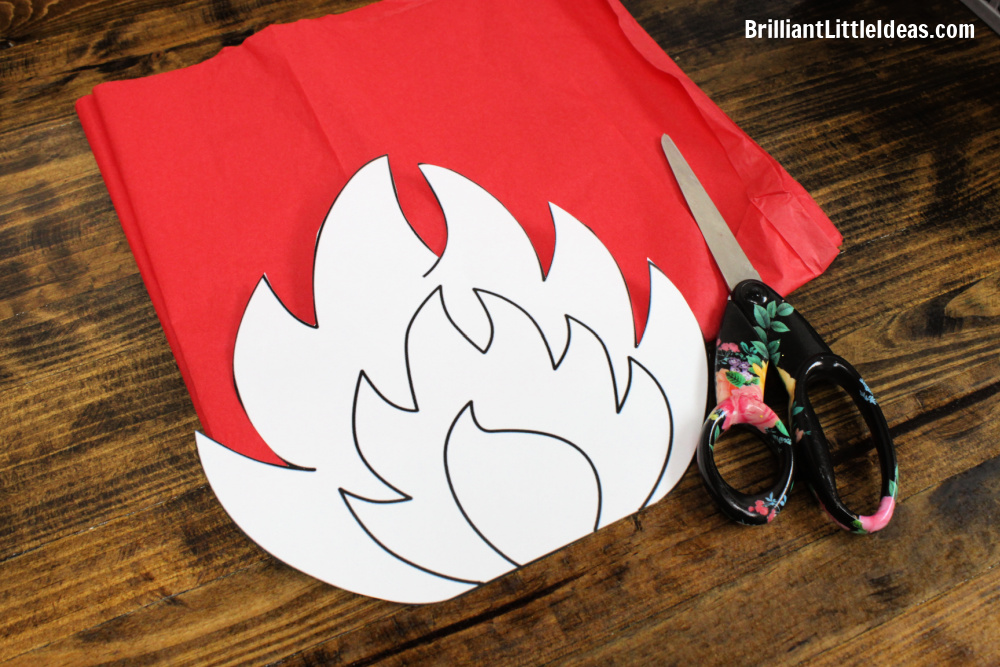 For strength, you need to use at least 2 or 3 sheets of tissue paper. Unfold the red tissue paper and then refold it in half and then half again. It should be folded at a point on the edge.
We will be making one large flame from this tissue paper. If you are using different colors be sure to grab the color you want for the largest flame.
These almost look like a real fire and make really fun crafts for your kids to do on a rainy day or when they're just bored.
Lay the large flame on top of your folded tissue paper with the base of the flame laying where there is a triangle shape below it. Grab your pen and trace around the top and sides of the large flame but leave the flat bottom alone. We want to keep the triangle-shaped base to help stabilize the fake fire flame as a whole.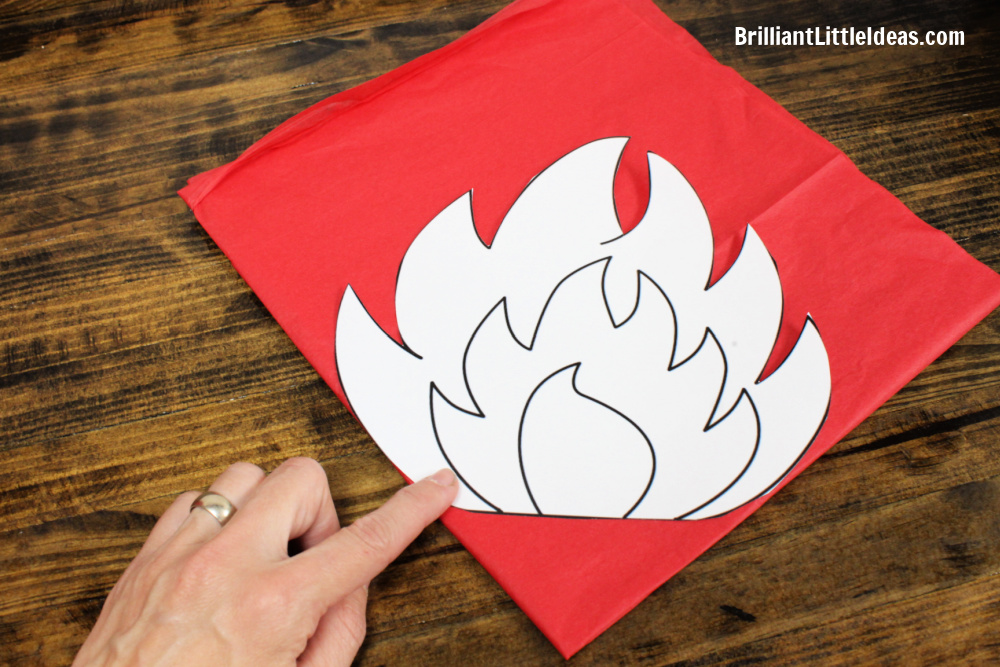 Slowly cut the tissue paper following either the flame template itself or the pen mark where you traced the template. Don't forget to leave the bottom triangle attached to the fake fire flame. You can discard the leftover tissue paper for another project.
Note: If you are making more than one flame this step will need to be repeated until you have all the large flames cut out.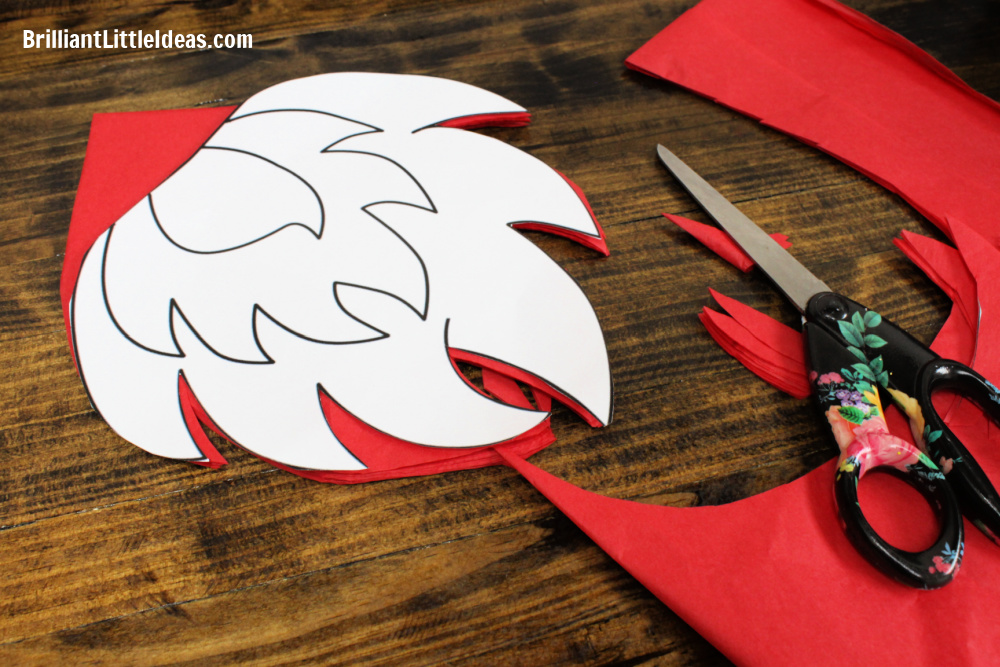 The next steps are going to be pretty much the same. Start out by cutting out the large flame and set it aside. Using your medium flame now let's make some orange flames that will lay on top of the red flame on the outside. Before long, this is going to look like a real campfire so have your kids wad up some grey paper and make a circle like a fire pit.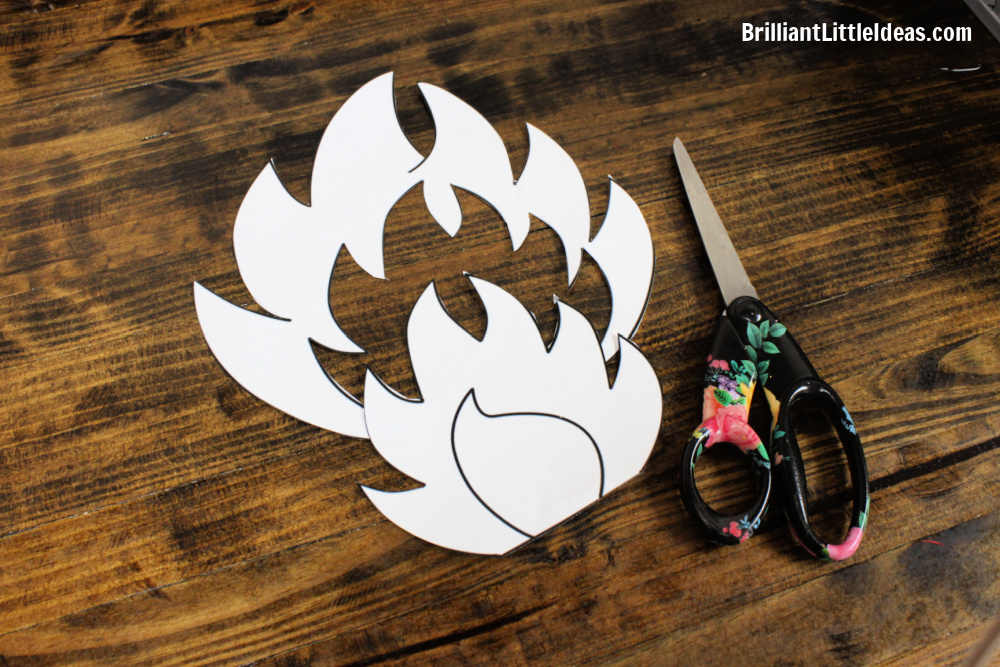 Take 2 or 3 sheets of orange tissue paper and the same way you folded the red you will fold the orange. If you need a refresher you will need to unfold the tissue paper then refold it in half and then half again. You need the point on the edge or at least an edge to keep the flame together.
Now move on to tracing your flame if found that a fine tip sharpie worked the best. Trace and cut as many as you need before we move on to the small flame.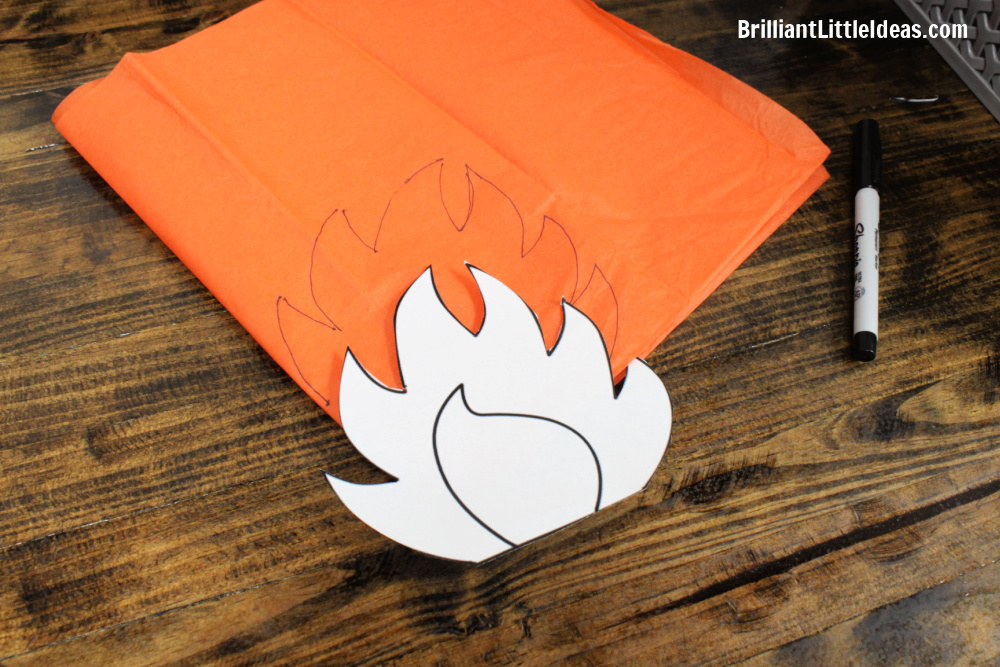 The yellow flames are the last to be cut out. Use 2 or 3 sheets of yellow tissue paper to make the last of your fake flames.
Cut out the medium flame and set it aside. Unfold and refold your tissue paper as we did on both the red and yellow flames.
The good news is that you have done this before so just trace and cut the little flame out. These will be small so you can probably get more yellow flames out of the tissue paper than we could out of the other colors. Trace with a sharpie and then cut the flames out.
A great tip if you are working with a group of kids on this tissue paper fire flame is to print the template on cardstock instead of regular copy paper. This will hold up better while tracing around each flame and can handle being used more than regular paper can.
Now to assemble these flames!
Lay out the red flame by unfolding the side but don't move the layers. Add a small dab of glue. For the best results, I used Elmer's white glue but lightly spreading any light glue will work. A hot glue gun shouldn't be used because we want the flame to wave in the wind and not be too stiff or heavy. So just using a small amount of Elmer's glue stick or white glue will work the best. Your older or young children can help with this since we are only using Elmer's glue with this fake fire flame.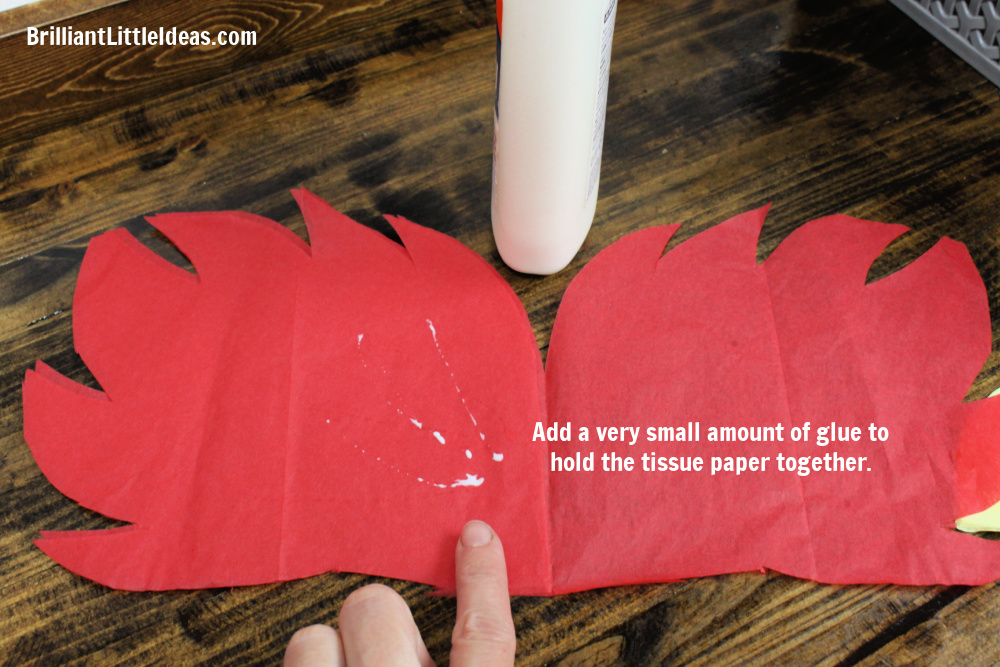 Lay the orange on top of the red in the same way with the flame unfolded at the side. The yellow flame will just be placed and lightly glued to the top of the orange flame. From here you can either bunch the flame up or keep it flat without wrinkles. You can also make two flames out of one if you only need people to see the front side of the flame. Do what will work best for you and your kids.
If you want a better effect and to make your flames move like actual flames then you need to add a small fan below or off to the side. Another good tip to make your flames look real is it have a light source below the flames such as a battery operated tea light or a small string of orange lights. You need something with little light bulbs. A cheap fog machine or some dry ice can make it really look like real flames or at least from across the room.
Melissa & Doug Let's Explore Hiking Play Set – 23 Pieces Toddler Nature Toys, Hiking Toys for Kids Ages 3+
deAO Kids Camping Toys Set with Play Tent,23 PCS Outdoor Pretend Camping Toys with Light & Spray for Kids Boys Girls Age 3 4 5 6, Include Kids Camping Tent,Pot and Dish
GINMIC Kids Explorer Kit & Bug Catching Kit, 11 Pcs Outdoor Exploration Kit for Kids Camping with Binoculars, Adventure, Hunting, Hiking, Educational Toy Gift for 3-12 Years Old Boys Girls
MITCIEN Camping Toys for Kids, Pretend Campfire, Lantern, Safari Hat, Binoculars, Bottle, Toy Food, S'Mores, Toddler Camping Play Set Indoor Outdoor Toys for Kids 3-5 and Up, Boys Girls Gift
Fisher-Price Little People Toddler Playset, Light-Up Learning Camper, Electronic Toy with Lights and Music for Ages 1-5 Years
Kids Camping Toys Plush Toy Campfire,Dramatic Play Toys For Preschool,Sensory Play Camping Toy Set with Plush Felt Fake Fire,Multi-element Indoor and Outdoor Props,Outdoor Activities Camping Toy Sets
To make fake logs gather up some old cardboard tubes like paper towel rolls or toilet paper rolls and draw on some fake wood with a brown marker or black paint. You don't want large logs unless you make a giant tissue paper flame. So be sure to make the right size.
If you don't want to draw wood lines on the tubes you can cover them with felt to make felt logs. No one will be able to tell from far off that these flames are fake, all they will see is a beautiful campfire and all your hard work really paid off! Great Job!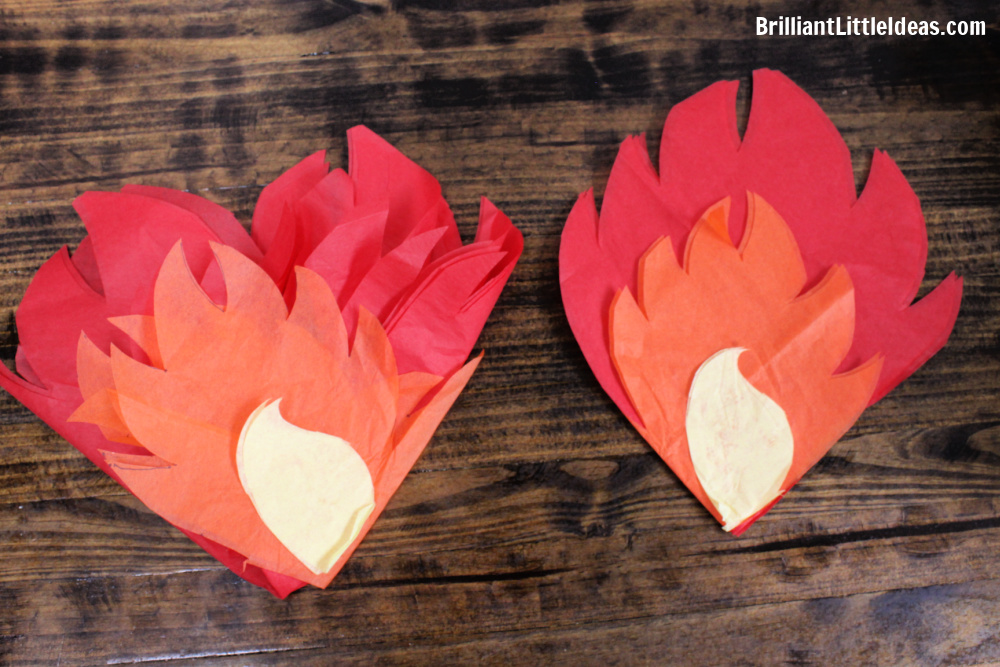 I want to see pictures so email me or you can find me over on Instagram!
I'm always looking for easy ways to make fake fire flames so if you have any ideas I would love to hear them!

Shrinky Dink
Key Chain
Your kids will love making these super cute fire flame key chains.
Fireman Theme Fun
Give your kids a great fireman birthday or a week of fun with this easy to make theme.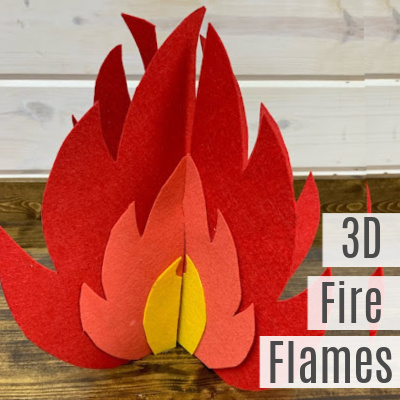 3D Fire Flames
Create your own fake campfire with this fun 3D fire flame. You can even roast pretend marshmallows over the flame.