Snowman Wood Bead Ornament Craft for Kids
Kids can be really creative with making things out of wood beads. They can make ornaments, garlands, wreaths, necklaces, and.. welp, the list is endless. Wood Bead Craft Ideas for Kids is my go-to for older kids and teens. Today we are going to make some snowman wooden bead ornaments. The supplies list is fairly short, you only need baker's twine, wood beads, and markers or paint.
Let the kids decorate their own tree or bring a finished snowman to an ornament exchange. They can choose different colors, shapes, and sizes to make their snowman. In the tutorial today we will be making a snowman ornament with just one size wood bead.
This post contains affiliate links. If you use these links to buy something we may earn a commission (at no cost to you). Thanks for the support! See our Disclosure page.
What You Need to Make a Snowman Wood Bead Ornament Craft for Kids
How to Make a Snowman Wood Bead Ornament Craft for Kids
Homemade Christmas tree ornaments are a treasure that we love to rediscover and put on the tree every year. Your kids can gift these DIY ornaments
or keep them as handmade treasures. Let them make several and they can give one to each or their friends or make them as a kid's Christmas party activity idea.
For a more finished look paint your wooden beads white before drawing or painting on your snowman's face. White beads will make your snowman's face pop while a still being similar style an unfinished wood bead will give more of a farmhouse ornament look. If you get a set of wooden beads that are different sizes you can make the body larger and use smaller beads for the head of the snowman. No matter what you choose your wood bead snowman ornament will be adorable.
Start off with your twine, string, hemp cord, or piece of yarn, you could even use pipe cleaners in a pinch. Embroidery floss, however, would be too thin for what we need. Cut a 12 inch length of twine per snowman ornament that you want to make. Make a 1-2 inch loop and double knot it to secure it in place. Make sure to leave about a 1/4 inch of baker's twine hanging off the end.
Make sure to cover your work surface with a plastic tablecloth or newspaper. If you don't want to cover the whole surface you can have each child work on a paper plate or even a piece of cardboard would work to keep the mess in one area.
Using paint or a permanent marker draw on a snowman face. You will need to make 2 eyes, a mouth dotted or a line drawn, and a carrot nose. Then let that sit and dry. Once the paint or marker is dry we are going to assemble your wooden bead Christmas ornament!
If you paint the face make sure you have a fine-tip paintbrush and only use a small amount of paint. If you mess just let the head dry, paint it white, and start again on a blank surface. A permanent marker will work better on a painted surface. The ink on a painted surface won't bleed as much as it would on an unfinished wood bead.
Time to assemble your Snowman Christmas ornaments! Tape the end of the string so the bead can slide on easily. This can be done with one small rectangle of tape. It just needs to make the top of the twine slick so the string will run through the hole of the bead.
Slide the bead with the snowman's face up to the loop knot, tucking in the 1/4 inch extra baker's twine into the snowman's head. Make sure that the loop is coming from the top of the snowman's head especially if you want the snowman to be right-side up.
DICOBD 300pcs Wooden Beads 3 Sizes(16mm/20mm/25mm) Natural Unfinished Round Wood Beads Large with 20 Metre Jute Twine for Jewelry Making Home Farmhouse Decoration
SHARPIE Color Burst Permanent Markers, Ultra Fine Point, Assorted Colors, 24 Count
Apple Barrel PROMOABI Acrylic Paint Set, 2 Fl Oz (Pack of 18), Assorted Matte Colors, 18 Count
5 PCS Paint Pallets, Paint Pallets for Children,10PCS Touch Up Paint Brushes Flat Paint Brushes, Small Paint Bulk Brush for Painting Party DIY Craft and Art Painting
USA | American Made 1/4
Westcott Titanium Bonded Scissors, Soft Handle, 8
If you want an upside-down or more of a Picasso snowman ornament then go for it! Add a dab of glue if you want to make 100% sure that the head will stay in place. As long as your knots are tight the snowman should stay on the string for a long time.
Slide on two more beads for the second row and third row of the body of your snowman ornament. At the bottom of the ornament right below the last bead, you will need to make two tight knots on top of each other. A good double knot will secure the beads don't come off of your piece of twine.
If you are looking for a fun set to buy for teens this one is perfect.
You could use smaller beads for the head and larger ones for the body. Different styles, sizes, and colors will make each snowman unique. Have your kids paint on buttons for the snowman's stomach or even gloves and arms down by his side. This homemade snowman craft would also be cute as key fobs.
To finish up your cute snowman DIY projects let's give him a scarf or bow. To make a pretty bow just cut a ribbon or string to the desired length and tie the ribbon between the wood bead snowman face and stomach bead. If you want a scarf don't make the pretty loops, if you want loops you have that option. You can also make some DIY tassels or yarn tassels to the bottom of the snowman or around the waste like a skirt.
You can use a little hot glue to hold the beads together or to secure the ribbon and twine knots stay in place. With hot glue, a little bit goes a long way! These snowman handmade ornaments have been one of my favorite things to make with the kids this year.
Hang these by the end of the cords on a tree or attach an ornament hanger to the top.
Catch these wood beads on sale at craft store on either black Friday or last year they were on sale right after Christmas. Keep an eye out and you can find some good deals on craft supplies especially if you don't mind sitting on the supplies for about 11 months until you need them again.
If you have lots of beads left over have your kids make a wood bead garland for your Christmas Tree or Wood Bead Christmas Tassel Ornaments instead of snowmen as a fun craft. You can also grab some pipe cleaners and leftover beads to make a snowflake ornament.
Best Snowman Kits for Kids
Each of these kits would be great as Christmas or Birthday Gifts or just for fun if your kids love snowmen. All of these kids have their own look and creation and you can't go wrong with any of them.
Let your kids be creative. Give the kids a box of craft supplies and see what homemade ornaments and creations can be made.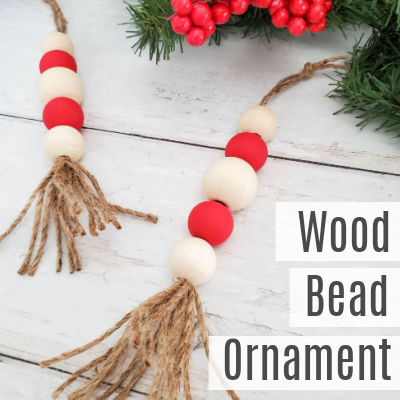 Wood Bead Tassel
Use these tassels as an ornament or gift as a keychain,
Snow Globe Ornament
You only need a few things to make this Christmas keepsake!
Christmas Rice Krispie Pops
Break up the boring with these cute Christmas Krispie Pops!