Wood Bead Tassel Ornament Craft for Kids
Want to make memories with your kids? Homemade Christmas Tree Ornaments are not only fun to make but also great keepsakes! This wood bead craft is a great idea for bigger kids and teens. You only need a few things to put these wooden bead ornaments together. If you love this check out our Wood Bead Snowman Ornament Craft for Kids.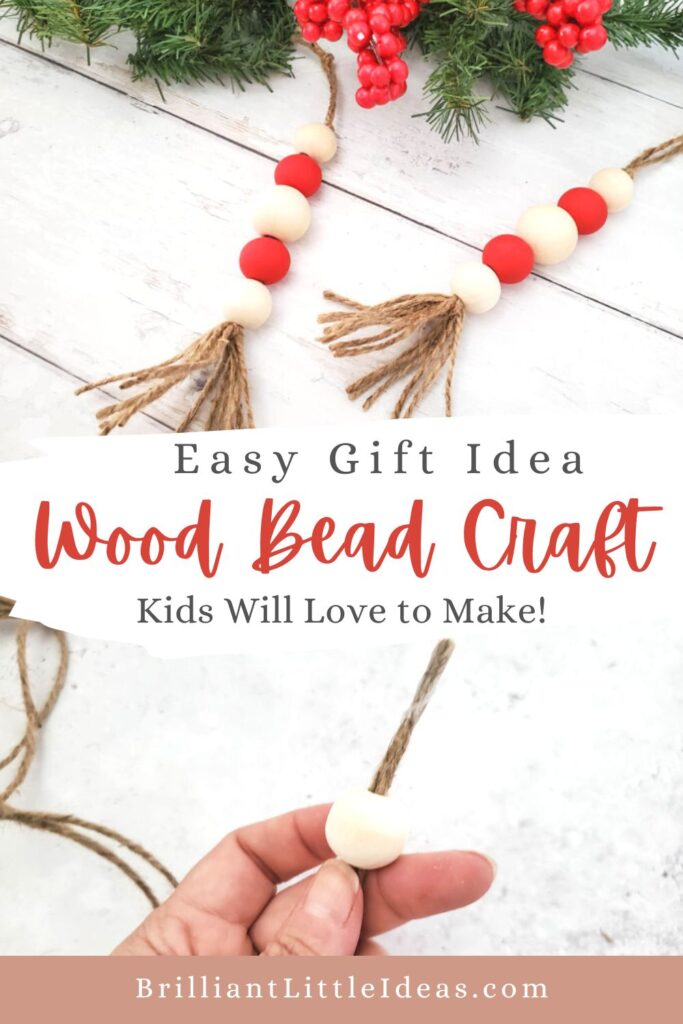 Handmade ornaments are popular and your teen could make these easy Wood Bead Tassels to sell. They could even branch out and make wood bead garland for all the different holidays. These same wood bead ornaments can be sold as Key Fobs as well as for farmhouse ornament decor. Your kids or teens can learn how to calculate earnings and any extra cost to make the different styles of the same DIY project.
This post contains affiliate links. If you use these links to buy something we may earn a commission (at no cost to you). Thanks for the support! See our Disclosure page.
What you need to make your Wood Bead Tassel Ornament Craft
How to Make a Wood Bead Tassel Ornament Craft
Let's get started with this fun Christmas Ornament. Check the supplies list above.
Our tutorial today is this fun DIY ornament that can be made as you wish.
Gather all your supplies to make your wooden bead Christmas ornament. You will start off cover the table with newspaper or have the kids paint over paper plates or a piece of cardboard. then get your paintbrush, paint pallet, and red paint.
You will need to paint 2 of the smaller beads (20mm) per ornament that you plan to make. Be sure to count all the people that your child is making an ornament for. If your teen wants to sell them as a side business then start out with a few and then expand from there.
Paint one side of the 20mm wooden beads, let them dry then roll the dead over and paint the other side. Do this until you have all the beads finished working to paint as many as needed. Don't forget you only need 2 red wood beads per ornament.
Christmas tassel ornaments need a tassel at the bottom and I'm going to show you how to easily make one.
First, cut a 15-inch of baker's twine or high-quality piece of yarn. The embroidery thread is too small and if you used the amount needed it would still be hard to get the small beads through.
DICOBD 150pcs Wooden Beads Large Size (30mm, 25mm, 20mm) Unfinished Natural Wooden Beads Round Wood Beads Rustic Country Wood Beads for Garland Macrame, DIY Jewelry Making, Farmhouse Decoration
Westcott Titanium Bonded Scissors, Soft Handle, 8
Natural Jute Twine 3mm 328 Feet Crafting Twine String for Crafts Gift, Craft Projects, Wrapping, Bundling, Packing, Gardening and More, Jute Rope to Use Around The House and Garden
Apple Barrel PROMOABI Acrylic Paint Set, 2 Fl Oz (Pack of 18), Assorted Matte Colors, 18 Count
Next, cut 5 pieces of 6-inch piece of twine or yarn to make the yarn tassel. Lay them all together in a row because we are going to tie them together. Remember if you're making more than one of these you will need to cut more string.
Next, find the middle of your long string and lay the smaller 6 inch pieces down together at the center point. Tie a good knot then double-knot the long twine around the smaller pieces securing them together. The bottom tassel is going to give your ornament a more finished look and will keep the beads in place so they don't slip off the end.
If you're worried about the length of the tassel stings… don't! We will trim them later on.
Put the 2 ends together leaving the tassel at the bottom and tape the top ends together. Trim off any extra you have if the strings don't completely match up. You should only need to lightly tape the top of the string one time. If it doesn't stay then no problem, just re-tape it later on.
Slide one bead on at a time starting with one plain or painted white 20 mm small bead onto the taped end of the twine. Lower the wood bead until it hits the double knot that is just about the tassel. Next, add a red bead and then the 25 mm large bead to the taped side of the ornament. To finish up add one more red and then one more natural wood colored, or white beads.
Once you have all 5 beads on the string we will tie it off with some really tight knots. Make 2 good double knots, one set right above the last bead and the other double knots about 2 inches up from there. The top should be a knot, loop, then knot. The loop will be how you hang the DIY ornament or where you insert the keychain if you decide to make those.
If you really are worried about the wood beads falling off you could add a small dab of glue or hot glue to keep the knot and beads in place. Completely up to you! As long as you double knotted in all the spots requiring a knot.
Onto the bottom of the ornament.
Trim the string or leave it long?
What do you think looks the best on the end of the cords? Do you like them shorter neat and uniform or longer and unruly? Both have a similar style but make sure you don't trim all the way to the top of the tassel. This is your DIY tassel so use different colors of string different lengths or hand charms from the bottom. You can also unwind the string for a fun new look.
Baker's twine is the best thing to use but you can also use hemp cord or excess yarn you have around the house saved for new DIY projects. Just make this a fun craft for your kids.
Hang this on your own tree or a door knob, you can also give this as a keychain tassel Christmas present. Attach it to the top of a wrapped Christmas present, or the side of a gift bag along with maybe a cute snowflake ornament.
Make one a little bit longer or really long as a Christmas tree wood bead garland. Last year I bought one but I think this year we will make one with some DIY tassels. Homemade is so much more fun than store-bought and one of my favorite Christmas ornaments to put on the tree every year.
Best Wood Bead Kits for Kids
Each of these kits would be great as Christmas or Birthday Gifts or just for fun. All of these kids have their own look and creation and you can't go wrong with any of them.
Do you have an ornament exchange or party coming up? Make a few of these in multiple colors for different holidays!

Old Fashioned Game
Grab an old Christmas card and let's make a game!
Surprise Gift Box!
Give the gift of surprise with this fun idea!
Santa Beard Printable Craft
Print this Santa Beard and keep your kids busy!