St Patrick's Day Paper Craft Rainbow
[disclosure]
Wouldn't you love a super easy paper craft for St Partick's Day that your kid can do? Well, get ready to jump for joy, because I have a great idea for you today!

St Patrick's Day Paper Craft
If you're looking for an easy art project for your kids, try this St Patrick's Day paper craft. Construction paper crafts are the easiest way to keep kids busy, but sometimes you just plain run out of ideas. If that's the case then fear not, because we have a lot of construction paper crafts coming your way!
For now, let's get into this super cute rainbow for St Patrick's Day.

[disclosure]
What You Will Need
St Patrick's Day Paper Craft -Video
St Patrick's Day Paper Craft -Pictures
To start your super easy St Patrick's Day Paper Craft, choose the colors you want to use in your paper chain. We chose, ROY G. BIV (without the indigo) red, orange, yellow, green, blue, indigo, & violet.
Cut the paper into several equal strips and lay them into piles. If your child wants a long rainbow then let them cut lots of paper strips. Let your child decide the colors, length, and width.
Next, take one paper strip and make a circle. Take the second strip and lace the paper strip through the first then again making a circle then secure. Keep doing this until you have made a chain.
You can secure your paper chain with either tape, hot glue, stick glue or regular old Elmer's bottle glue. All options work well. Keep in mind this is a fun thing for your kids to do that a great St Patrick's Day paper craft.
Keep going until all your colors are finished. Like the picture below.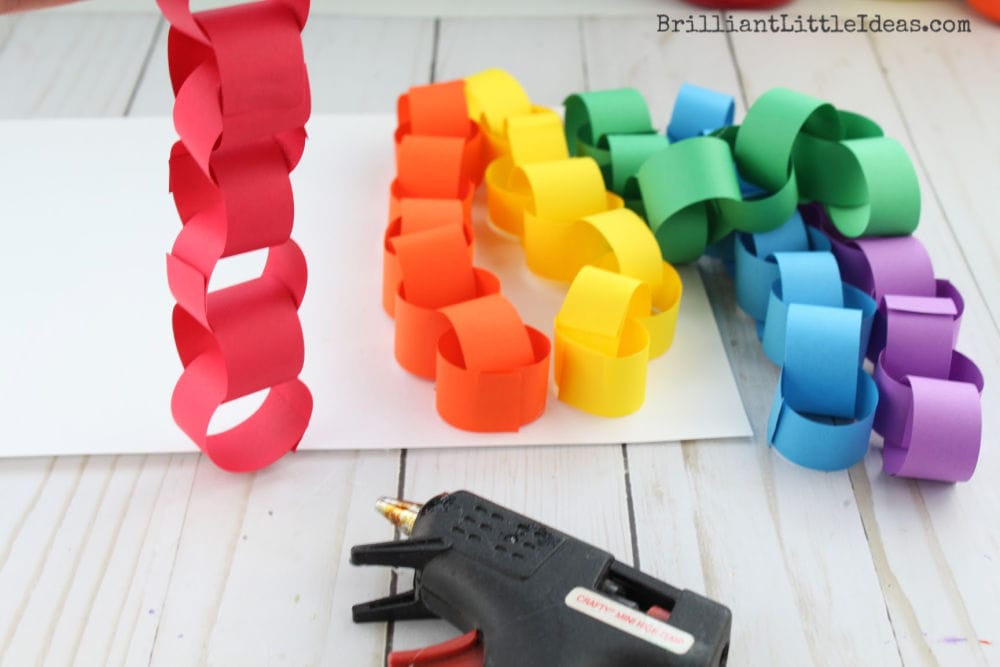 Let your kids draw their own cloud on a piece of construction paper (like below). Once they have finished their very own and I'm sure "original" cloud, have them cut it out(if they're big enough).
If you want a sun coming out from behind the cloud then you can cut a couple of half circles. We made the orange a little bigger than the yellow for some extra color and depth.
Turn your cut out cloud over and attach your sun, both the yellow and orange paper, plus the paper chain at the bottom. Use whatever glue your kids are able to use.
Here are 2 different options for a St Patrick's Day paper craft. A rainbow with a sun and a second with a smaller cloud on top of the larger. Let your kids create their own.
Are your kid's fans of St Patrick's Day?


[disclosure]