St Patricks Day Paper Plate Hat
If you're looking for a cute paper plate hat for St Patrick's Day I have a perfect one for you! This is a simple craft your kids can have fun making for their favorite green holiday.

St Patrick's Day Paper Plate Hat
St Patrick's Day has always been fun at my house. Growing up it didn't matter how much green we were wearing my Dad would still pinch us. We would run and laugh and he could chase us. It was so much fun.
For my kids, I've continued with the tradition of celebrating this fun green holiday with loads of crafts, candy, laughs, & memories.

This post contains affiliate links. If you use these links to buy something we may earn a commission (at no cost to you). Thanks for the support! See our Disclosure page.
Supplies
St Patrick's Day Paper Plate Hat -Pictures
Set out 2 paper plates and draw a cloud in the center of one and a pot of gold in the center of the other. (like below)
Cut out the center of each plate around the edge but keep one plate whole. The second plate will need to have the bottom 1/4 cut off. See the pictures below.
Bend the bottom one inch of the cut paper plate. It's going to set on the second whole plate creating a rainbow shape.
Cut out 1 inch square tissue paper shapes from the tissue paper like this or you can buy squares that are precut like this.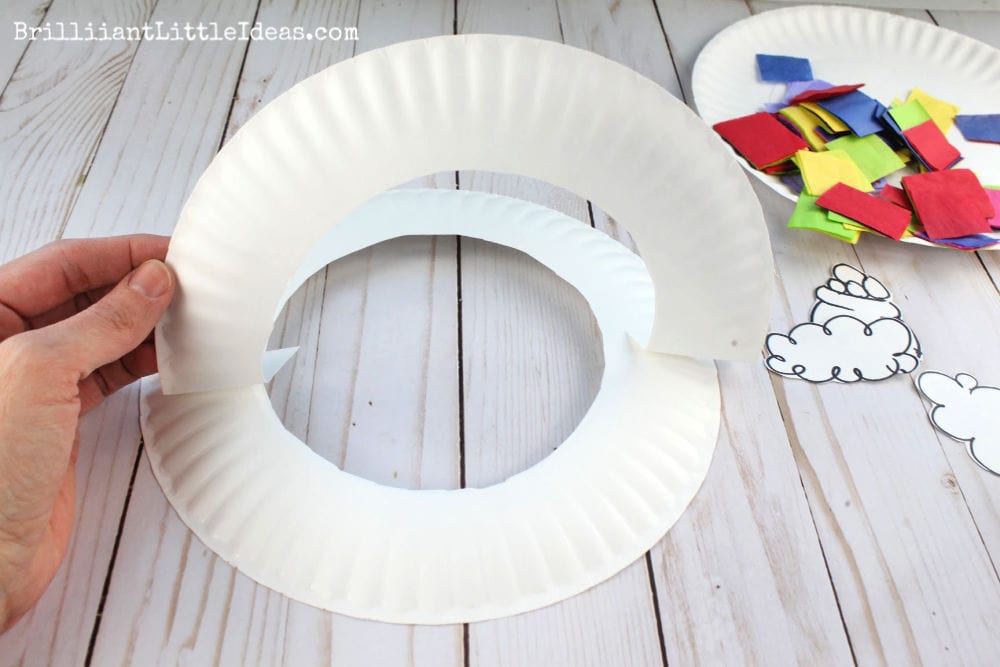 Layout an old old newspaper or piece of construction paper to protect your table because it could get messy from here on out.
Add a thin layer of glue to the plate going all the way around your rainbow shape. The bottom one inch doesn't need glue just yet.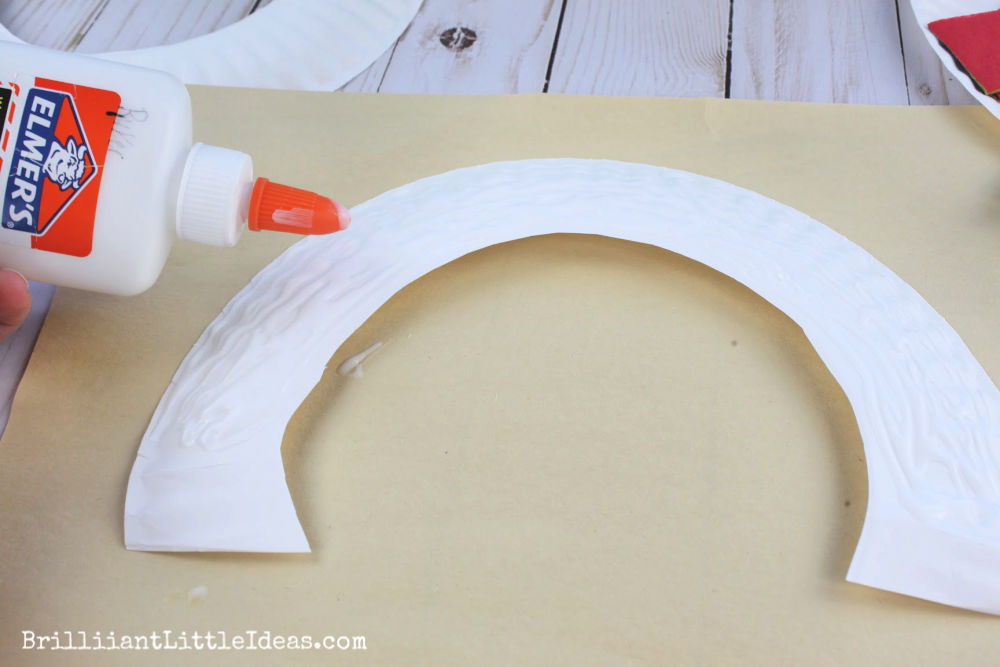 Working quickly pick up one piece of tissue paper, fold it, and place it on the glue. Keep going working all the way around with each cool until you are finished. Set aside to let it dry.
Your rainbow should stiffen when it's dry and stand up nicely. If not feel free to add a second paper plate behind the rainbow for extra durability. Add hot glue to the bottom one inch pieces and attach it to your second plate.  Hold until set. or if your using Elmers set something beside it until it's dry.
Once it's dry add your cloud and pot of gold and you have your St Patrick's Day Rainbow Hat all finished.
Do your kids like to make paper plate hats?