Valentines Balloon Game for Kids -It's Target Practice Time
[disclosure]
Have your kids had too much candy? Are you desperate for something, anything to keep them from breaking everything in the living room? Well then, I've got a fun valentines day game for your kids.

Cupid's Arrow -Balloon Shoot
Bows and arrows..
That's what I think of when someone says valentines. Cupid is just in my head before the chocolate. I must have had some weird experience as a child. Although, seeing even a cartoon of a grown man in a diaper flying around shooting people is quite an interesting idea.
Sorry,sa I was squirrel chasing again.
I wanted the boys to play a Valentine's Day game for kids that was fun and interactive. I needed them to burn some energy after a long sugar filled day at school. Plus, I did feel them a super yummy Valentine Cupcake (link). I found the most colorful, easy to use and cheap bows & arrows (link) that really topped off the fun. The boys have made so many creative games with them.
What you will need
Heart Shaped Balloons -Hobby Lobby has the best heart balloons
White, pink & red balloons
Sting
Tape or a small weight to tie them down
Low heat glue gun (like this one)
Scissors
Bow & Arrow set (this is the exact one we used)
Black Sharpie -thick
Cupid's Arrow -Balloon Shoot -Video
https://youtu.be/_PMNeneORh4
Cupid's Arrow -Balloon Shoot -Pictures
Let's jump in shall we?
First, you will need your helium tank to inflate your heart balloons. Try to blow them up large enough for target but you can still see the heart shape. Do not over inflate them, this could cause the balloon to burst when the arrow hits it.. unless that's what you're going for.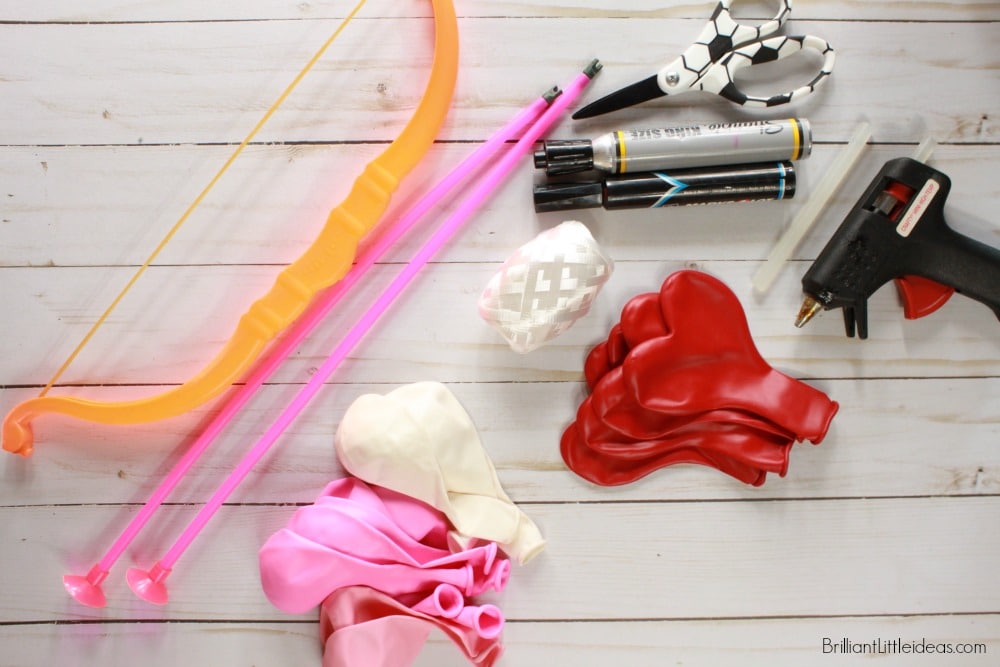 Taking your large Sharpie, draw on a target. I chose a heart with a points number in each and spaced them accordingly when the game began.
I  wanted 3 balloons together so I hot glued them. Now, I know you're thinking I'm nuts but hear me out. Using a LOW HEAT hot glue gun (link) will work wonders on balloon decorations.
So when you have your balloons ready place a small amount of glue on one balloon and simply stick the other one to it. DONE! Yes, it's that easy.
Continue gluing the balloons you want in place.
Once the top targets were in place I tied and glued the smaller balloons below the large heart balloons. This just gave it a more finished look. Scroll down to see a closer picture.
Once they are how you want them it will be time to set up. Take each balloon bouquet and tape, or tie them to something. NOT A CHILD! Lol!  I just taped mine to the floor.
These were the best bows and arrows (link) for the kids to play with. They are cheap, amazingly easy to put together and I wasn't upset when we lost some arrows. Score!
Luke actually got his suction cup stuck to the balloon a couple of times so we counted that as bonus points.
Clean up is a breeze, tell your kids they will get skittles when they have all the balloons popped and put into the trash. There you go all the clean up done!
How many balloons did your kids pop?


Disclaimer: This blog post contains affiliate links. We may earn a small commission if you use these links to make a purchase. You will not be charged extra, and it helps to pay for more craft supplies.  Click here for more information.