Easy Easter Pancakes for Kids with Edible Grass
[disclosure]
These Easter Pancakes so yummy and are really easy to make too! Watch the video so showing you can make them for your kids too.

Easy East Pancakes
I'd like to say that I used my favorite pancake recipe (here) however, that wasn't the case today.
Today I was running late. One of the girls wouldn't sleep. I take that back, neither twin would sleep today so I ran around like a mad lady trying to get everything done and dinner started before the boys got home.
So my answer in a pinch…
Store bought pancake mix, like the one in the box that all you do is add water. And it totally saved my bacon! Breakfast for dinner could not be a better faster meal. Especially where there is little to measure. Seriously, with that mix, I just eyeballed it. An ingenious answer to a tough question on a hard day.
I thought I'd make things a little more fun by making them into bunnies and treating the berries like eggs on top of some edible grass.
It was a huge hit!
What you will need
Blue Berries
Raspberries
Maple Syrup
Spatula
Easy Easter Pancakes with Edible Grass -Video
Easy Easter Pancakes with Edible Grass -Pictures
Start out with a hot buttered pan, skillet, or whatever you normally cook on.
Mix your pancake mix. I have a recipe here if you need fluffy pancakes. I like to make my mix a little thicker so it's easier to draw a bunny.
Pour your pancake mix into a squeeze bottle like this.
Heat your pan and let's get started!
The squeeze bottle is going to help you to be able to draw the bunny onto your hot skillet. Go slow, I'm sure your bunny will look great and if it doesn't its still edible!
Well… as long as you don't burn it. Ha Ha!
So you're going to start out with the face then work up to the ears. It might take a little practice and that's ok. See the video for a closer look.
Once they look bubbly like the one on the right you can flip them. Make sure not to burn the bunnies.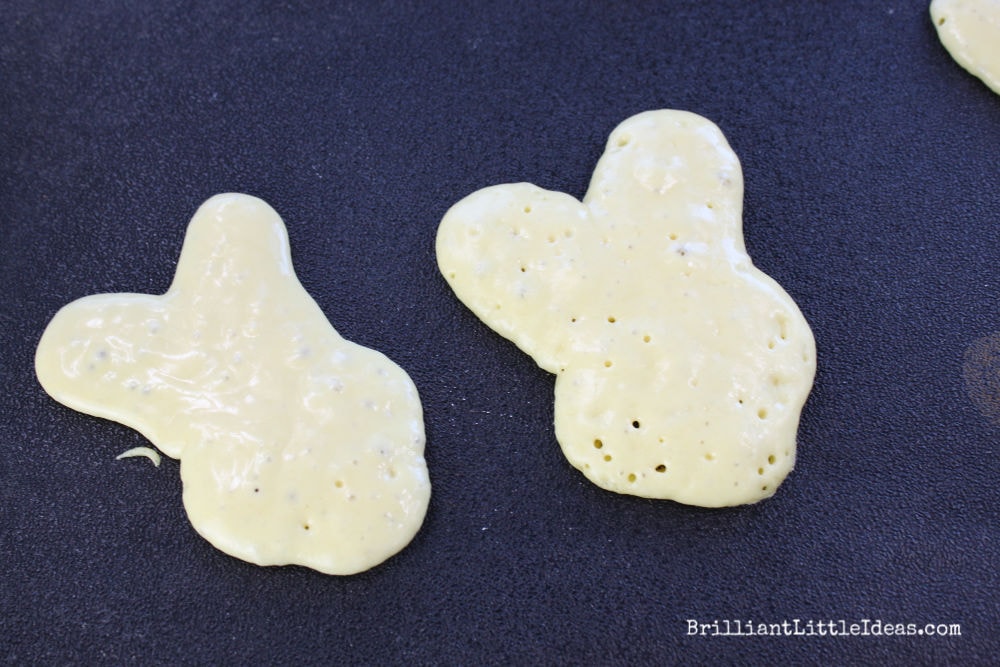 Place one bunny, some chopped edible grass, and berries on each plate. Top with Maple syrup and your done.
My goodness, that was easy and oh, so good!
Have you made bunny shaped pancakes before?

Disclaimer: This blog post contains affiliate links. We may earn a small commission if you use these links to make a purchase. You will not be charged extra, and it helps to pay for more craft supplies.  Click here for more information.