Easy Freezer Breakfast Burritos
[disclosure]
Easy Freezer Breakfast Burritos are a staple at my house. Its a make-ahead alternative to cereal for kids. Freezer food is my lifesaver on busy days.
Easy Freezer Friendly Breakfast Burritos
If you want to start building your freezer meals the Easy Freezer Friendly Breakfast Burritos are the way to go. They are super easy and you can make them from your breakfast leftovers. I heat the burritos up in a pinch and the kids LOVE them. In fact they request them almost daily.  This go to breakfast lasts about a month in the freezer so make sure to put a clear date on the gallon storage bag.
If you like this recipe try out my Freezer Friendly Calzones.
What you will need
Scrambled eggs
Shredded cheese
Cooked chopped bacon
Green onions
Flour totillias
Clingwrap
Gallon freezer bag and Sharpie to write the date on the bag.
 How to make your Easy Freezer Friendly Breakfast Burritos
Start by cutting a piece of cling wrap larger than your flour tortilla. You will need to wrap up your burrito to freeze them when your finished. See below.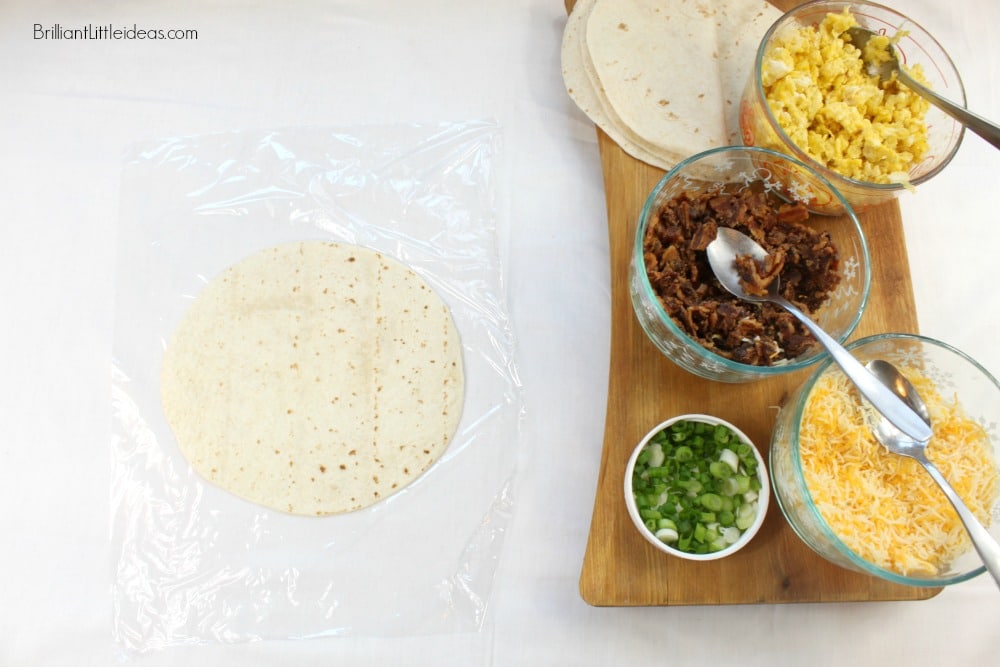 First, sprinkle on some cheese.
Now add the green onion. 
And bacon..
Lastly, add your scrambled eggs.
Now fold the ends.
Now fold up the back.

And roll up. See these Easy Freezer Friendly Breakfast Burritos could not be easier.
Are you are storing these breakfast burritos in the freezer? If so you will need to roll the cling wrap tightly around your burrito to protect from freezer burn. Yuck!
How to reheat your easy freezer friendly breakfast burrito
Microwave:
First, remove the cling wrap and warm in the microwave for 4-6 minutes flipping 2 or 3 times.
Oven:
Remove the cling wrap and place on an oven safe dish then heat for 30-40 minutes at 375 degree.
Have you ever tried freezer meals?