Tiny Sandbox Boredom Buster
Do you have a child that loves to be outside? My son Ryker is one of "those" kids that would rather be outside playing than anything else. Seriously, I've even offered ice cream to get him in the house and that doesn't even work. Are you in the same season of life? If so I have an answer for you, try the Tiny Sandbox Boredom Buster!
Tiny Sandbox Boredom Buster for Kids
Last summer was scorching, the 100 plus degree Texas heat was too much to handle and I was out of icy pops. Bummer! I'm pretty good at coming up with creative ways to keep kids busy but we had flown paper airplanes, done science experiments, made a rubber band gun (like this), and made a time capsule (linked). These Conversation Starters (linked) with some cracker stackers worked for a bit and were a lot of fun but not for a long time. What else was there to do?
I needed to keep Ryker in the house and at the same time bring the outside in for him. He was laying on the floor crying about his construction trucks and sand outside. Why was he on the floor? Because having to stay in the house during the hottest hours of the day is downright devastating for a little kid.
So… in desperation, an idea was formed.
My Disastrous First Attempt
My first idea was to get a large squatty plastic container and put cloud dough in it. I then added a few construction toys for Ryker to play with. We are talking a large box, like 1 foot by 2 feet big. That sand was taken in and out of the box via dump trucks and excavators. The clean up was exhausting! Cloud dough everywhere, in the carpet, on his whole body, on the ceiling, (yes you read that right the ceiling, how, I have no idea but it was there) and on the walls. So the colossal question was… how do I make this super messy sandbox idea into a workable boredom buster? Kinetic Sand!
This post contains affiliate links. If you use these links to buy something we may earn a commission (at no cost to you). Thanks for the support! See our Disclosure page.
What you will need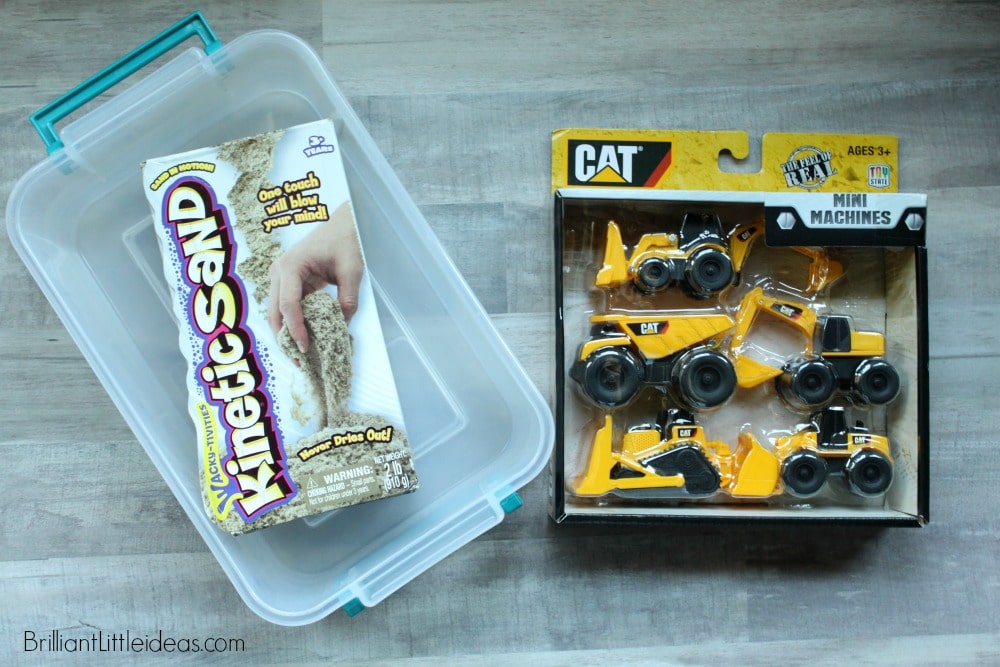 I went to the store and found a cute short small box a 2.7-quart Sterilite box to be exact. Cost under $3. The snap-on handles worked great for keeping the sand in place. For the sand, I chose Kinetic Sand instead of cloud dough because it seems to be easier to pick up. Cost under $10 but Amazon was running a sale. Over on the toy aisle, I picked up this cute little construction set (which we have several of but could always use more) for under $6. Not bad prices for hours of endless fun! And that's how the Tiny Sandbox Boredom Buster for Kids was born.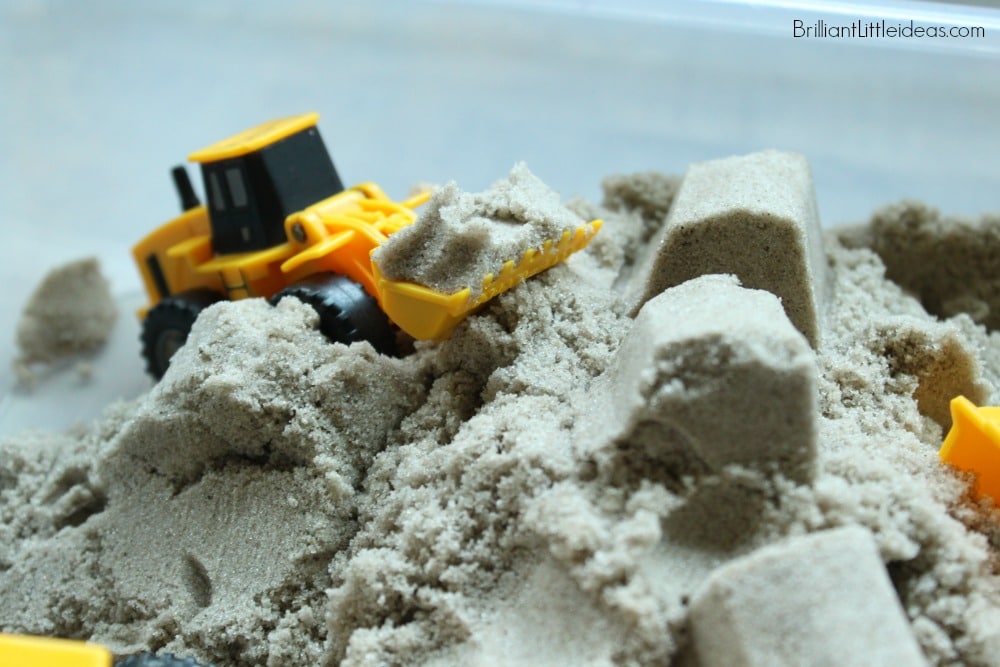 Best Boredom Buster for the Whole Family
Honestly, I love playing with this tiny sandbox it's defiantly one of my favorite new things around the house. Ryker and I play for hours together making hay bales, dozing, and excavating dirt. We create roads, tunnels, and even mountains. This is one of those great indoor activities to keep in your idea arseol for the days when your kid has the boredom blues!
How do I entertain my child without electronics?
Those long hot summer days are hard on kids. They can't stay outside all day and they definitely don't need to sit in front of the tv or playing video games for hours on end. So, what can they do?
Well, lets start out with what they like to do. Kids love to be amused by other people. They love to play with their siblings, friends or their parents. How about playing by themselves? Do they do that much? it outranks the T.V and the iPad! Horray!!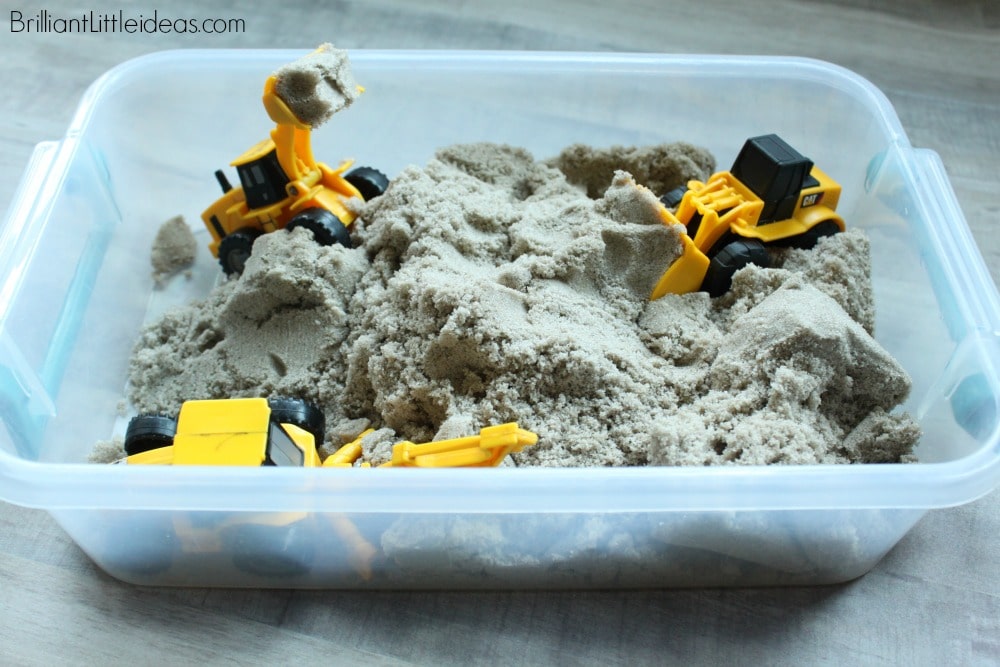 Cheap Birthday Gifts for boys or girls
When looking for a toy for kids you want one that is lots of fun and doesn'tt break the bank. Kids love outdoor games, hula hoops, and kits to make their own friendship braclets. However, a homemade Tiny Sandbox Boredom Buster is one of those creative ideas that are great for birthday gifts because it's fun and something their parents usually didn't think of. I have actually given them as gifts to all of my daycare kids.
Other Play Options
If you have a few of these around your house they are a great option in case your child does get tired of playing with the construction trucks or Matchbox cars. My girls also love to play with the sand with their little people. It's an all-around great boredom buster that brings their own backyard indoors. Which in my life of constant kids is a WIN!
Does your child love to play in the sand?