Ready to keep your kids busy? YES! Don't have index cards? No problem, I've got you covered. Let's get started on this easy art project for your kids.

Easy Index Card Art Project for Kids
I love coming up with quick things for kids to do. Give me a room full of kids and ill have them doing a project and semi happy in under 5. You can't ever make every kid happy… 🙂
This craft came from that type of day. Something out of nothing. We didn't have enough index cards for everyone so figured it out and that's what I'm going to do for you. You don't have index card? No problem! Scroll down and ill help you with that.
What can you do with index cards? 
Lots and lots of things. Below you will find 2 different ways to decorate your index card. We will start out with drawing one of a kind art with simple crayons or markers then work to glitter and tissue paper. The options are endless! Once you're finished you can make a DIY Art Easel to display your creation.

Supplies
Paint Pallets & Brushes
Markers, Crayons, Pen, Pencil & even colored pencils
Glue Stick
Index Cards or old cereal/cracker boxes
Scissors
Tissue Paper
Paper Clips
Magnets
Easy Index Card Art Project for Kids -Video
Easy Index Card Art Project for Kids -Pictures
To start… Im going to show you the first project idea.
Go grab your index cards and all the supplies listed above.
No index cards? Grab a thin box like a cereal or cracker box. Any box that is thin will work for this project. 
Can an index card be a craft project?
YES! Below you will find 3 different craft ideas to keep your kids busy and having fun.
Take an ink pen and start drawing lines, circles, shapes, or just let your kids scribble. Once you have a few lines drawn we will get started on the fun part… coloring it in!
**The more lines, scribbles, or shapes the harder it will be to color.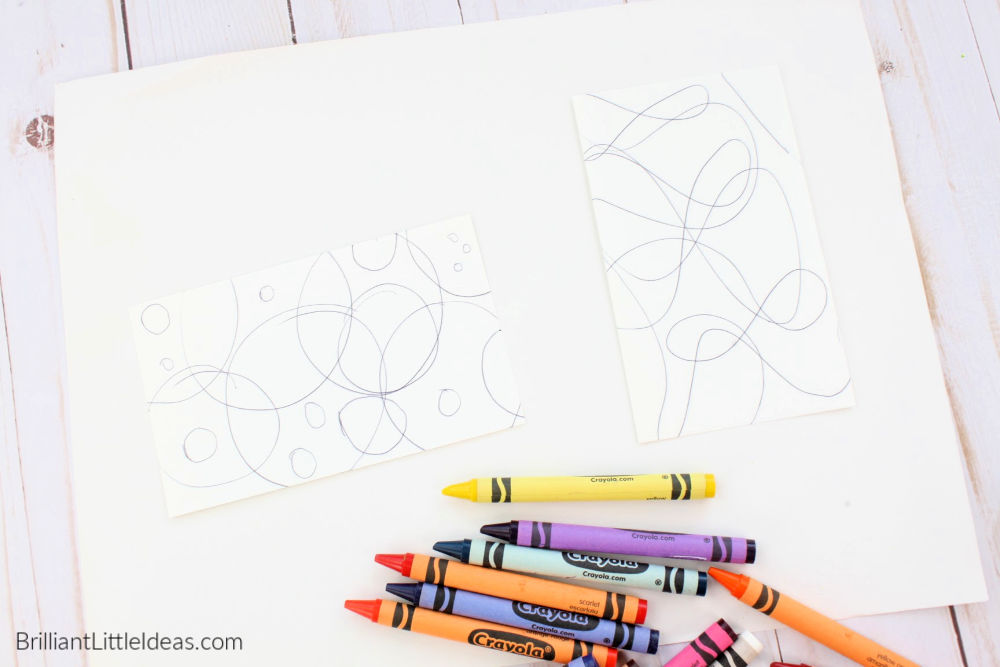 Let your kids pick a few or the whole box of markers, colored pencils, or crayons to color their picture. They can even play the game of making no color touch. That seemed to be more fun for the older kids.
Need another quick index card craft?
Don't we all!
For the next index card craft, you're going to need an index card stick glue and tissue paper cut into squares. No index cards? Grab a thin box like a cereal or cracker box. Any box that is thin will work for this project. 
Start out by covering the index card with glue.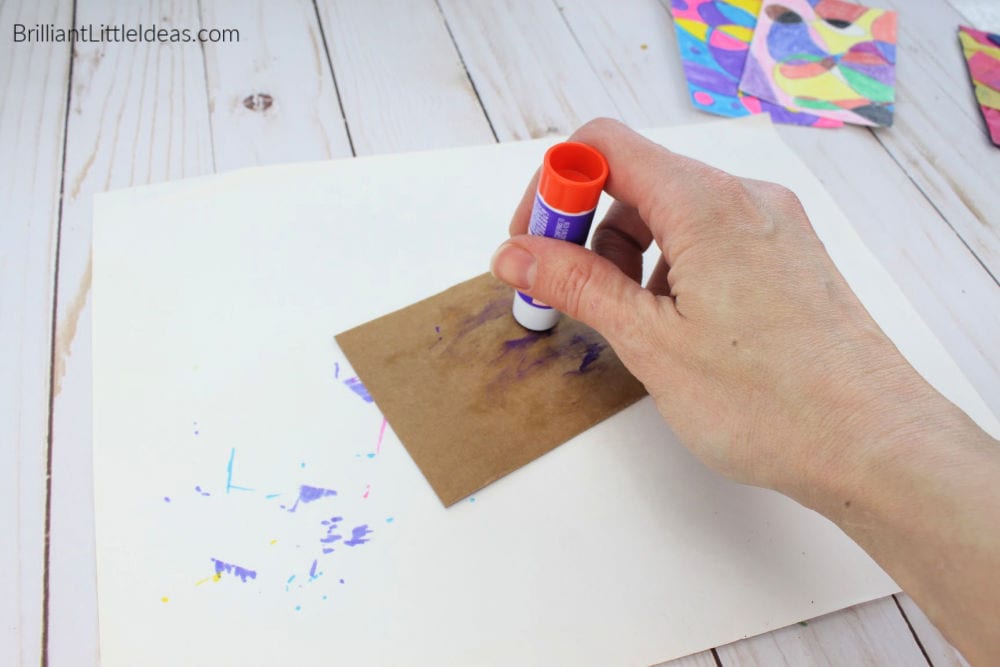 Now cover your index card with the colorful tissue paper pieces. You can layer them as much as you want or as little. Don't forget to add more glue if it dries too quickly or the collage isn't touching the base index card.
Now your option will be to cut down the index card to make it more uniform or to just let it go wild. I honestly, regretted cutting mine afterward. I like the wild look… it matches my chaos.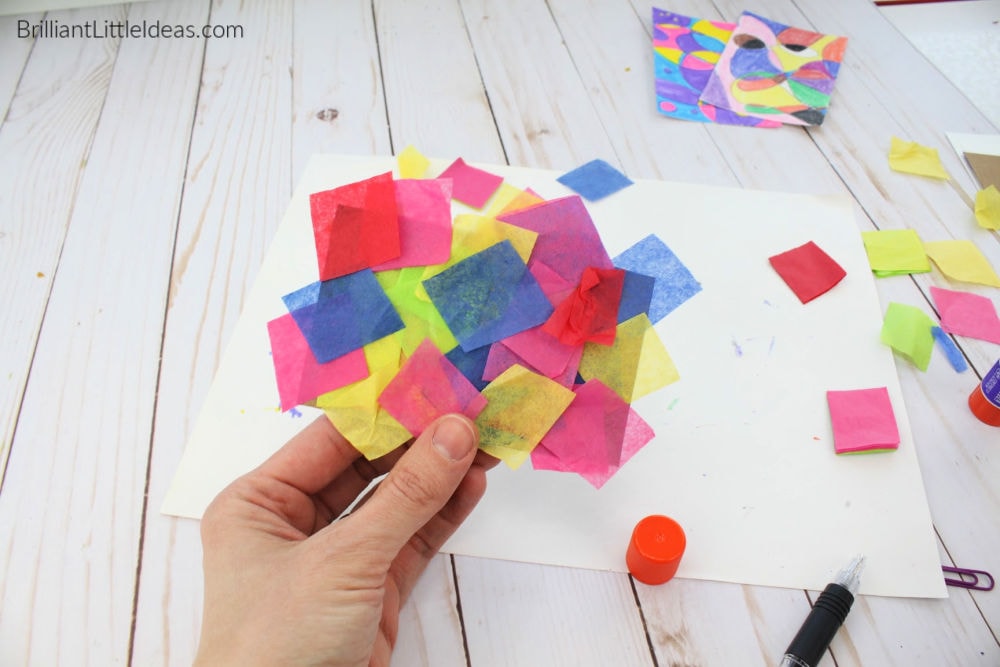 Glitter and Glue Recycled Art for Kids
Today's last index card idea for you is simply using glitter and glue. Do not move your art until the glue is completely set. I made that mistake.
Take your index card or recycled rectangle from an old cereal box and let your kids draw a design. I choose triangles first then stripes.
Sprinkle enough glitter to cover the area you want that color. See the picture below.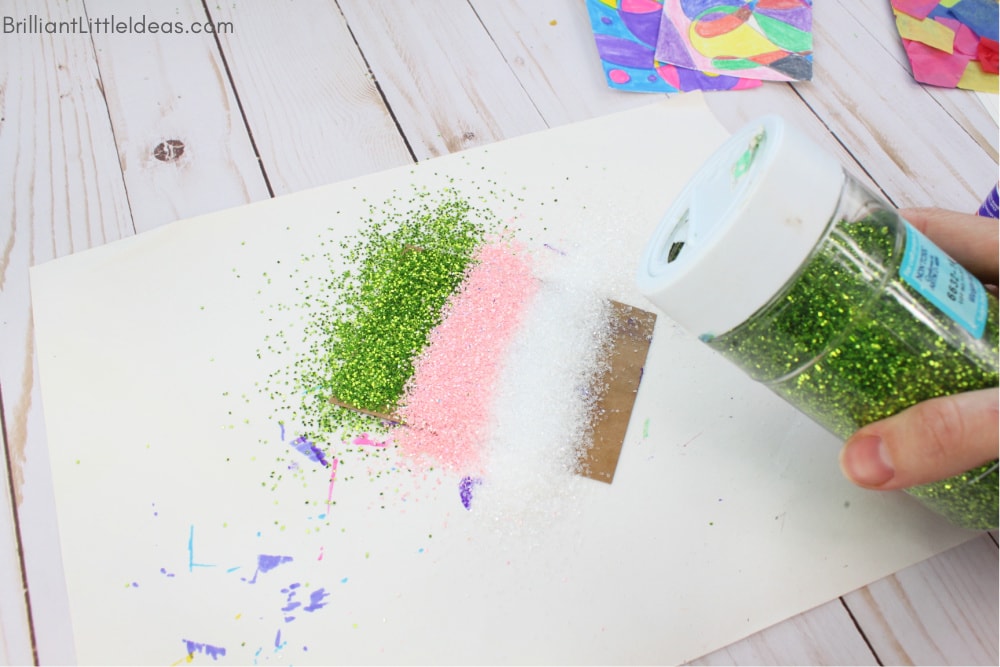 Once your art is complete LET IT DRY FOR 12-24 HOURS BEFORE MOVING. If you move it too much before the glue has hardened it will drip… see the pictures below to laugh at my ridiculous impatient self. I just had to take the pictures of the index cards right now… (insert forehead slap here).
How to display your index card art?
I gotcha covered. All you will need is a magnet, hot glue gun, and a paper clip.  If you want some art for your fridge then add a small dab of glue to the back of your art and peel the back off of your magnet and press into the hot glue. Don't burn your fingers. Make sure you glued the right side. I don't want your art repelling from the fridge.
**I know the magnets usually have a sticky side but honestly, the magnet sticky just doesn't last long.
Grab a paperclip and hot glue if you're looking to hang your index card art when you're finished.
Put a dab of hot glue and carefully place the paperclip in the hot glue before it drives.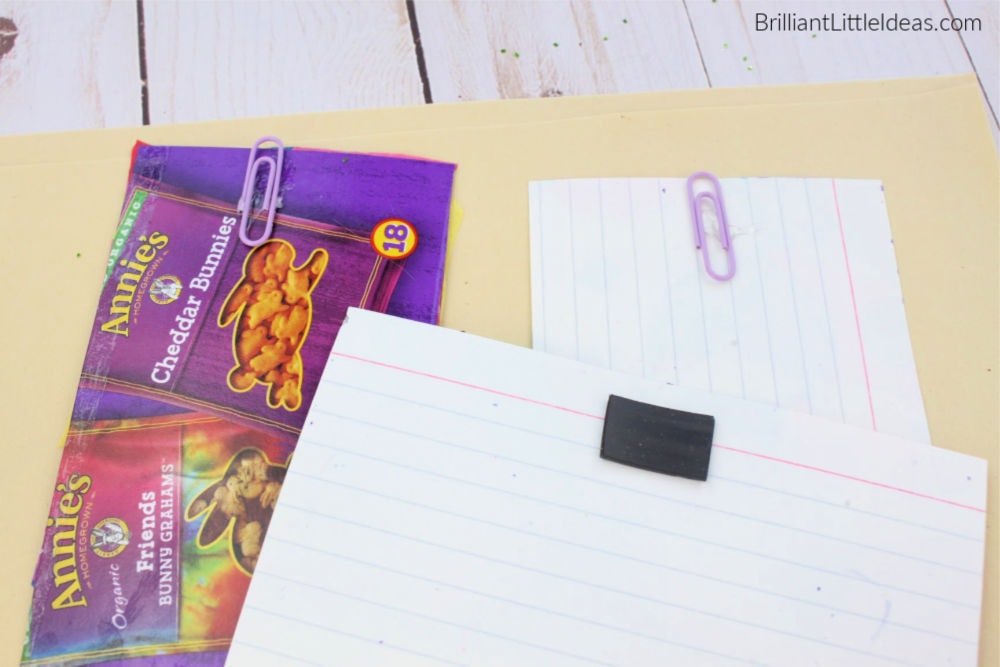 If you want to make the DIY Art Easle (click here).