Groundhog Day Hat Printable Craft for Kids
Let's celebrate Groundhog Day with two fun printable hats. Young children will love to make their own groundhog day hat craft to wear while they learn about the history of groundhog day.
February 2nd is right around the corner and Punxsutawney Phil is going to tell us how many more weeks of winter we have left this year. Groundhog Day Hat Printable Craft for Kids is a great way to keep kids busy with holiday fun!
Spend this week with a fun groundhog theme doing fun activities like these Groundhog Day Activity Sheets, and reading their favorite books with their new printable Groundhog Day Bookmarks. You can tell them the great story of how groundhog day started and if it is real or a legend but first let's get started on these cute groundhog day hats for kids!
This post contains affiliate links. If you use these links to buy something we may earn a commission (at no cost to you). Thanks for the support! See our Disclosure page.
What you need to make your Groundhog Day Hats Craft
Groundhog Day Hat Printable (at the end of this post)
Tape or
Cardstock (for durability)
How to Make a Groundhog Day Hat Craft
Grab all of your craft supplies (grab your free printable groundhog hats below) and print your Groundhog Day Hats on Cardstock for durability. The top of the page printable will be instructions in case you forget what you need. On this special day let your kids choose from two different Groundhog Day hat color sheets. The kids can pick a groundhog with a top hat or one witha groundhog face and giant groundhog day words.
Once they've chosen their favorite hat it's time to start coloring. They can use crayons, markers, or colored pencils to create their masterpiece. I love this box from Crayola, it's like fun in a box for a kid who loves to color. You can also use this groundhog hat as a free hat pattern for another holiday. Just let the kids create their own crown or hat by drawing around the hat shape and coloring it in.
Using scissors and coloring are both great ways to work on fine motor skills. Once they have finished coloring and with adult supervision, let them cut out their groundhog day hat. Cut carefully following the lines all the way around until you have the whole groundhog hat cut out. Using the last page of the groundhog day printable you will need to cut out the strips of paper for the band around each child's head.
If you are out of paper strips to make all of the hats you need then just grab some construction paper and cut strips from that or you can also use cardstock. You just need enough paper to make a ring that will sit nicely on top of your child's head. Another fun way to spend some time with your kids is to have them guess how large their head is by measuring with a strip or several stapled together.
Preschool children will love all Groundhog day celebrations especially when they can craft their own fun. Let them tape or staple the strips onto their groundhog hats. The kids will love wearing these Groundhog day hats around as they wait to see if Punxsutawney Phil sees his shadow. Have them take note of the weather. Is it a sunny day or a cloudy day? Is it snowing, or raining, and what's the temperature? This is a perfect way to learn more about the weather and how it affects our lives.
If you're looking for a fun Groundhog Day Activity Packs check out this one in my shop.
Best Groundhog day books for kids
If you want a few books to teach your kids more about groundhog day these are my favorites. If you are looking for more free printables check out these Groundhog Day Bookmarks for kids to go with their new books to read.
Once your child's groundhog day hat is finished make sure to write their name (or your students name) on the backside of the hat. Writing their name will keep the arguing down and everyone will know for sure if they have their hat.
If you want to pretend you're in the Bill Murray Movie do the same things on February 3rd that you do on the 2nd. That will confuse everyone but it would give me a laugh…I may have done this to my kids a time or two just for fun.

Groundhog Activity Sheets
Grab this set of Activity sheets including fact sheets over my shop.
Groundhog Hats
Printable Groundhog Day Hats are fun for little kids. They can wear them while learning about groundhogs.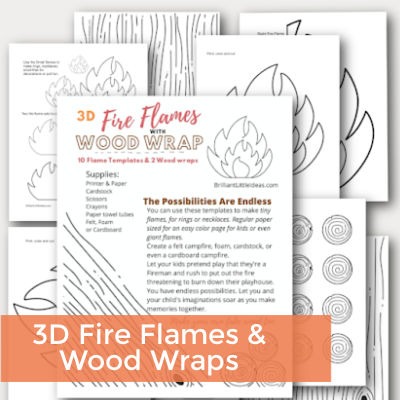 3D Fire Flames + Log Wraps
Make an indoor campfire with these fire flame templates and log wraps.