Summer is a great time for popsicles!
Grab these 3 Free Popsicle Color Sheets in our Free Printable Library. You can use them to keep your kids busy while you cook dinner or even for a fun ice cream themed party! The Popsicle Printable comes in 3 different sizes.
Supplies
Free Popsicle Color Page Printables
Grab your free Popsicle Printables (here) in our free printable library. Print and color.
You can use your large printable popsicle color page to help your little kids to learn their colors. Below I will have a few great ideas on how you can turn simple color sheets into fun activities to keep your kids busy. I would love it if you have more ideas so comment below and let me know what has worked for you.
DIY Popsicle Matching like-colored popsicles
Print a few sheets out and color one of each popsicle the same color. Then do the same thing for all the colors you want your child to learn.
DIY Popsicle Matching game.
Print 2 sheets out and color the same popsicle on each page the same colors. Do the same until you have a fun matching set. If you want more matching options you can also print more sheets and just color the popsicles a different color. For durability, you can print on cardstock (linked) and laminator (linked).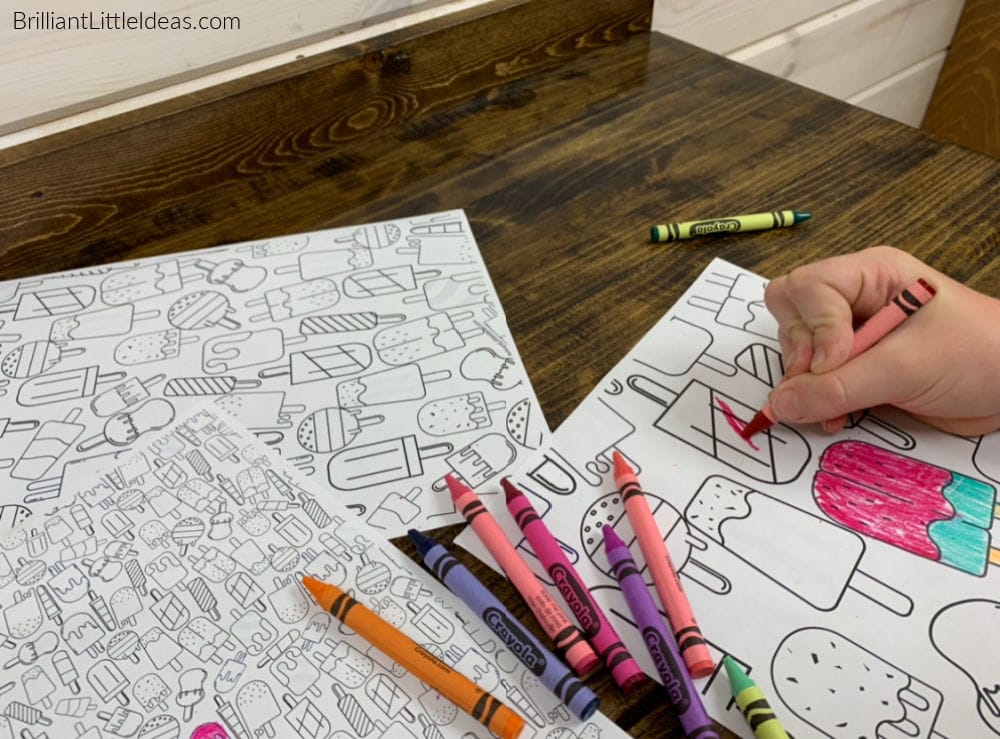 How to Keep My Kids Busy So I Can Cook Dinner?
Have you ever asked yourself that? How to get to the bathroom to pee in peace? How to cook dinner without "help" when you're in a hurry?
Well, I've tried many things even serpentining it through the house to try and sidetrack them bumping my head on the table trying to quickly crawl out from under the table tent I made.
At the end of the day you want your kids safe so you can quickly get the things done you need to while still watching them.
So print a few of these popsicle color pages and grab this Crayola Art Case that my 8 year old has had for 4 years. Really, It's super durable! This makes it fun with a cool (do the kids say that anymore?) new case cute printable and a few minutes to yourself.
You can make it a game of who takes the longest, who colors the best, only use shades of purple, the ideas are endless.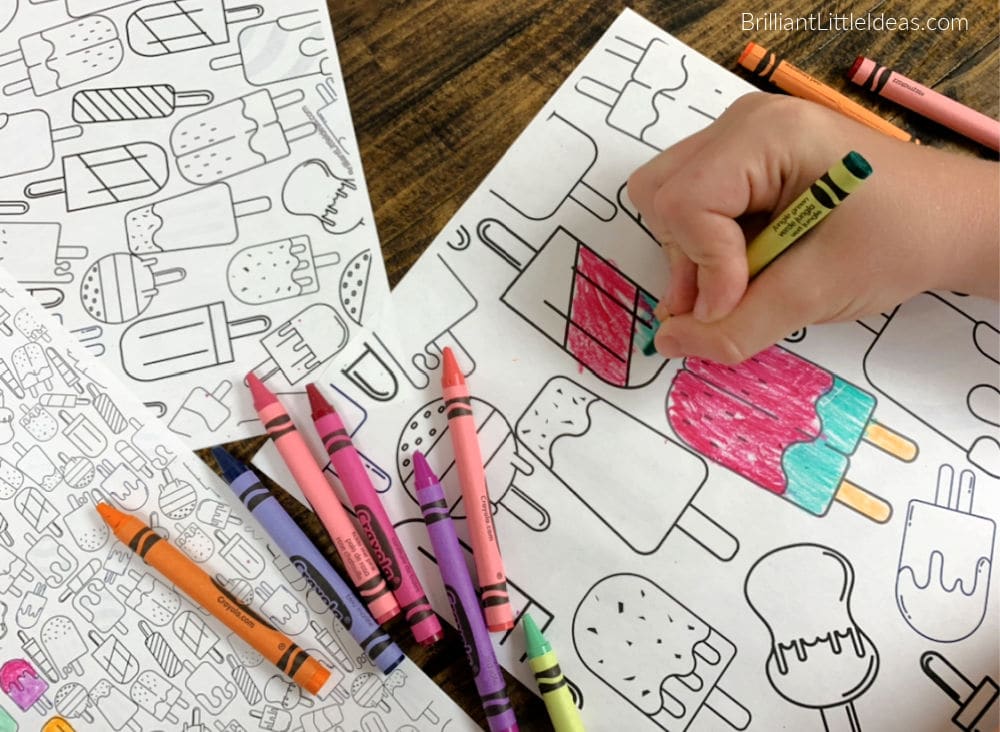 Kids wont stop fighting?
I've got a great parenting idea for you. Kids are always fighting and it really gets annoying. Kids are sometimes grumpy, irritated, moody, stressed, and frustrated tiny people who need to relax. So the answer in my house is coloring.
Yes… coloring and ill tell you why.
When my kids fight too much I make them sit on opposite sides of the table give them both colored pencils or this Crayola Art Case with a copy of the TINY POPSICLE Color Sheet. Notice I said TINY. My kids are bigger so the small ones work well for me but feel free to choose any size.
The Tiny Popsicle Color page is what we use because it takes concentration, time and coloring actually relax the kids. Even if they scribble they're getting out their frustration and that is great!
I set a timer for 5 minutes and at the end, my younger son usually says "do I have to quit this is so much fun" and my older son whines about his hand cramping. The best part of having them sit for the whole 5 minutes is that they are usually calm and get along for at least a few hours. Which makes the rest of my day easier and they are happier. WIN. WIN.
Do you have more ideas of what to do with color pages?