Easy Butterfly Perler Fuse Bead Printable Template
Butterflies are beautiful and this Butterfly Fuse Bead Templates Printable has four different patterns. Use the large butterfly to make a big monarch butterfly filled with your favorite color melty beads. Each time you use these fuse bead patterns be sure to give your butterfly a new look by adding different colors to this butterfly bead project. Enjoy making three different pattern types on your perler bead pegboard.
Perler bead butterfly patterns are a great way for your kids to work on those fine motor skills. Younger kids can use tweezers or a perler dispense pen to place each bead in the correct section. Use a clear pegboard and lay the template underneath to make your creation a little easier. If you love the butterflies try this Rainbow Heart Perler Bead Patterns that also has a cute unicorn and rainbow.
This post contains affiliate links. If you use these links to buy something we may earn a commission (at no cost to you). Thanks for the support! See our Disclosure page.
What You Need to Make Rainbow Unicorn Fuse Beads
Butterflies Fuse Bead Template (at the bottom of the page)
How to Make Butterflies with Fuse Beads
Here are the quick instructions.
Grab your Butterfly Perler fuse bead template at the bottom of this post. Print the template to its actual size and lay it under a clear Perler pegboard or beside a solid colored pegboard. Place a jelly roll pan or something flat under the perler board that can be moved if your child isn't finished with it and you need to move it.
Using a fuse bead pegboard that is at least 29×29 for 5mm beads. Working from top to bottom or side to side carefully place the beads one by one into the pegboard. Be sure to count across if you can't see the template through the bottom. Work on aligning the pegs in place to duplicate the template.
When you have your Butterfly complete. It is time to iron. *Make sure to do this part for your children. Heat the iron to low-medium and lay the pegboard holding your butterfly craft on the ironing board. Place a square of parchment paper on top and gently press the hot iron on top of the butterfly and press and hold for 10-20 seconds. when the perler beads are melted together and cooled. Remove from the pegboard. Set the Butterfly on top of the ironing board and do the same thing on the opposite side using the parchment paper again.
Tips and Tricks to Make Butterfly Perler Beads Easier
Grab your free Perler bead patterns to make your butterflies below. The best place to make these fuse bead crafts is on a jelly roll pan or something that will stop the beads from falling off the table. Use this Perler Bead Sweeper for easy cleanup of those colorful plastic beads. Spread the fuse beads out on a pie plate or something with tall sides so the kids have easier access to the colors they want.
If your kids want to start with some easy perler bead patterns then let them make the small butterflies first. The smaller butterflies will give the kids a feeling of success that they finished a whole butterfly. An easy craft for the littles that don't eat everything in sight is to just let them try and get any bead on and not work on a pattern. Spend that precious time with your kids making something fun with those perler fuse beads also known as hama beads.
Once you have your design finished it's time to set it. Grab a piece of parchment paper and an iron on low heat. Heat for 10-20 seconds per side until the beads are melted together. Flip the pattern over and heat the other side the same way. You can also heat the fuse beads in the microwave in 10 second intervals until melted.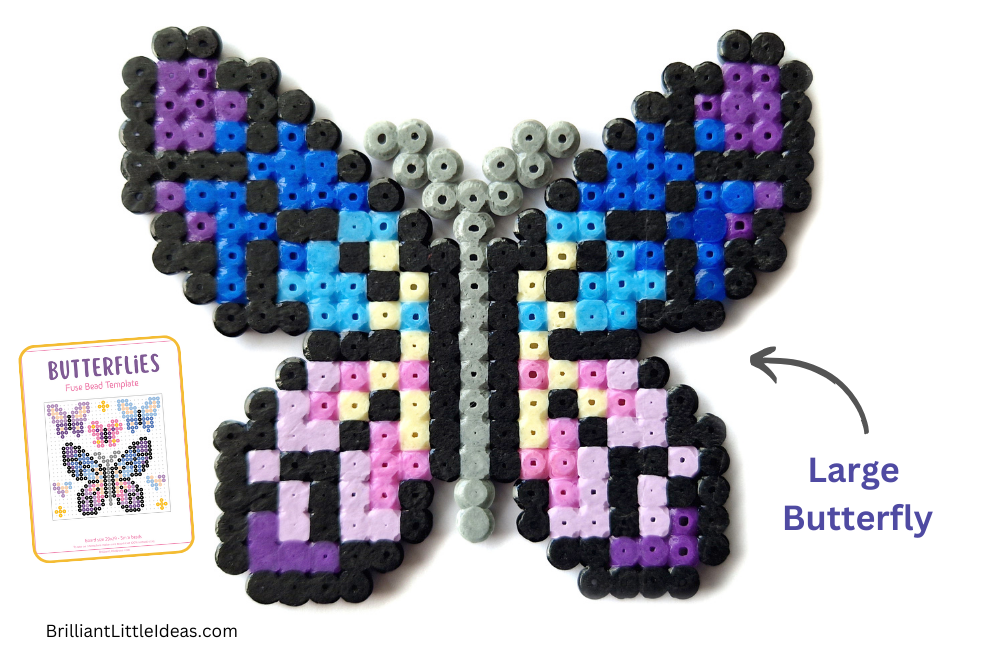 What to do with Butterfly Fuse Beads
Make some pretty magnets by adding a glue dot to the back that can hold a small magnet into place. Add these pretty butterflies to a hair barrette or a bow. Make some necklaces for your friends by hanging a string through a butterfly wing. You can also add some pony beads for some extra color for old or new friends.
Keychains are easy to make and hang on a bag or with a set of keys. You can also hang the beautiful butterfly in the window. The possibilities are endless with these butterfly fuse bead templates printable.
You can download the perler pattern at the bottom of this post. Butterfly fuse beads are not only surprises for a birthday party gift but also as a party favor. Have the kids all make their own to take home with them or make them as gifts ahead of time for a great butterfly craft ideas fun for all ages.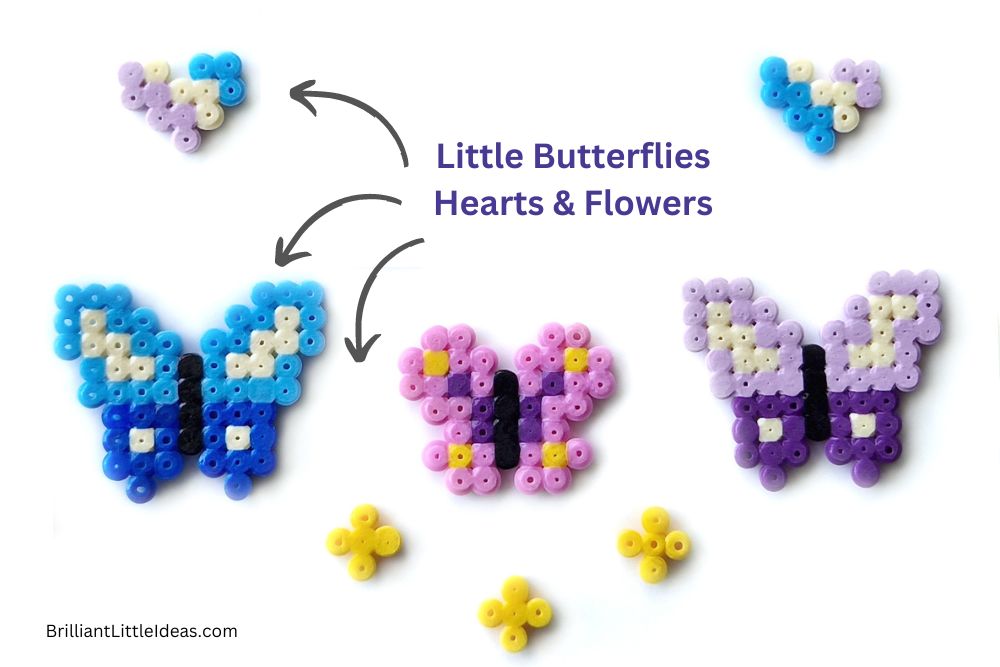 How to Use a Fuse Bead Pegboards
If this is the first time for you to use fuse bead pegboards here are a few hints. Each pegboard has the same grid pattern for this fuse bead template you need the square but you can use other shapes if your kids are only making one or two butterflies.
Perler Beads Patterns and Craft Idea Book, 28 pgs
Perler Bead Pen
Perler Beads Craft Bead Sweeper for Easy Clean Up
Perler Sunny Days Bright Color Fuse Bead Bucket, 5500 pcs
Perler Beads Bead 'n' Carry Craft Activity Kit, 1204 (Product Color May Vary)
Perler Beads Large Fuse Bead Pegboards, 18pcs
Start off with just the bare bones of the peg board and work from one side to the other counting the pegs across so you get the correct shape made. Clear pegboards are easier to use than solid colored ones because you can see the printable fuse bead template through the pegboard.
The pegboard can take some heat. Don't worry the fuse beads melt while sitting on the pegboard but the pegboard won't melt at all. Be careful if you use the pegboard in the oven I would suggest using it in the microwave or under a low heat iron instead. If using an iron use parchment paper or ironing paper so the iron doesn't get stuck to the melty beads.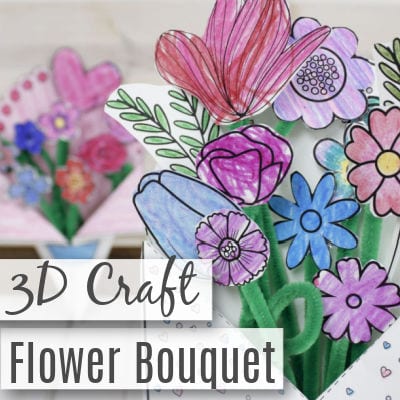 3D Flower Bouquet
Make your own bouquet with this fun printable.
Rainbow Unicorn Fuse Beads
Perler beads now have a fun use. Make these rainbow unicorns.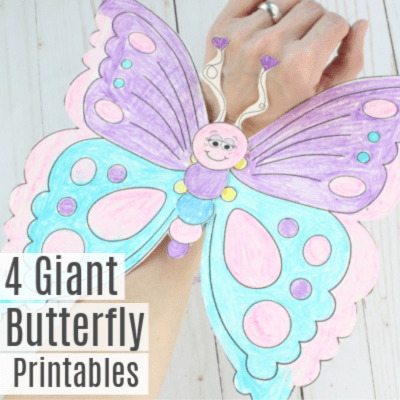 Giant Butterfly Braclets
Print, color, and cut these butterfly braclets to fly around the house.