Haunted House Halloween Perler Fuse Bead Template
Halloween just got a whole lot scarier with this Spooky Haunted House Fuse Bead Template. You only need a few inexpensive supplies for this easy Halloween craft for kids.
Grab your melty beads, a Perler pegboard, parchment paper, and an iron for an afternoon of fun. Free Halloween Perler bead patterns like this Haunted House will not only keep your kids busy but also fun for the whole family.
If your kids liked this Haunted House then they will love this Spooky Ghost Fuse Bead Template. So keep lots of white beads for your cute ghost or orange beads for a fun fall pumpkin.
Easy Halloween perler bead patterns are not only great for those fine motor skills but also for your child's imagination when they create their own design. You can find all your Perler bead supplies at your local craft store, Micheals, or Hobby Lobby.
Look for some dark beads to make this haunted house craft a little more spooky. Let your kids make their own Halloween crafts by creating different shapes with creepy eyes and lots of colorful beads.
This post contains affiliate links. If you use these links to buy something we may earn a commission (at no cost to you). Thanks for the support! See our Disclosure page.
What You Need to Make Rainbow Unicorn Fuse Beads
Haunted House Fuse Bead Template (at the bottom of the page)
How to Make a Haunted House with Fuse Beads
Here are the quick instructions.
Grab your Haunted House Perler fuse bead template at the bottom of this post. Print the template to its actual size and lay it under a clear Perler pegboard or beside a solid colored pegboard. Place a jelly roll pan or something flat under the perler board that can be moved if your child isn't finished with it and you need to move it.
Using a fuse bead pegboard that is at least 29×29 for 5mm beads. Working from top to bottom or side to side carefully place the beads one by one into the pegboard. Be sure to count across if you can't see the template through the bottom. Work on aligning the pegs in place to duplicate the template.
When you have your Haunted House complete. It is time to iron. *Make sure to do this part for your children. Heat the iron to low-medium and lay the pegboard holding your Haunted House craft on the ironing board. Place a square of parchment paper on top and gently press the hot iron on top of the Haunted House and press and hold for 10-20 seconds. when the Halloween perler beads are melted together and cooled. Remove from the pegboard. Set the Haunted House on top of the ironing board and do the same thing on the opposite side using the parchment paper again.
Halloween Haunted House Perler Bead Pattern
This Haunted House hama beads template is not only adorable but also fun to make. You can follow the color scheme of the template or design your own house by changing the colors to what you love.
Perler Beads Craft Bead Sweeper for Easy Clean Up
Perler Beads Bead Tweezer Tools, 2 pc 4.25 Inch
Perler Beads Pen Bead Dispenser Kid's Crafts, 1 pc, Lime Green
Perler 17000 Assorted Bulk Fuse Beads Set with Storage Jar for Arts and Crafts, Multicolor, 22000 pcs
9pcs 5mm Large Square Fuse Beads Pegboards Plastic Beads Boards with Ironing Paper, Beads Tweezers for Kids Craft Beads
Perler Pet Parade Deluxe Fuse Bead Craft Activity Kit, 5020 pcs
Dark perler beads make this fuse bead haunted house a little more creepy. Add a cute witch or change out a jack o lantern for a black cat. Make sure you have enough beads of the color house you want and a bunch of black beads for the house, vampire bats, and fence.
For this Haunted House, you will need a 29 x 29 square board. If you want to add on a small witch, or pumpkin then use a small hexagon board. The small boards can be used for smaller Perler patterns like an adorable ghost. I actually have a whole collection of plastic pegboards. You can buy them in all shapes and sizes.
The easiest way to start this melty bead pattern is to start at the bottom. Starting at the bottom of the template is best so you can work up the house and hopefully not knock the base beads off while creating your haunted house.
Making Halloween perler bead designs is a fun way to spend time with kids of all ages. Make a cute candy corn by drawing out a few easy patterns to use if you only have a little bit of perler beads left.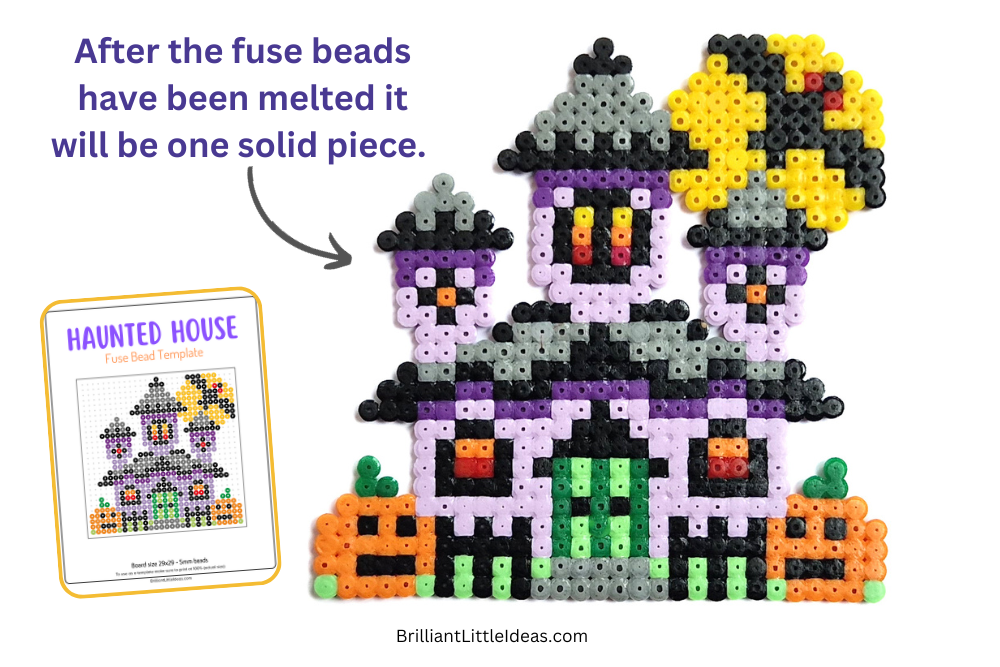 Easy Halloween Perler Bead Pattern Ideas
Your finished designs can be turned into lots of different things. Add a suction cup to the back for a spooky haunted house suncatcher or window decoration. Glue a magnet to the back to make a Haunted House magnet to help display your art on the fridge.
Attach this Errie Haunted House to a folded piece of black cardstock to make a spooky Halloween card for a friend or relative. Everyone loves getting snail mail so make someone's day a little more special with a fun find in the mailbox.
Spend all the precious time you can with your kids this fall season. The years go by fast to take this chance to make memories while creating this fun haunted house fuse bead craft.
If you want more patterns like this I have this Friendly Ghost Perler Beads Template. You can also find lots of Halloween Perler bead projects over at Kandi Patterns. It's a fun site full of lots of printable patterns even several cute ghost patterns.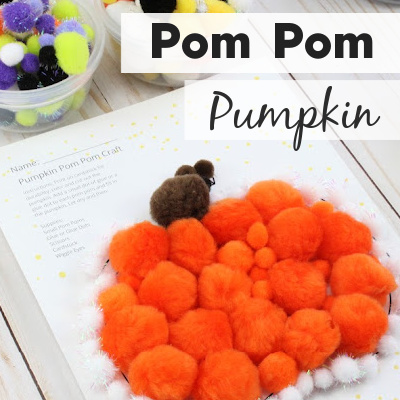 Pom Pom Pumpkin
This cute pom pom pumpkin craft is so much fun for kids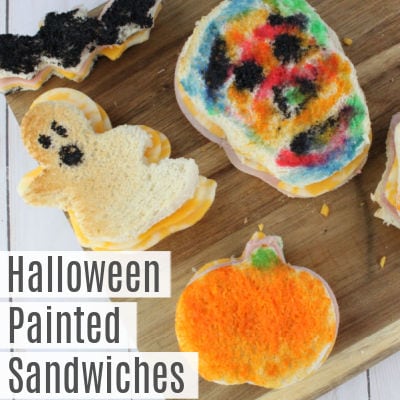 Painted Sandwiches
Edible Painted Sandwiches is sure to be a bit hit this October.
Ghost Bell Necklace
Make your own spooky ghost bell necklace with your kids.