Halloween Painted Sandwiches for Kids | Easy Halloween Food
Your kids are going to love painting their own Halloween party food. These Easy Painted Sandwiches are so fun to make and even yummier to eat! You only need a few things to make these adorable sandwiches for a lunch box idea or Halloween party food. This is one of the more healthy snacks I make during the Halloween season. You need to get slices of bread, sandwich filling, cookie cutters, an edible marker pen set, or food dye with a cup of milk.
If you're making these painted sandwiches for a party table you have to make these 4 Ingredient Taco Cups. They can be made ahead of time with just a few simple ingredients make a bunch because these taco cups will disappear fast.
Pair these healthy Halloween treats with Candy Corn Surprise and Halloween Hot Dog Fingers which look like witch fingers. Painted Sandwiches would be a great edible art project or just a fun treat to set in the middle of the table while your kids do their homework after school.
My kids loved these sandwiches so much that we still make them once a month. The great thing about these easy sandwiches is that you can change up the themes and colors to the time of year and close holidays. So the possibilities are endless!
Your kids can create a lunchtime masterpiece that will wow their friends and family. Pack them in your kid's lunch or turn them into a fun edible activity for your Halloween party!
If you're looking for healthy things your kids will actually eat without complaining you need to make this Homemade Popcorn Chicken. I made it last night and they are absolutely delicious!
This post contains affiliate links. If you use these links to buy something we may earn a commission (at no cost to you). Thanks for the support! See our Disclosure page.
What You Need to Paint Bread for Halloween Sandwiches
Milk & 1/4 measuring cup
Oven & Cookie sheet
White bread
Cheese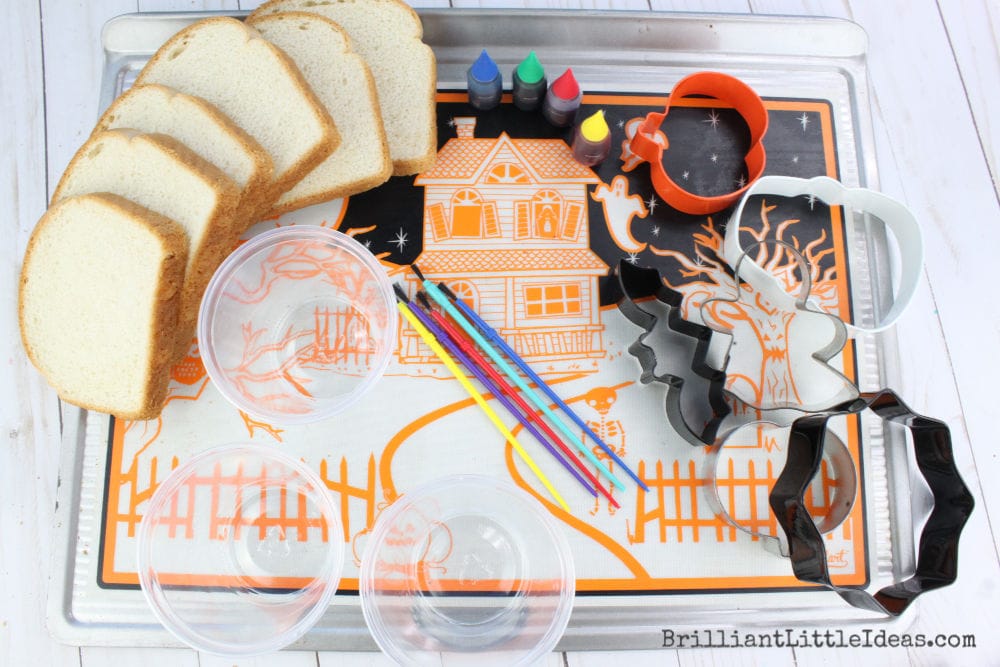 Halloween Painted Sandwiches for Kids -Video
If you have any questions about how to make these Halloween painted sandwiches please comment on the down below.
Halloween Painted Sandwiches for Kids -Pictures
We are going to start with the paint water, which is actually paint milk.
Grab your small plastic cup and put a teaspoon or 2 of vanilla syrup, then 1/4 cup of milk & lastly 2 or 3 drops of food dye. Mix well.
Do this for each color you want to paint with. We chose 5 colors to paint with when I took these pictures but you can choose as many as you want.
Spider Web Cookie Cutter 4.25
Food coloring Pens, 11Pcs Double Sided Food Grade and Edible Marker,Gourmet Writers for Decorating Fondant,Cakes, Cookies, Frosting, Easter Eggs, Thick Tip and Fine Tip, 10 Colors, by Edibleink
AmeriColor, Super Black, .75 Ounce Bottle, Soft Gel Paste Food Color
Spice Supreme Select Assorted Liquid Food Coloring Kit – 8 Bottles, 0.3 Ounces Each
Wilton Halloween Metal Cookie Cutter Set, 18-Piece
YOUTHSHIP 100 Pcs Clear Plastic Cups with Gold Rim, Premium 9 Oz Disposable Plastic Party Cups, Hard Plastic Drinking Cups for Party and Wedding
5-Piece Decorating Brush Set Painting Brushes Fondant Sugar Craft Clay DIY Tools Set Pen Brush Kit
Crethinkaty 5 Pieces Halloween Cookie Cutters,Stainless Steel Biscuit Cutters with Comfort Grip,Sandwich Cutter Set for Baking-Pumpkin,Bat,Ghost,Cat,Wizard Hat
Edible marker pens can be used in place of the paint water. They aren't as easy to use for this edible project because you need a little more liquid to come out than what the edible paint marker allows.
We want the top of the sandwiches to be brightly colored to really show off the creativity of the spooky sandwiches.
Set a paintbrush in each. If you have lots of kids creating their own Halloween sandwich masterpiece then I'd say you need several paintbrushes in each cup.
Be sure to keep a towel handy because spills happen and these painted sandwiches are so fun to make and even more fun to paint.
Next, choose your shapes. You can use a ghost cookie cutter, a web with a spider shape with spider legs. If you don't have those you can use a simple circle cutter, or use the top of a cup to push into the bread and make a large circle shape.
Whichever shape you choose go ahead and cut out all the shapes that you have. To make a shape gently push the spiderweb cookie cutter into the bread to cut it. Be sure to lay the bread on a flat clean surface, a cutting board works best.
Remove the extra piece of bread, crusts, and bread crumbs. Keep them to make croutons later or even bread crumbs for a meatloaf.
You can also prepaint the spiderweb or skeleton face to make it easier on little kids. Do this with a darker color that they can paint around. You can also outline the spider sandwiches to not only the spider web shows up but also the outside. Let the kids paint the inside and the little spider that will be set on top or separately.
Weird But True Halloween: 300 Spooky Facts to Scare You Silly
How to Catch a Monster: A Halloween Picture Book for Kids About Conquering Fears!
Halloween Party Favors: I Spy Halloween Book For Kids Ages 2-5: A Fun Activity Book with Spooky Guessing Games for Toddlers, Preschool & Kindergarten | Halloween Gifts for Kids
Ghost Afraid of the Dark-With Glow-in-the-Dark Cover-Follow a Shy Little Ghost as he Discovers how to be Brave-Now in Board Book Format
Boo! Bluey's Halloween: A Magnet Book
Don't Push the Button! A Halloween Treat: A Spooky Fun Interactive Book For Kids
The Night Before Halloween
The Berenstain Bears Happy Halloween!: A Halloween Book for Kids and Toddlers (First Time Books(R))
If you don't have bread handy and you want to make these today no problem. Instead of bread slices, you can use a tortilla for a tortilla wrap or quesadilla, English muffins, or Hawaiian rolls.
This fun halloween dinner idea is really versatile. The main theme is to give your kids a fun edible art project that they can eat. Painted sandwiches are the easiest to make in a pinch.
Once the slice of bread is painted and everyone is finished, lay them on a cookie sheet and pop it into a 350 degree oven just until they are lightly toasted. You can also use a toaster oven and do the same thing. Check every few minutes, this Halloween recipe looks a whole lot different burnt. Not pretty!
We are looking to dry and set the painted colors but not burn the bread. Keeping an eye on the bread make sure that the colors will still be as bright as when it was first painted on top of the sandwich.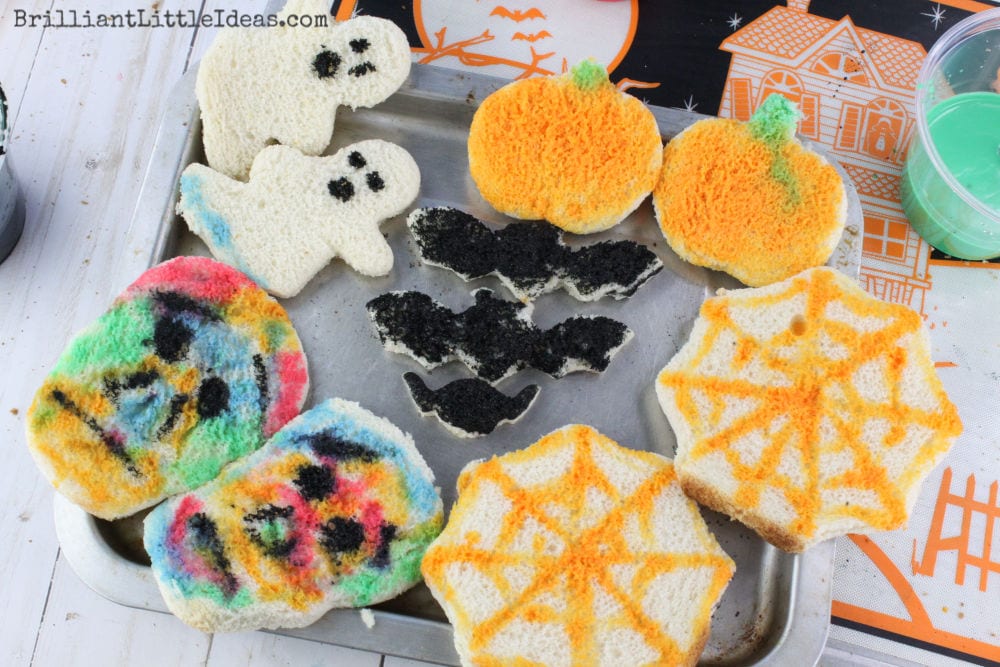 Using the same cookie cutters cut out the same shapes you used on the bread. We want to match the painted Halloween sandwiches to the yummy ham and cheese.
​The sandwich filling has many options here are a few:
deli slices
cheese slices
cheddar cheese
peanut butter & jelly
cream cheese
you can even make a dessert sandwich with their favorite fruit and some melted chocolate chips
Whether you make a dessert pizza or deli meats this Halloween painted sandwich has many options. Go with what your child loves the most.
And that's it! You're done! Easy, yummy, and fun.
​If you're looking for more Halloween recipes check these out:
Did your kids love making these or did you surprise them with adding the Halloween Painted Sandwiches to their lunch box?

Halloween Masks
Grab these printable Spooky Masks for an afternoon of fun.
Haunted House Bead Craft
Make this haunted house fuse bead craft with your kids.
Halloween Gift Basket
Here are lots of ideas to make the perfect gift basket.