[disclosure]
Do you have marshmallows and popcorn? Kids are always wanting to cook so try these Easy Halloween Popcorn Balls together.
Halloween Popcorn Balls
I wanted to make several Halloween treats with things I had around this house. The boys and I created Fall Candy Apples, Last Minute Halloween Pretzels, Bats and Spiders Oreos, Halloween Rice Crispies, and these super easy Halloween Popcorn Balls.
We had so much fun making these that we have made 2 more batches since the one pictured. We gave them to neighbors and classmates who were delighted to have a fall treat.
What you will need
1 cup unpopped popcorn
1 bag of marshmallows
2 cups candy corn
Sprinkles
White and Chocolate Almond bark
How to make your Halloween Popcorn Balls
First, pop your popcorn.
https://brilliantlittleideas.com/wp-content/uploads/2019/09/p-halloween-popcorn-balls-1-1.png

In a microwave safe bowl heat the marshmallows and butter stirring every 15 seconds until it looks like marshmallow cream.
I didn't have a bowl big enough to hold all of the popcorn so I divided it into 2 bowls. Add in half of your marshmallow cream to each bowl of popcorn and top with sprinkles and candy corn. Stir well!
Once mixed butter your hands and shape the popcorn balls. Set the balls apart so they don't touch.
Now for the almond bark. Melt the white and chocolate in separate bowls stirring every 20 seconds or so.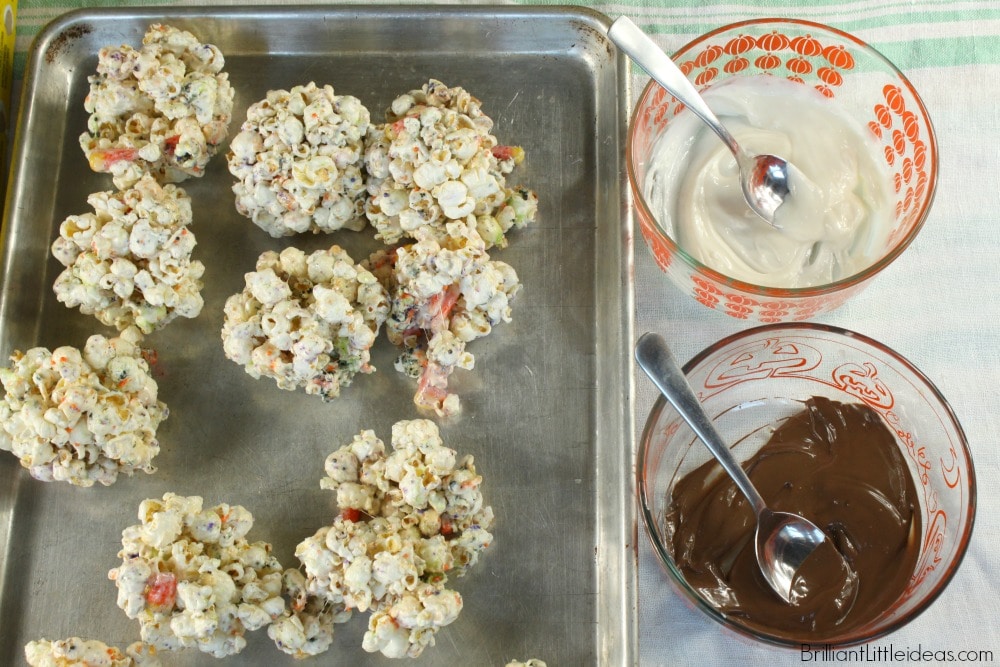 Using your spoon drizzle chocolate on top of the Halloween Popcorn Balls.
Add in a few eyeballs for fun then let the chocolate set.
Now they are ready to serve! Enjoy these messy treats!
Have you ever made popcorn balls?