Halloween Gift Basket Ideas and Gift Tags
Need some help creating a Halloween Gift Basket Ideas for Kids? You can make a delicious Halloween gift baskets or spooky Halloween gift baskets with no candy.
No matter which one you choose the Halloween gifts are going to be a huge hit with your kids and a fun way to bring in the fall season. Pair this gift basket and Easy Popcorn Balls  or these Halloween Monster Chicken Sliders with some fun Halloween movies for a night of memories with your kids. 
Along with 2 free gift tags to go with it attach it some fun Halloween treats as the perfect gift for some excited kids! You can Be the hosts of your Halloween Party and give out some fun Halloween Party favors to your partygoers.
This post contains affiliate links. If you use these links to buy something we may earn a commission (at no cost to you). Thanks for the support! See our Disclosure page.
Topics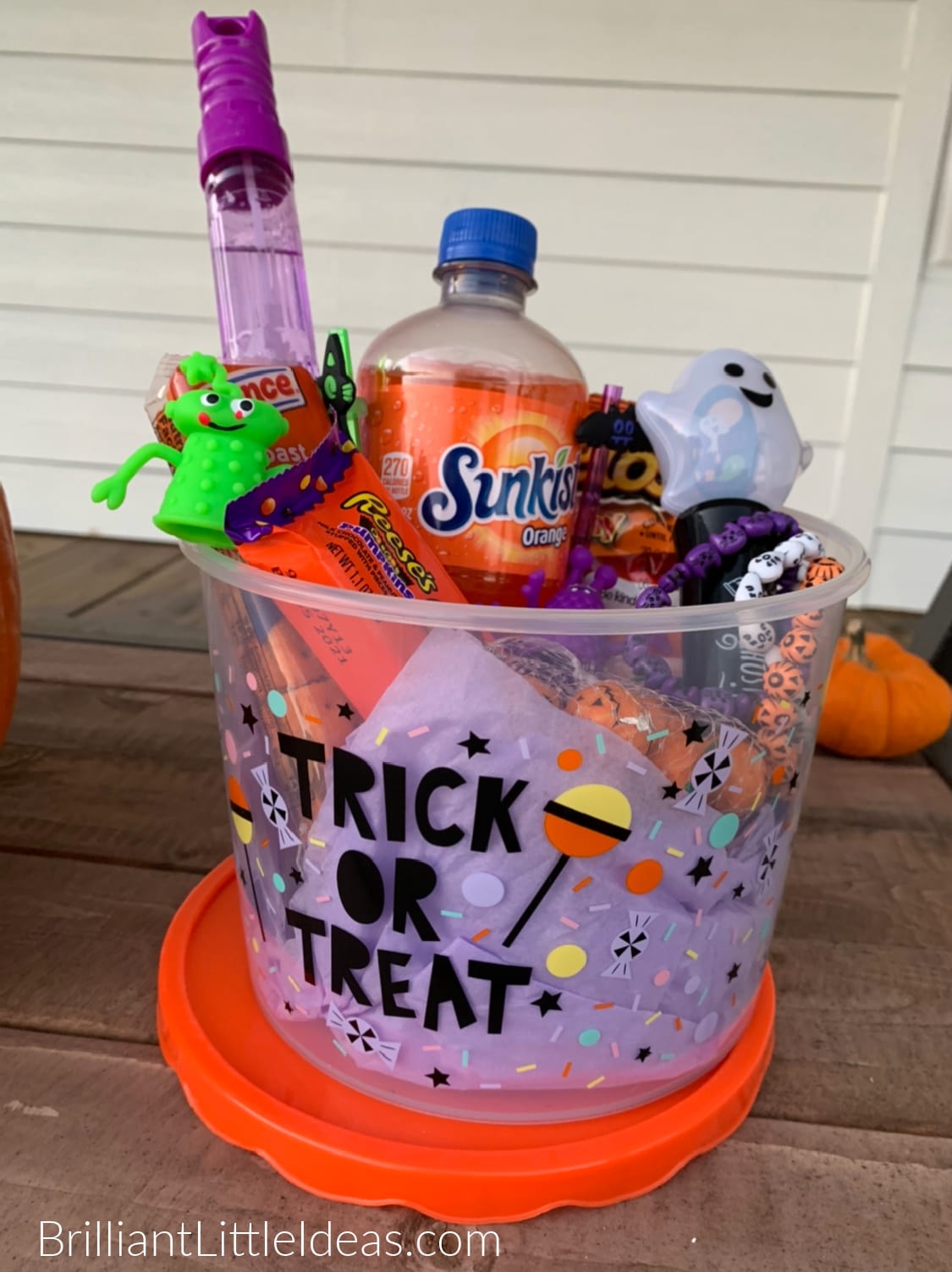 This post contains affiliate links. If you use these links to buy something we may earn a commission (at no cost to you). Thanks for the support! See our Disclosure page.
Is Halloween your favorite holiday? I thought it would be fun for the kids to get a Halloween Gift Basket. What a great way to make an ordinary day special or even for Halloween night. I'm going to show you how to make a gift basket for kids and all the ideas are linked below. Check back because I plan to keep adding links as I find new fun ideas come to mind.
Halloween Popcorn Balls with some savory snacks and Halloween Whoopie Pies would be a great addition to your Halloween gift box! This time of year comes and goes so quickly so I always try to make the most out of every day. I like to make delicious treats like these Fall Apples. Having a snack on the table when the kids come home from school is a perfect way to spend the afternoon talking, playing and making memories. I have a list of ideas for your own thoughtful Halloween gift below.
Choose your theme colors. This year I chose all of them, but you could pick orange & black, or purple & green. I had more orange because that's what Walgreens had when I ran in to check. No matter the colors you choose it will turn out really cute.
Next, pick a bag or bucket or even a shiny black cauldron to put the candy in. I chose the first two for this spooky holiday. The bag I picked up at Walgreens (I can't find it online) and the bucket I picked up at Kroger (linked). I love the bucket the most because of the Tupperware-type lid with the scalloped edges. So cute! You can see it a little better in my Instagram highlights here. This would also be a great idea as a Halloween care package to an older kid at college with a lovely bow and note just for them.
On to the toys. Choose small ones that are disposable or something that they can use over and over again. I usually don't like a lot of clutter so I tend to go with things that can be used and tossed or books. I will take 1000 books over a minimalist house (my house is anything but clutter free, I aspire to have one though).
Halloween Themed Custom Cookies and mini buttercream cakes with some milk chocolate or white chocolate candy and their favorite candies would make the ultimate Halloween sweets crate. Our favorite tradition is to watch Hocus Pocus on Halloween night. It's a cute not super scary family movie that is great with some of these Popcorn Balls.
It's a really simple way to make this spooky season more fun.
For your perfect Halloween gift basket gather
Once you have all of the items you want to assemble. It doesn't have to be perfect just a great Halloween basket and your child doesn't need to be able to see everything. They would probably rather dig and find some Halloween treasure instead. See a list below for a boo basket full of small toys that kids would love, book ideas, and fun ideas for toddlers.
It doesn't have to be perfect just choose things your child would like. If you are choosing things for someone else's child or for a classroom DO CHECK FOR ALLERGIES. I know of way too many kids that are allergic to things. So be careful.
Here are some absolutely adorable Halloween Gift Basket Ideas that you cant miss!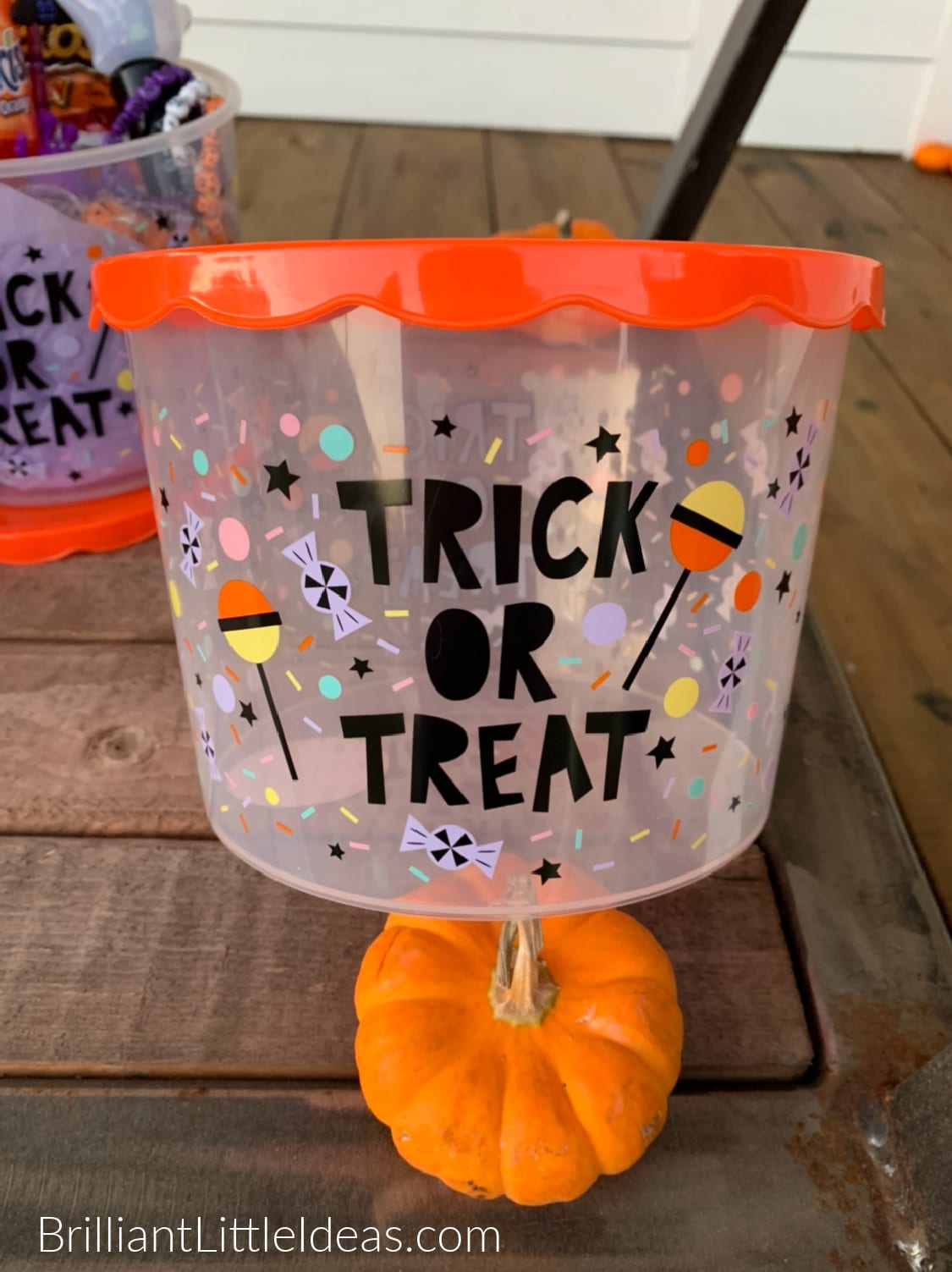 For the little kids, I usually get just a few simple toys. This year I picked up 2 of the Melissa & Doug Water Wow -Water Paint Books. When I had a daycare I kept it even simpler. A snack like a Goldfish bag in a cup or maybe just a pack of Oreo cookies.
I love children's books! I actually give books as cards for kids. So instead of giving kids a paper card you spent $5 on I give kids a book for their birthday or Christmas card so why not at Halloween too?
Books take kids to wonderful places and spark creativity in their minds. Sometimes I wonder about my reading level because all I do is read short stories with pictures to my kids. (HAHA)
You will find 2 Halloween Basket Gift Tags in our FREE Printable Library for our subscribers. Click here to subscribe and gain loads of fun free printables for you and your kids. Make sure to print your Halloween Gift Tags on cardstock for durability.
I love Canva and that's the site I used to create these super cute gift tags. If you are looking at making your own or teaching your children to make their own color sheets or gift tags (click here for my referral link -no expense to you).
I like to add fun little toys that can be played with and then tossed or put in a box as a fidget toy when your child is doing homework. The spooky glasses (linked below) are used all year long at our house. They are so fun for the girls to play with and to put on and pretend to be a teacher or read a book.
If you are making wonderful Halloween gift baskets for your neighbors or friends you may want to make it themed. For this Halloween season, a perfect option would be a movie night gift basket, or maybe some healthy gift baskets as a great alternative to the sweet treats. Other spooky basket ideas could be a cute cake pops basket, Halloween Food Gifts, or a happy Halloween candy cauldron of treats. No matter what theme you choose it's always fun to give to others!
Choose your day delivery and make sure you leave your basket in the right place. If you leave it at the front door and they never use that exit then they may not see what you left for them until the holiday season is over.
Pick a cute gift box or popcorn bucket then mix and match the ideas above. Choose a movie, snack, and candy to give to your favorite person or people. Try to add things they like or the family likes. If you don't know just pick up a variety of things. Grab a soda or 2 to make a larger Movie Night Basket.
Deliver the Halloween Movie Night Basket to your favorite people in person and see their joy. Or to take it over to their house ring the bell or knock and run! They get an instant surpise on their front porch! That is really exciting if the kids don't know about it but the parents do.
Note: You should always be cautious about leaving food on the porch in case a dog or cat some to check out the goodies.
If you have any questions or ideas to add to the list of Halloween gift Ideas above please email me or drop a comment and let me know!

Easy Spider Pizza
Grab a frozen or make homemade pizza. Fun, easy & yummy!
Halloween Popcorn Balls
These popcorn balls are great as gifts or afternoon treat!
Halloween Color Pages
Keep your kids busy with color pages on a busy night.