Halloween Gift Basket Ideas and Gift Tags
Need to make a Halloween gift basket?  Create a fun Halloween Gift basket ideas along with 2 free gift tags to go with it!

Halloween Gift Basket Ideas
We don't know what this year will hold so I thought it would be fun for the kids to get a Halloween Gift Basket. Something to open and get excited about on an ordinary. I'm going to show you how to make a gift basket for kids and all the ideas are linked below. Check back because I plan to keep adding links as I find new fun ideas.

Supplies
How to make a Halloween Gift Basket
Choose your theme colors. This year I chose all of them, but you could pick orange & black, or purple & green. I had more orange because that's what Walgreens had when I ran in to check. No matter the colors it will turn out really cute.
Next, pick a bag or bucket. I chose both. The bag I picked up at Walgreens (I can't find it online) and the bucket I picked up at Kroger (linked). I love the bucket the most because of the Tupperware type lid with the scalloped edges. So cute! You can see it a little better in my Instagram highlights here.
On to the toys. Choose small ones that are disposable or something that they can use over and over again. I usually don't like a lot of clutter so I tend to go with things that can be used and tossed or books. I will take 1000 books over a minimalist house (my house is anything but clutter free, I aspire to have one though).
What to put in a Halloween Gift Basket?
It really is simple. Gather small toys, candy (like this), or books, candy, & a basket or bucket. Once you have all of the items you want to assemble. You don't have to have it perfect. Your child doesn't need to be able to see everything. They would probably rather dig and find some Halloween treasure instead.
See a list below of small toys that kids would love, book ideas, and fun ideas for toddlers.
It doesn't have to be perfect just choose things your child would like. If you are choosing things for someone else's child or for a classroom DO CHECK FOR ALLERGIES. I know of way too many kids that are allergic to things. So be careful.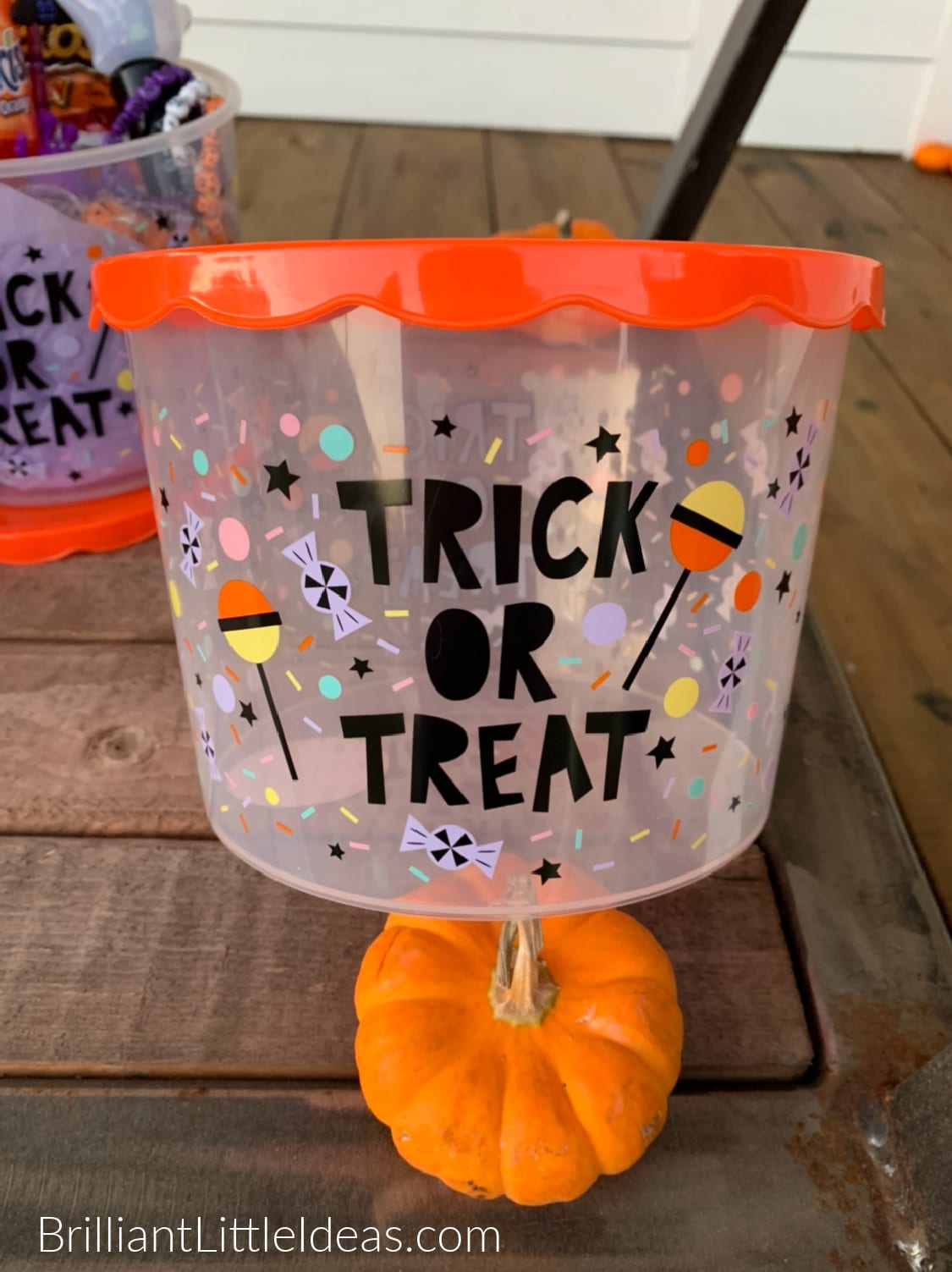 Toddler Halloween Basket Ideas
For the littler kids, I usually get just a few simple toys. This year I picked up 2 of the Melissa & Doug Water Wow -Water Paint Books. When I had a daycare I kept it even simpler. A snack like a Goldfish bag in a cup or maybe just a pack of Oreo cookies.
Halloween Book Ideas for kids
I love children's books! I actually give books as cards for kids. So instead of giving kids a paper card you spent $5 on I give kids a book for their birthday or Christmas card so why not at  Halloween too?
Books take kids to wonderful places and spark such creativity in their minds.  Sometimes I wonder about my reading level because all I do is read short stories with pictures to my kids. (HAHA)
Here are a few favorite Halloween books for kids.
For Halloween Books for Older Kids
Halloween Gift Basket Tags
You will find 2 Halloween Basket Gift Tags in our FREE Printable Library for our subscribers. Click here to subscribe and gain loads of fun free printables for you and your kids. Make sure to print your Halloween Gift Tags on cardstock for durability.
I love Canva and that's the site I used to create these super cute gift tags. If you are looking at making your own or teaching your children to make their own color sheets or gift tags (click here for my referral link -no expense to you).
Small Toys Ideas for Halloween Gift Baskets
I like to add fun little toys that can be played with and then tossed or put in a box as a fidget toy when your child is doing homework. The spooky glasses (linked below) are used all year long at our house. They are so fun for the girls to play with and to put on and pretend to be a teacher or read a book.
If you have any questions or ideas to add to the lists above please email me or drop a comment and let me know!