Candy Filled Leprechaun Hats -St Patrick's Day Snacks for Kids
My kids love finding these easy candy filled Leprechaun hats on the table for their St Patricks Day treats. They are really simple to make and yummy to eat!
DIY Candy Filled Leprechaun Hats
My 6 year old thinks that the leprechauns are actually losing their hats when he finds these treats. Ryker thinks that they are running through the house filling their hats with candy. And when he walks in a room they disappear leaving behind their hat. A special candy filled Leprechaun Hats.
Interesting perspective on the whole thing if you ask me… I love how kids rationalize things.
If you're looking for more St Patricks day fun for your kids try some of these below.
Rainbow craft,  St Patricks Day Rainbow Hat, Leprechaun Loot, Leprechaun Traps, Pot of Gold Loot Bag, or this super easy Shamrock Craft.
Supplies
Candy Filled Leprechaun Hats – How to Video
How to make Candy Filled Leprechaun Hats -Picture
Gather your supplies and lets get started on our Candy Filled Leprechaun Hats.
The first thing you need to do is melt your green candy wafers. To do that add some wafers to a microwave safe bowl and heat for 30 seconds, then stir, 10-15 seconds and stir. If it's still lumpy then try another 10-15 seconds and stir. If it seems dry, you will need to add about 1/4 tsp of edible oil to the chocolate and stir until smooth. You can add more or less depending on how dry the chocolate is.
Working quickly we are going to coat the mini ice cream cone with chocolate turning to coat the whole cone. Make sure you are using a silicone mat to set these leprechaun hats on because we will need them to peel off without breaking.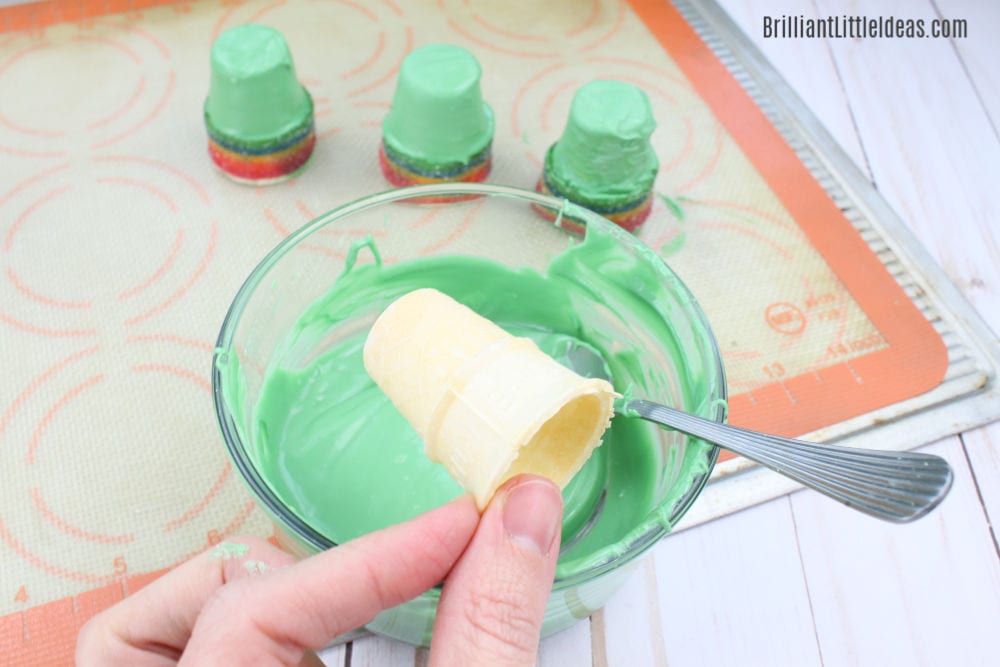 When you have the whole cone covered you will need to add a strip of rainbow candy on the bottom. The chocolate will harden holding the rainbow candy on the cone. If it isn't drying fast enough for you, try putting the hat in the fridge or freezer for a few minutes.
Let your hats rest for a bit while we take the remainder of your chocolate and put it in your snack size ziplock bag. You will need to make discs large enough to cover the bottom of your leprechaun hat So make sure to measure first.
Set aside or in the freezer until hardened.
Now that they have set, let's fill them with candy. I hand picked all the green and a few yellow mini M&M's from the bag and added in some gold dots. Easy and pretty and this is where they get the name Candy Filled Leprechaun Hats.
Using the rest of your melted chocolate (or if it's already hardened then just microwave a tad more) and pipe some on the top of your leprechaun hat. Not too much but enough to make the lid stick when it's dry.
Once they're dry turn them over and you're ready to surprise your kids with a fun treat they get to shake and eat.