St Patrick's Day Coin Bag

Do your kids love to find gold? Try this DIY Leprechaun Pot of Gold craft with them & hide some chocolate gold coins around the house. Easy St Patrick's Day Fun for Kids.
This post contains affiliate links. If you use these links to buy something we may earn a commission (at no cost to you). Thanks for the support! See our Disclosure page.
St Patrick's Day Coin Bag
If you're looking to keep your kids busy for a while let them color a cute canvas bag. This St Patrick's Day Coin Bag is an easy craft that you could turn into a game. Hide coins around your house and let your kids find some loot before the leprechauns do.
If your looking for more St Patrick's Day crafts check out our St Patt's Day Paper Plate Hat, Rainbow Craft, Easy Cut Shamrock, or this Leprechaun Loot Box.
Supplies
St Patrick's Day Coin Bag -Pictures
Give each child a canvas bag and a sharpie. I used a sharpie to quickly draw a pot of gold with a rainbow coming down from the top of the bag. You can choose to do this for your kids or let them do it themselves. My kids always say they can't draw something but it always turns out really cute.
Again with my mantra. Let your kids try. They could always try again or just have them color it and I'm sure it will look good.
Start with the pot then draw on some half circle coins and lines down for the rainbow.
Let your kids fill in their pot of gold with whatever fabric colors they like. The rainbow doesn't have to be exactly like a rainbow.
Hide some chocolate gold coins around the house and let them collect some St Patrick's Day loot before the Leprechauns do.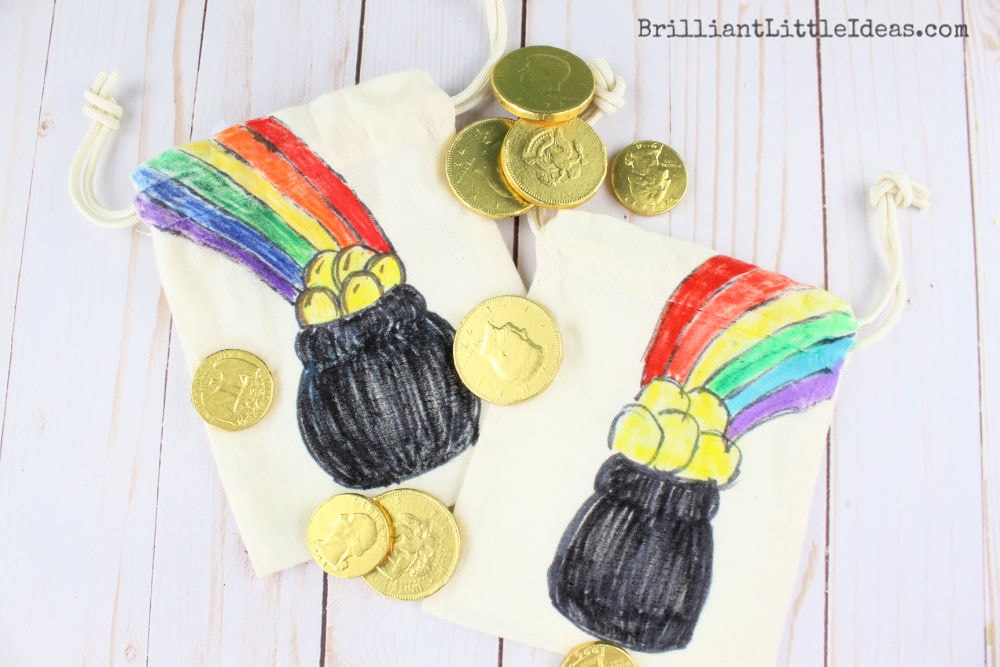 Do your kids love gold coins too?

Leprechaun Loot
Surprise your kids with these fun treat boxes for St Pattys Day!
Rainbow Painting
Make a creative painting with this fun new painting idea.
Rainbow Hat
Rainy day? These rainbow hats are a quick fix for boredom.