Fire Flame Shrinky Dinks Keychain Craft Ideas for Kids
Looking for Fire Flame Crafts Ideas? Your kids are going to love making their own DIY shrinky dinks. Shrinky dinks are a popular type of plastic that shrinks in the oven. It's a thin plastic that you can make all sorts of easy crafts for kids, but today it's all about how to make Fire Flame Shrinky Dinks Keychain Craft Ideas for Kids!
And fire flame shrinky dinks are a fun project for kids on the weekday to keep them busy. Here are all my fun ideas for Fire Flame Crafts for kids.
Does your child want a Fireman birthday party? Look at this Fireman Theme Fun Friday for lots of cute ideas that are easy to make. Are your kids into camping? Try this 3D Fire Flame made from stiff felt your kids can even make their own pretend marshmallows!
Shrinky Dink Fire Flames is a simple craft idea that your kids can trace and color on their own. Gather just a few supplies and you will have an afternoon of so much fun! Below you will find a full tutorial and video on how to make this fun shrinky dink craft idea.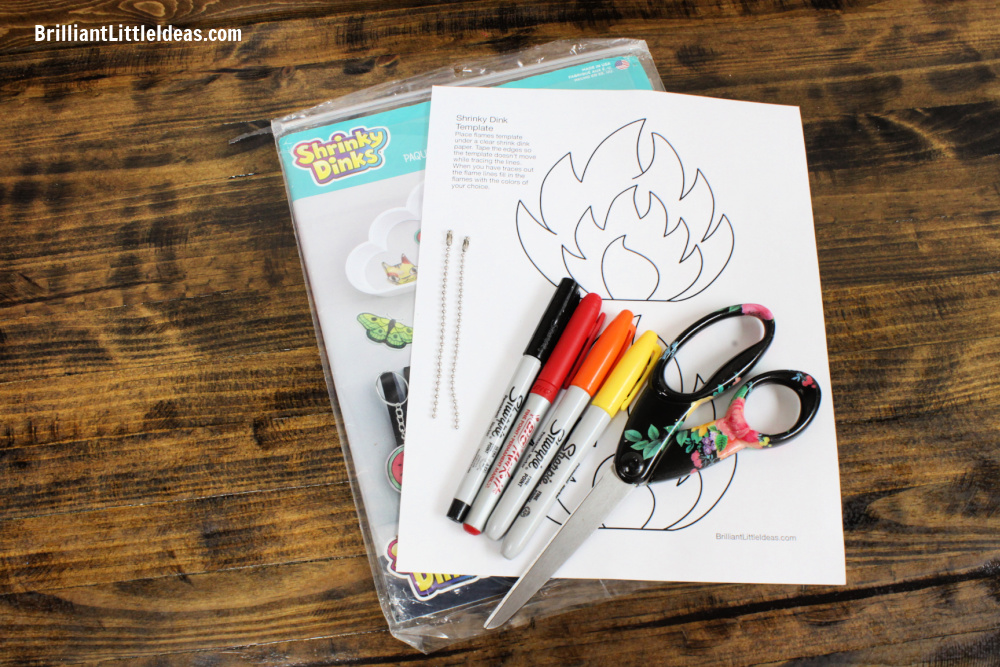 This post contains affiliate links. If you use these links to buy something we may earn a commission (at no cost to you). Thanks for the support! See our Disclosure page.
What You Need to Make Fire Flame Shrinky Dink Craft
How to Make Fire Flame Shrinky Dinks Keychain
Grab all of your supplies from the list above and let's get started. You can find shrinky dink plastic sheets on Amazon (best price) or at your local craft store such as Hobby Lobby, Micheals, or Joanns.
Kids are messy so use clipboards to attach and tape your template and a piece of shrink plastic too. Cover the table with newspaper if your kids are little and tend to scribble. You don't want permanent marker all over the top of your nice furniture.
Each fire flame will need half of an original size 8 x 10 sheet of Shrinky Dink paper. To cut the Shrinky dink plastic you will need a good pair of scissors. Cut very slowly all the way across so the plastic doesn't get splinters. If you get in a hurry or still get splinters going slow then just move your template over a little away from the splintered side.
Print your Shrinky Dink Fire Flames printable template (found in the free printable library -for personal use only) and cut that template in half. Each page will have two templates. Lay the template on the table and then place your precut half sheet of Shrinky Dink paper down on top of it. Place a strip of masking tape on the top and bottom edge to keep the template and shrinky dink paper in place. You want your child to be able to trace the fire flame without having to chase it all over the top of the table.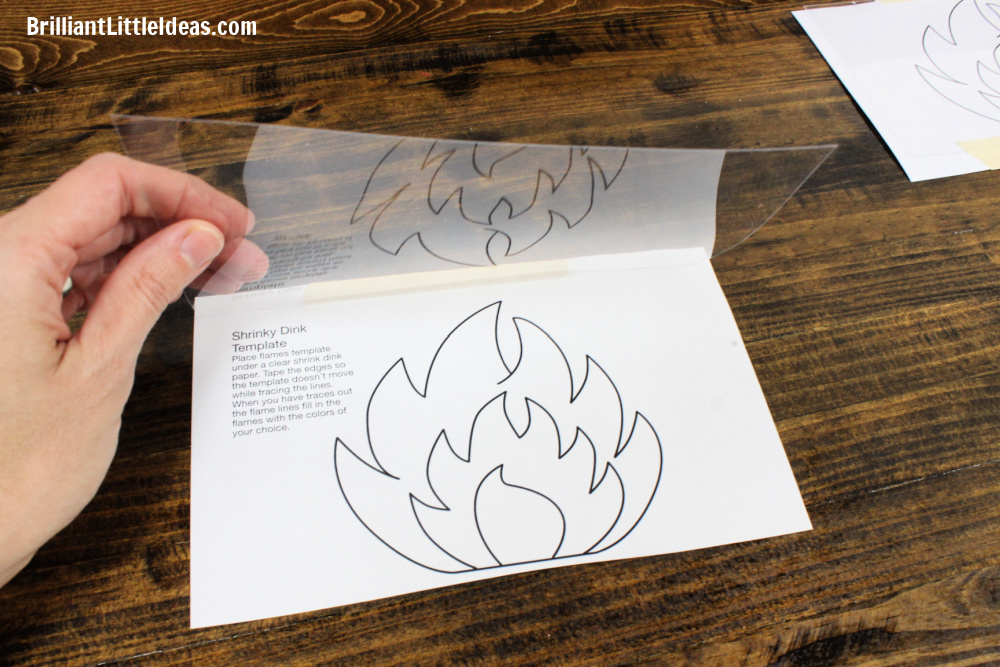 How to use a Shrinky Dink Template
Once your template has been cut and is taped down to a clipboard or the table go ahead and lay out the sharpie markers. Let your kids choose their own markers to make colorful creations. Really let them make this their own shrinky dink project. They can make a zipper pull, necklace, ring, keychain or magnet. Kids are usually pretty imaginative and this is a great way to show them how creative they really are!
You have a few options here… you can either pre trace your fire flame craft with a black sharpie marker, line the template with the color you will fill in the flame with or just let your kids scribble and color their own way. Let the kids decide which way they want their shrink dink project to look. If you outline the flame in black it gives the key chains a more bolded look.
For our own shrinky dinks, we went with the regular red, orange, and yellow. You could even add blue to your flame at the bottom!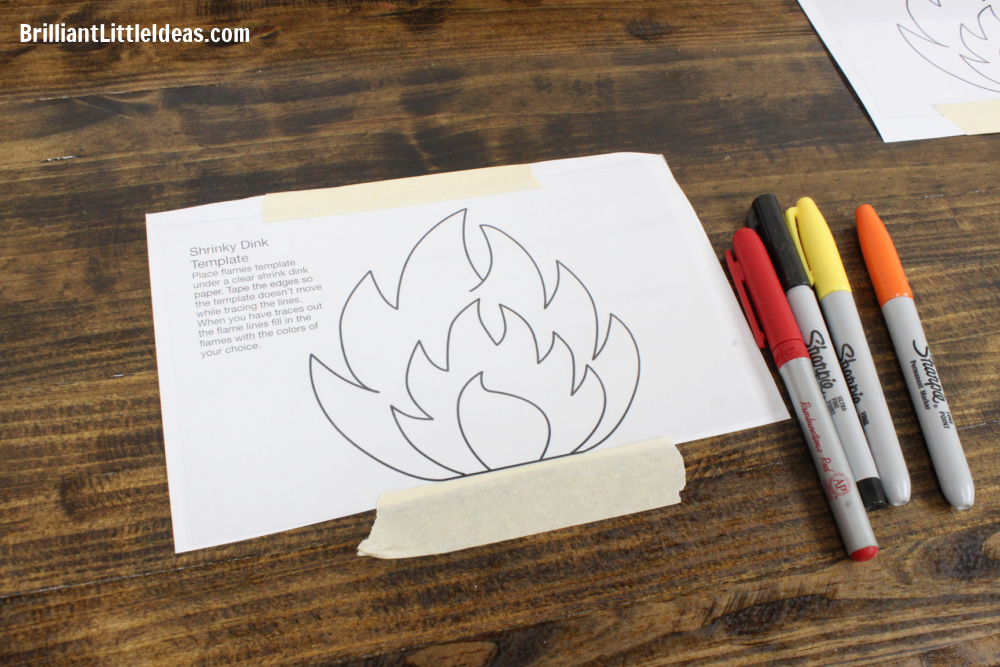 If you choose to outline your template before coloring in the fire flame be sure to un-tape and flip over the shrink film before coloring in your shrinky dink designs. The reason you need to flip the plastic piece over is to make sure when coloring in the flame you don't drag over any black ink onto the red, orange, or yellow. Coloring and pulling the black over will make a pretty flame streaky with black lines in the flame. So unless you're going for that look…be sure to flip the shrinky dinks!
After the template has been traced you can un-tape the bottom template from the shrink dinks. You can lay a solid white sheet behind the shrink paper to color in your fire flame craft.
This fire flame craft hasn't been traced or outlined, just fill in with the color of choice.
When coloring go slow and take your time. Sometimes the sharpie marker will actually erase the color it just laid down if you go over the same area too many times.
The best part of this shrink dink ideas is that you can make it your own personalized keychain. You can also make this into a handmade gift like a shrinky dink necklace for father's day. For mother's day try making cute shrinky dink rings for the moms and grandmothers you know and love for a really perfect keepsake gift. You can make some neat diy pet tags with your pet's name in the middle of the fire flame.
Continue coloring until you have the whole craft project finished and then decide if you want to add some cute tags, nicknames, or names to the bottom of each flame. If you use this craft at birthday parties then writing each child's name curved around the fire flame would be a good idea. Little girls and boys tend to think they will remember exactly which fire flame they made but odds are they will get confused without their name being on it. So stay on the safe side and at least write their initials.
Now is a good time to go back over your fire flame if you traced your shrinky drink template. If you chose not to outline the shrinky dink in black ink then you can just double-check the lines around your fire flames are solid.
Some of the plastic will splinter if you cut it too quickly or have a dull pair of scissors. A simple trick is to cut slowly all the way around the flame and then cut into the flame edges. Still cutting slowly around all of the lines.
If your shrinky dink splinters just slow down a little more and continue cutting or change to a different pair of scissors.
When you have finished cutting out your diy shrink plastic flame we will move on to hole punching. If you choose to make a magnet or something that doesn't need a hole then you can skip this part. Keychains need a double or triple punched hole to make the shrunk version the right size to fit in a key ring. Shrinky Dink charms will only need one hole punch through the plastic since you will use a jump ring. Jumprings are small so the hole can be smaller and only punched once.
Next up let's melt our shrinky dink flames! Preheat your oven or toaster oven to 400. Once the oven is hot it will only take a few seconds to shrink the plastic crafts. Use a cookie sheet or your toaster oven pan with either parchment paper or aluminum foil.
Lay your fire flame craft down on top of the aluminum foil with the marker colored side up. If you traced your fire flame and then flipped it to the color you will have the side traced down. It's been my experience that if you lay the marker colored side down on the foil or wax paper could pull the sharpie marker color off and keep it on the foil instead.
Put your toaster pan or cookie sheet into the preheated oven and close the door. If you have an oven light leave it on so you can watch the shrinky dink get smaller and smaller.
It should only take a minute so keep an eye on the oven until the shrinky dink has completely shrunk!
You will notice the plastic curl as it heats up. That is completely normal, however, if the plastic touches and doesn't let go then you will need to work quickly to take the tray out of the oven to separate it with 2 spoons or 2 spatulas. Once you have the shrinky dink separated you can place it back into the oven to shrink the rest of the way or just to heat it up enough to make sure it will lay flat.
Remove the cookie sheet or tray from the oven and let it cool on a wire rack. Once the plastic shrinks have cooled completely you can remove it from the pan.
This is what a shrinky dink before and after looks like. Shrinky dink sheets usually shrink to half it's size.
Notice the hole size. This fire flame was double punched and it made the perfect size to place a ball bead key chain through.
Shrinky dinks are a great gift idea and awesome crafts for kids. Here are a few fun shrinky dink ideas you can make with your kids. charm bracelets, necklaces, magnets, jewelry, hair clips, rings, or even zipper pulls.
Shrinky Dinks Creative Pack 10 Sheets Frosted Ruff n' Ready
Just Play Disney Mickey Classic Shrinky Dink Kit, Officially Licensed Kids Toys for Ages 5 Up, Gifts and Presents, Amazon Exclusive
Shrinky Dinks Ruff n' Ready Creative Pack, Basket Stuffers, 25 Frosted White Sheets, Kids Arts and Crafts Activity Set, Kids Toys for Ages 6 Up, Gifts and Presents by Just Play
Natonhi Shrinky Dink Sheets 145Pcs Shrinky Plastic Sheet Kit with 20 Art Papers, 6 Pcs Traceable Picture, Keychains – Perfect for Crafts, Jewelry Making, and DIY Projects
They also make great gifts for both mother's day and father's day! Just choose the picture you want to shrink and worth through the shrinky dink instructions the same way you did to make your fire flame.
Let me know what your kids made. Did they love making flames or did they make their own? Send me a picture of your finished flame, I'd love to see it.
Get your printable here!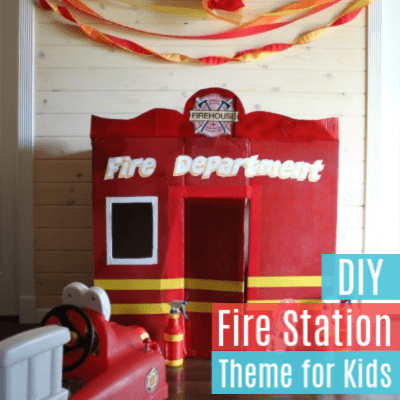 DIY Fire Station
Planning a birthday or a fun theme week? Firemen are definitely a kid favorite. DIY fire station with printables.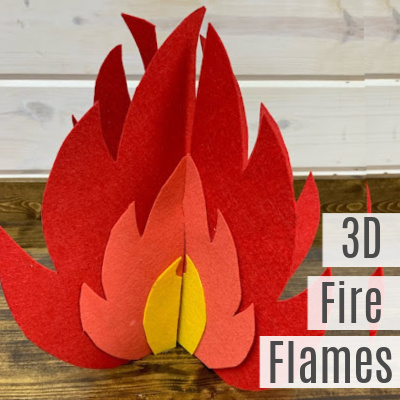 3D Fire Flames
Make your own campfire!
Simple flames that actually stand up with printable template.
Fire Extinguisher
Pretend to be a real fireman with this DIY Fire Extinguisher. Spray on your fake fire flames for all day fun!