How to make a Ribbon Wand
[disclosure]
Ever wanted to know how to make a ribbon wand? Watch this DIY Ribbon wand video & your kids will dance & play fairy princess for hours. IE quiet time for you!
DIY Ribbon Wand
Have you ever just ran out of crafts? Oh, I have, on SEVERAL occasions. Especially when my older daycare girls come over in the summer I try and plan fun things for them to do and sometimes I have to wing it.
This was one of those days! The girls had been fighting, and I was on the brink of sticking them both in a giant t-shirt until they made up. I went to my craft room(/ back mud room / storage/ what is that room for anyway?) and just started picking up random things. This is what I came back with, We were going to learn how to make a ribbon wand if it killed us! Thankfully it didn't!
The girls loved it (of course) and my younger girls and boys also wanted one. It was a hit! And now here is my version of a DIY Ribbon Wand.
What you will need
Leftover Ribbon (except the wire kind)
Leftover Yarn
Craft wood dowel  rods (12 inch)
Hot glue gun
Scissors
Paint for the ends of the dalrods
Paintbrush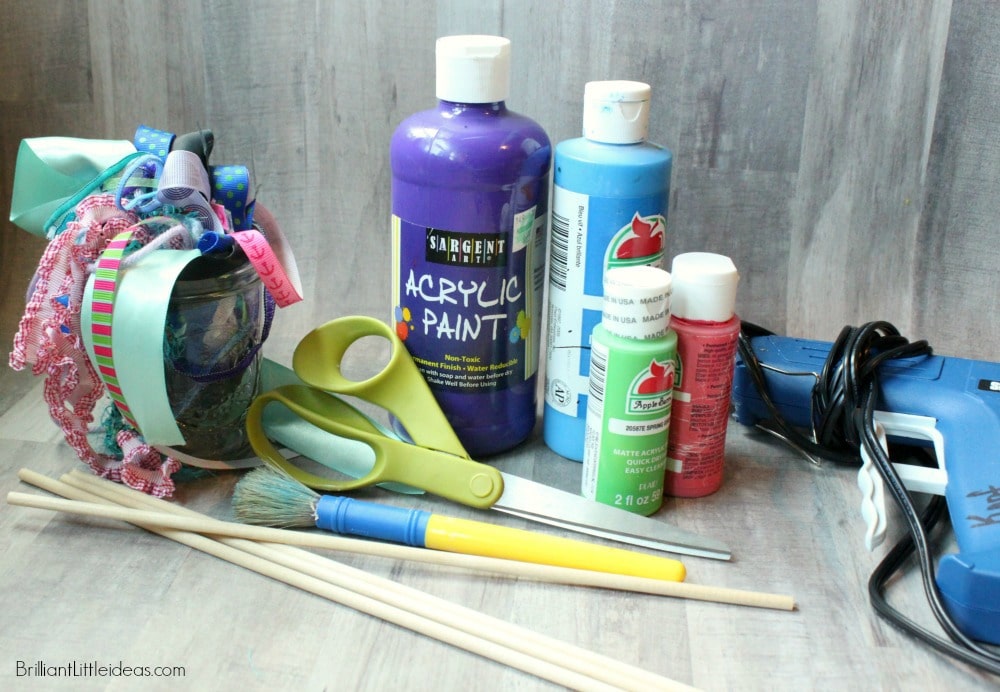 How to make a Ribbon Wand -Video
How to make a Ribbon Wand -Pictures
First, get a dowel rod for each child and let them choose a color for the handle. Here are 4 color examples that my kids chose. I dipped each stick into the paint bottle a few inches then smoothed it out with the paint brush then let them dry.
Next, you will need to gather all of your extra ribbon in one place. Let your kids choose their favorite ones and cut them to different long lengths.  Take a 6 inch center piece of yarn and lay it down in front of you, this will keep the large ribbons together. Find the ribbon center and stack them all together so you can easily tie the yarn around the ribbons.
Now, tie several knots to secure the ribbons together I tied 3 per ribbon wand.
After you finish your knots take the extra yarn and wrap it around the end of the wood dowel rod. Then tie several times again.
Hot glue will help your yarn to stay put so add a dab on top of the yarn knots.
Your done! How easy was that?
Do your kids love ribbon wands?