Super Easy Snowball Painting
[disclosure]
Your preschool kids will love this Super Easy Snowball Painting art. You can even add glitter for a cute & fun winter time snow activity.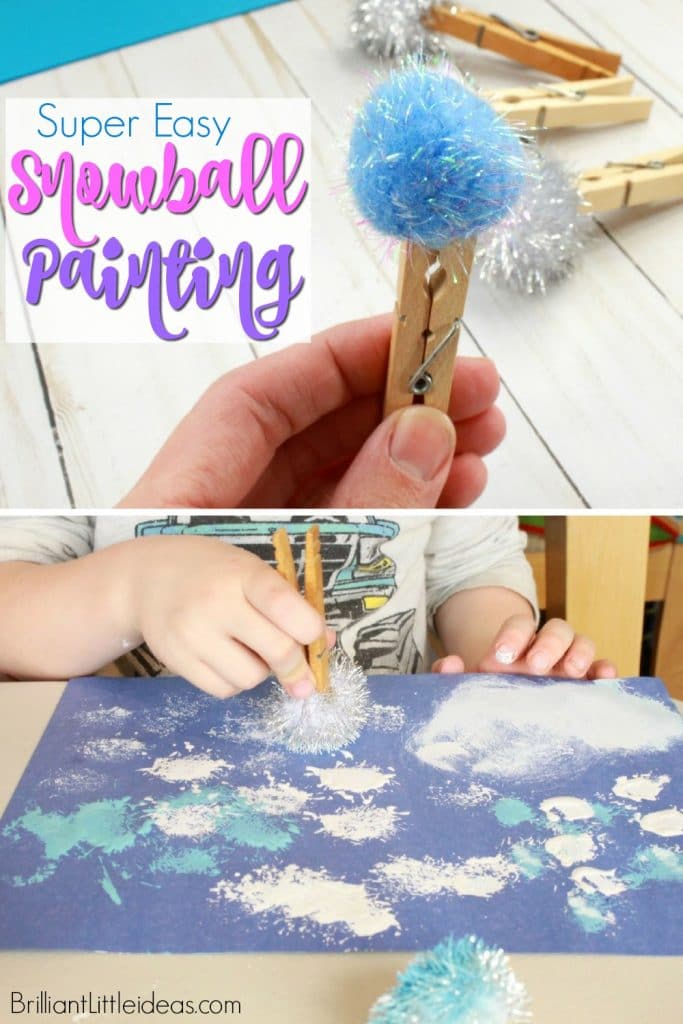 Super Easy Snowball Painting
When there's no snow in Texas you have to make up things to do. Here in North Texas we might get a little bit of snow, but it's more of what you would call slushy mud. As in if we are lucky enough to get snow that covers the ground every child around us makes a snow/mudman. What is a snow mud man? Well for all of you Northerners up there its littlerly a dirty snowman. He isnt white more or less brown. Which is hilarious to drive by and see all of the yards stripped of their light coating of snow just to make a (hopefully) 1 foot snowman. Its super cute and super sad all at the same time.
Here is our version of a Super Easy Snowball Paining that is mud free.
What you will need
Clothes pins
Colored paper
Hot glue gun (if you want to secure the pom poms to the clothes pins)
Blue & white paint
How to Snowball Paint -Video
Hot to Snowball Paint -Pictures
First and only thing to do is to attach your pom pom to your clothes pin. You can hot glue them to each clothes pin or you can just pinch the pom pom. Either way works fine.
Now dip your snowball in to the paint of your choice and dot away.
Quick easy and preschool kids are happy. That's my kind of afternoon calm.
Did your kids like snowball painting?