Halloween Baking Kit Gift Basket Ideas for Kids
Need an Easy Halloween gift basket idea? Let me help you find the perfect Gift Basket Ideas for Kids for all seasons. This DIY kit is easy to make and really versatile for any age group or for the whole family. Our new DIY Halloween cookie decorating kit was a big hit with the neighbors last year so we will be making more again this year to give to all our friends.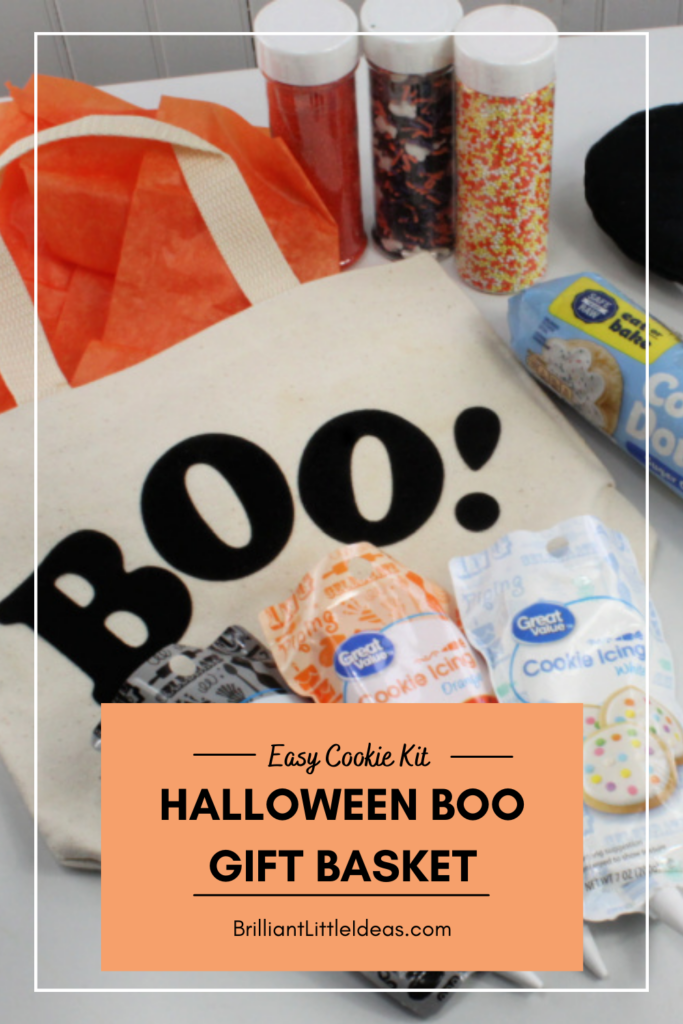 We are always looking for fun things to give to friends and family that give them quality time and add to those special memories kids store in their minds. A DIY cookie kit gives parents time to just relax and talk to their kids. Pre-baked cookies make this kit even easier on the parents if their kids are little and aren't into rolling out sugar cookie dough yet.
This DIY Halloween cookie decorating kit is a perfect gift for anyone with kids or that loves to bake and the homemade canvas boo bag to hold all the goodies is just an added bonus!
This post contains affiliate links. If you use these links to buy something we may earn a commission (at no cost to you). Thanks for the support! See our Disclosure page.
What You Will Need to Make a Halloween Baking Kit Gift Basket
How to make a Canvas Boo Bag
The best idea is to hold the canvas bag next to some iron on letters so you choose the right size. You don't want them too small unless you need the bag to have several words on the front. Boo! is a pretty small word so I chose a larger font.
Using a clean canvas bag and some Iron on letter let's get started. First, lay the clean canvas bag out on an ironing board. Choose the letters you want to place on the bag and make sure you spell the word correctly. I speak from experience from this one! Don't forget, you can use different sized font and font colors to add a little more fun to your Halloween Boo Bag.
Follow the package instructions on how hot to get your iron before ironing on the letter. Too hot and they will crinkle and too cold the letters won't stick. Each set of letters has its own degree they need to hit to successfully stick to the canvas material.
I flipped the bag inside out to be extra sure the letters stuck to the canvas. I would rather be on the safe side than have my letters fall off to make a "fun" word. I speak from experience on that front too. Strange things always seem to happen to me, but they make fun stories later on.
How to Make your Halloween Baking Kit Gift Basket
I'm going to give you tips to make the best Halloween gift basket for a family. The good news is that you can actually grab everything you need from the store in just one trip. You can put it together in the parking lot if you choose to get a basket, bin, or bucket instead of making your own Boo Bag from the canvas and lettering. Grab some Halloween or fall colored tissue paper for the bottom of the container you choose to use. If you don't want to use tissue paper try using a cute towel, bandana, or Halloween cotton fabric
First up… the cookies! If you have time to bake some undecorated sugar cookies great! However, if you're a little busy just pop over to the market and grab some raw cookie dough rolls or a sugar cookie mix. Keeping with the Halloween or fall theme, grab some icing tubes and edible markers, and a white icing pen to draw spider webs onto cookies with black icing. If you put raw cookie dough in the basket be sure to place a small bag of all purpose flour or ziplock bag of to sprinkle out so they can roll out the cookies to cut them without getting stuck to the countertop.
Love making icing? Pick some fun colors and place prefilled filled icing bags in the Halloween baking kit gift basket. When making a spider web cookie premade black icing is a relief for the child's parents. Black icing tinted from a gel never seems to get dark enough, nor from a black frosting mix to premade black icing can be a game changer. Premade icing also adds a little extra touch especially if it's handmade gifts for the Halloween gift basket. Don't forget you can just pick colors that your store has available it's all about the good times the kids are going to have while they decorate and of course spending time with their loved ones or party guests.
Choose some fun Halloween or fall cookie cutters with some fun sprinkles and glitter sugar to go with them. Leaves, ghosts, or bat shapes are some fun ideas for your gift basket. I found a fun spider web cookie cutter on Amazon a while back that I have used many times over. The spider web cookie cutter works great on the Halloween Painted Sandwiches and the spider cookie cutter was used on our Spider Web Pizza which was a huge hit for our Halloween party for the kids.
Have a family who loves Disney? Add a mickey-shaped cookie cutter to the basket and change the icing colors to fit both mickey and your fall theme. Mickey-shaped cookies are especially fun for the younger kids that love all things Minnie & Mickey Mouse
Check online or at your local craft store for some royal icing tubes to purchase if you don't want to make your own. If you give this gift basket to a family make sure that each person has their own cookie cutter in the basket.
Now gather all of the items and start placing them in the bag one at a time. Decorating cookies can go to a whole new level by adding some decorative candies, a bag of chocolate chip pieces, or even fall colored mini M&M's to the gift basket. Remember if you use raw cookie dough make sure to leave it in the fridge until you are ready to deliver your boo bag Halloween gift basket.
How to make a gift basket fall themed.
If you chose to make one or a few DIY cookie decorating kits then make sure you have something for the whole family. Choose a fall themed cookie cutters, icing colors, edible pens, glitter sugar and fall themed sprinkles.
Let's start with fall themed gift basket. Choose a cute fall cotton fabric and lay it inside of a basket or canvas bag. Let the edge of the fabric lay over the side of the container you chose. Another quick tip is to add a bow, ribbon, or even baker's twine to the basket to tie on a gift tag with step-by-step instructions.
Find some cinnamon sticks, a fall smelling candle, candy, or a small gift to add to your fall gift basket. Homemade gifts for your gift baskets don't have to be difficult just start with what you're good at. You can make some simple treats, jam, or have your kids make a bracelet to put into the gift basket.
Fun Activities for a Halloween Party
Halloween Parties are so fun when you're a kid but keep it simple. Play some fun Halloween Music like the Monster Mash or the Ghostbusters Theme Song. Don't overthink it too much just set up a few activities that the kids can do while talking to their friends or have everyone create their own craft at the same time. Edible crafts like this Candy Corn Suprise is always a big hit!
Make a really memorable Halloween party but have the kids make their own Halloween cookie houses! If you want something a little more yummy set up a table for everyone to make their own Halloween Gingerbread Houses. It's a fun project that the kids will enjoy and get to take home with them… if they don't eat it all first. This Easy Royal Icing Recipe is the absolute best icing when creating your own gingerbread houses. It's easy to make and dries quickly which is perfect for a cookie house.
Have the kids make their own handmade pieces of jewelry by creating some cute bell necklaces to wear every year like these cute Witch Hats, Spider Necklaces, or Ghost Bell Necklaces. For smaller kids have them create their own fun Spider Wands.
I would love to see what you made. Send pictures to my email or to me over on Instagram.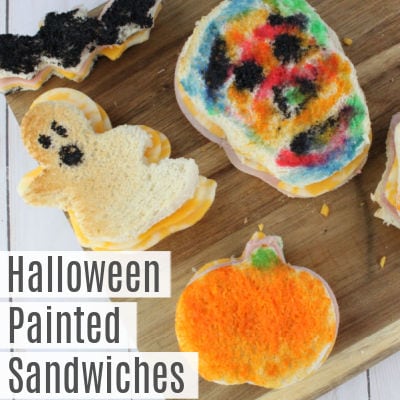 Painted Sandwiches
Let the kids paint their own spooky sandwiches for lunch.
Halloween Gift Basket
Great ideas for a Halloween basket for kids.
Fall Napkin Holders
Perfect table decoration plus it's an easy craft for kids to make.